With podcast download numbers exploding in 2021, there's never been a better time to join the podcast revolution. Your audience is probably already there, and they'll be delighted to hear your voice. Guest interviews on podcasts offer huge potential to gain new followers too.
As we've mentioned previously on the blog, guest appearances build awareness of your brand — and your product or service.
Perhaps you've written a fantastic new keto-vegan cookbook? Look for nutrition podcasts to amaze everyone with your take on how to combine these opposites.
Podcast guest interviews boost your website's SEO, generate sales, and they're far more manageable than hosting a show yourself.
How Rephonic can help you get on podcasts
Before you do anything else, you need to find suitable podcasts. If you're a fabulous cook, there's not much point in appearing on a gaming podcast. Similarly, a gamer's unlikely to build their audience by featuring on an accounting show.
Rephonic is a terrific way to find the right shows for any topic or niche. Once found, we help you narrow down the list by showing the podcast's download numbers on various podcast apps. We display episodes, emails, format and much, much more.
We'll run through all the basics in this guide. Then, if you need more info you can turn to our help center.
Searching for podcasts by topic
The topic search bar is easy to find. It's the first thing you'll see at the top of your home page — type in your topic and press search.
Let's stick with our cookbook example. Typing "nutrition" into the topic bar reveals hundreds of promising podcasts to choose from.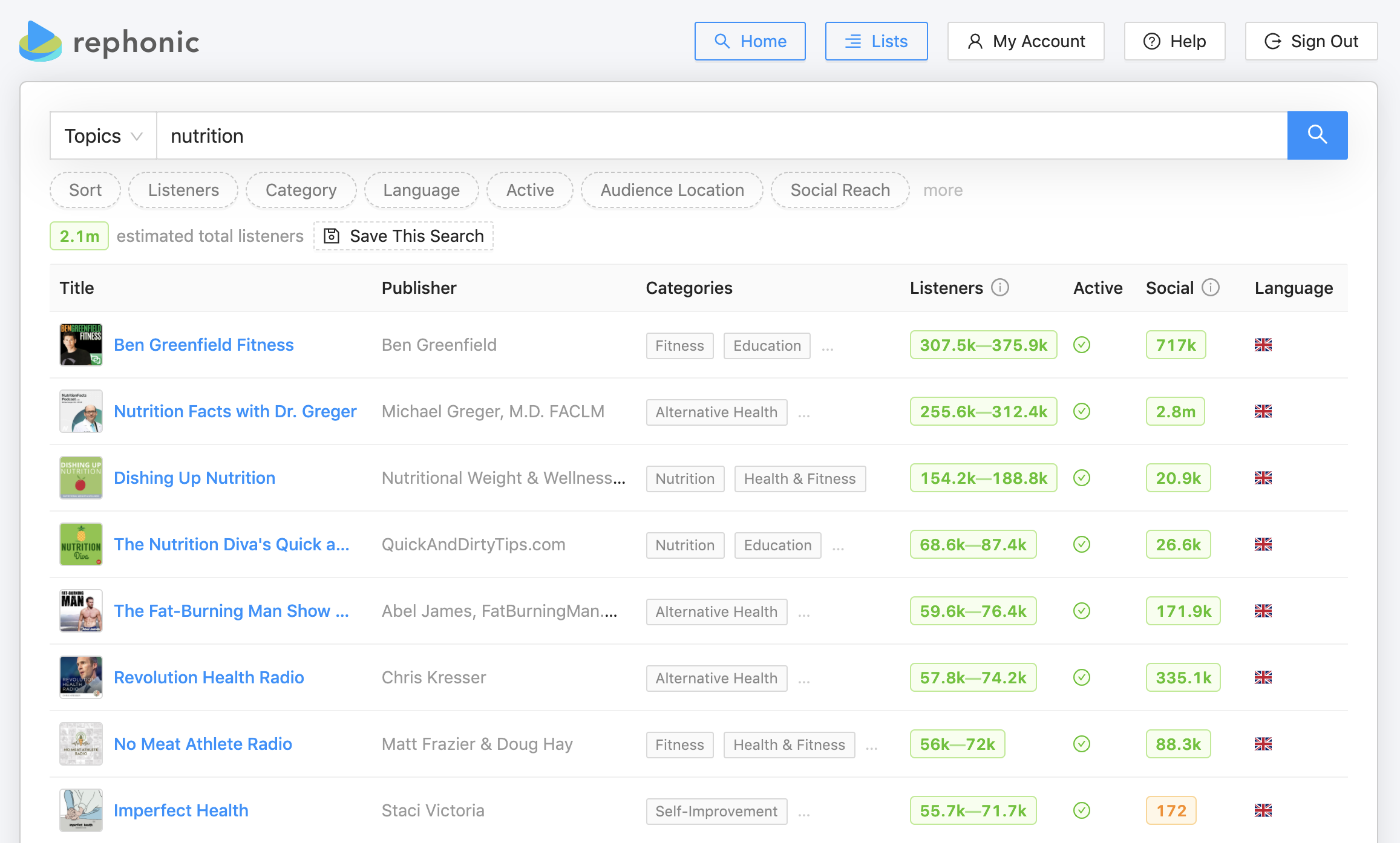 Pretty overwhelming! Fortunately, there are many search filters to help you narrow down to your best-fit podcasts.
Use the advanced filters
See those buttons below the search bar? Using them helps you filter the possibilities in all sorts of ways. Tap the Listeners button to locate podcasts with the biggest reach if you're not interested in small shows.
Maybe you're more interested in US-based podcasts because you're promoting an upcoming book tour? Select 'United States' in the Audience Location section.
Or perhaps Facebook is a big part of your campaign, so you're looking for podcasts with substantial social engagement? Select the social reach button to remove podcasts with fewer followers.
Search for titles, publishers and episodes
You might have noticed the dropdown arrow next to Topic in the search bar. That menu adds Titles, Publishers and Episodes into the mix.
So:
Select Titles and type the podcast's name if you have a podcast in mind but want to know more about it.
Perhaps you'd prefer to work with Stitcher? Select Publisher from the dropdown menu and search for Stitcher podcasts.
The final dropdown option is Episodes. Imagine you're looking for keto and vegan episodes, in the US, in podcasts with a mainly female audience. First, select Episodes and type in "keto vegan". Then filter the search with Audience Location and Gender to find relevant episodes.
The episodes option is very useful if I want to find out if many podcasts have already covered the topic from my angle.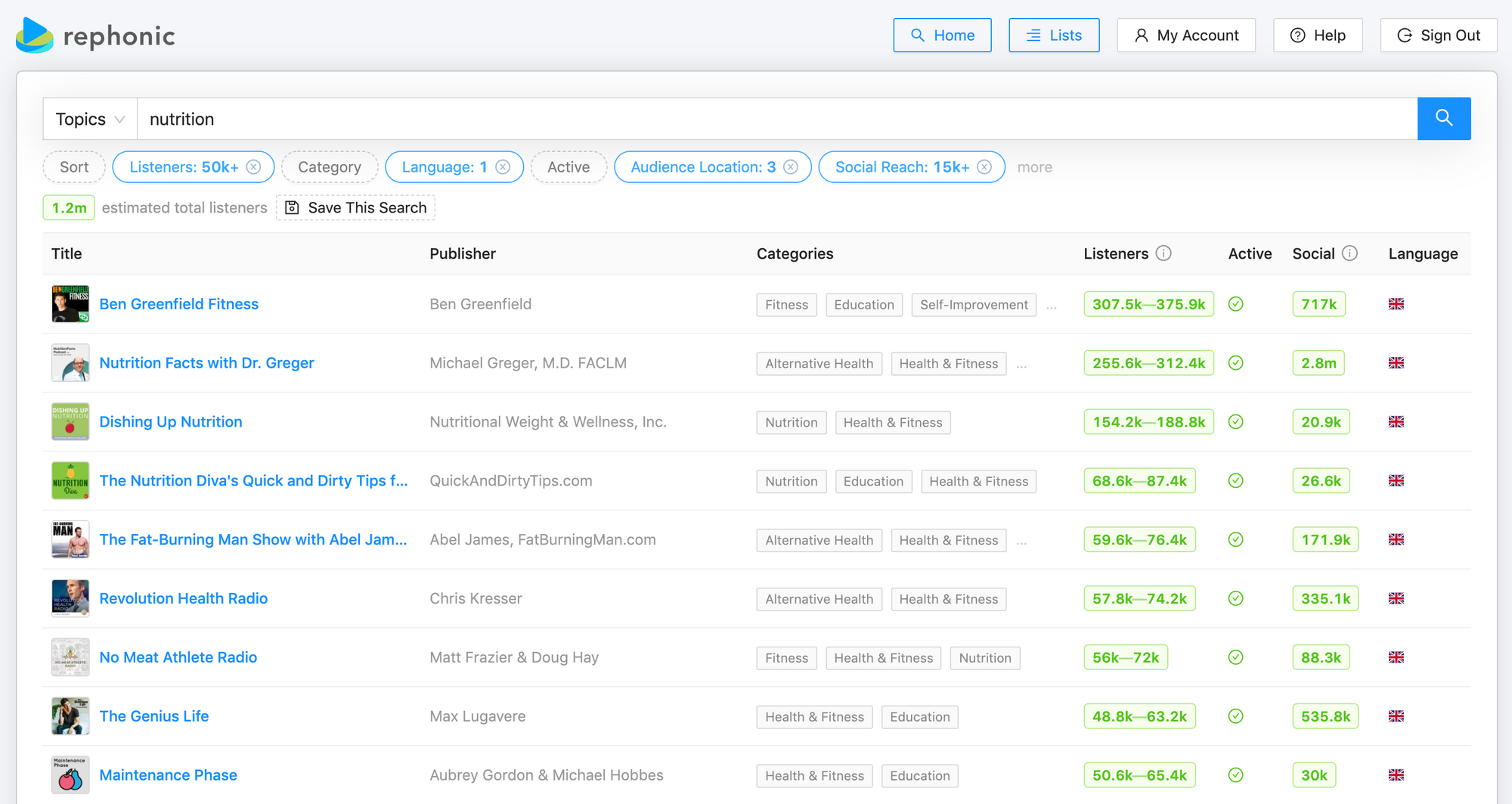 Once you've completed your search it's time to dig deep into each podcast. Finding them is only the beginning.
Using Rephonic's podcast data and why it matters
Examining all the data helps you find the perfect show for you. So let's look at the wealth of available information that pops up when you click on a title.
What does this podcast cover? Is it well established?
Well-Fed Women came up in my health nutrition search so let's open their page. After the logo and a short description, I can see all the basic information at a glance.
I know it's an established, consistent podcast because it's been going for seven years and has 337 weekly episodes. The format is mainly guests and interviews. That's perfect for me and my new cookbook — and the niches or categories are spot-on too.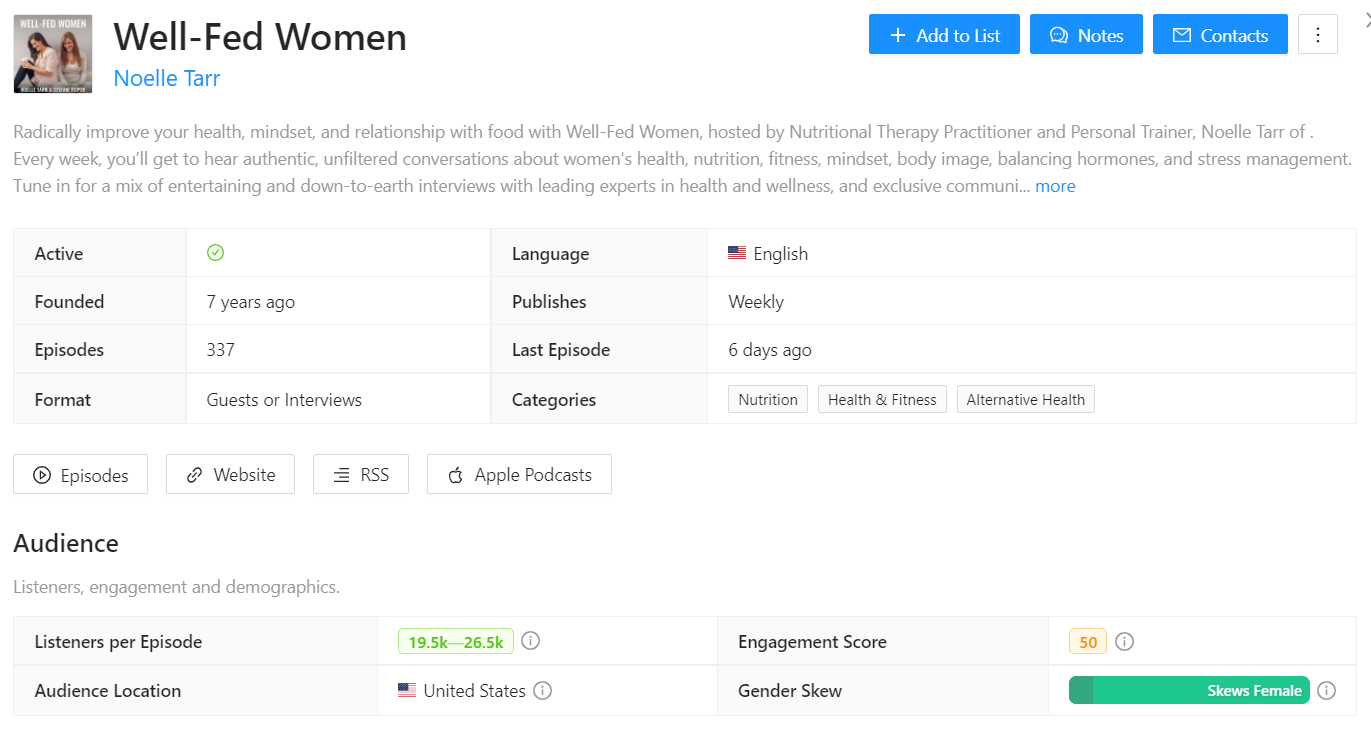 But will anyone hear my interview?
The Listeners per Episode figure shows Rephonic's best estimate of the download numbers. (In this case, between 19,000 and 27,000 people typically listen to each episode. It's not the biggest podcast out there but a substantial audience all the same.)
Look further, and you'll find an Engagement score that shows the growth in new ratings and reviews across multiple apps.
We always recommend listening to a few episodes before you pitch for a guest spot. Hosts can always tell if you're only asking based on their numbers.
Fortunately, you don't have to fuss with your phone's app. There are links to the podcast episodes, website, and RSS feed right above the Audience section.
What do the listeners think?
The Feedback section shows the ratings and reviews for this show across major podcast players. A glance shows the numbers straight off. To read the actual reviews, click the All Reviews button, and they'll pop right up.
The Rankings section shows me how 'Well-fed Women' is competing on the country charts. As you can see, the podcast is #56 in the US. But how will I know if that's a good ranking?
Clicking on the blue United States Link brings up the whole list of podcasts, which ends at #251. That puts 'Well-Fed Women' in the top 20% — a creditable placing. It's looking more and more like "Well-Fed Women' should be on my list of possible podcasts.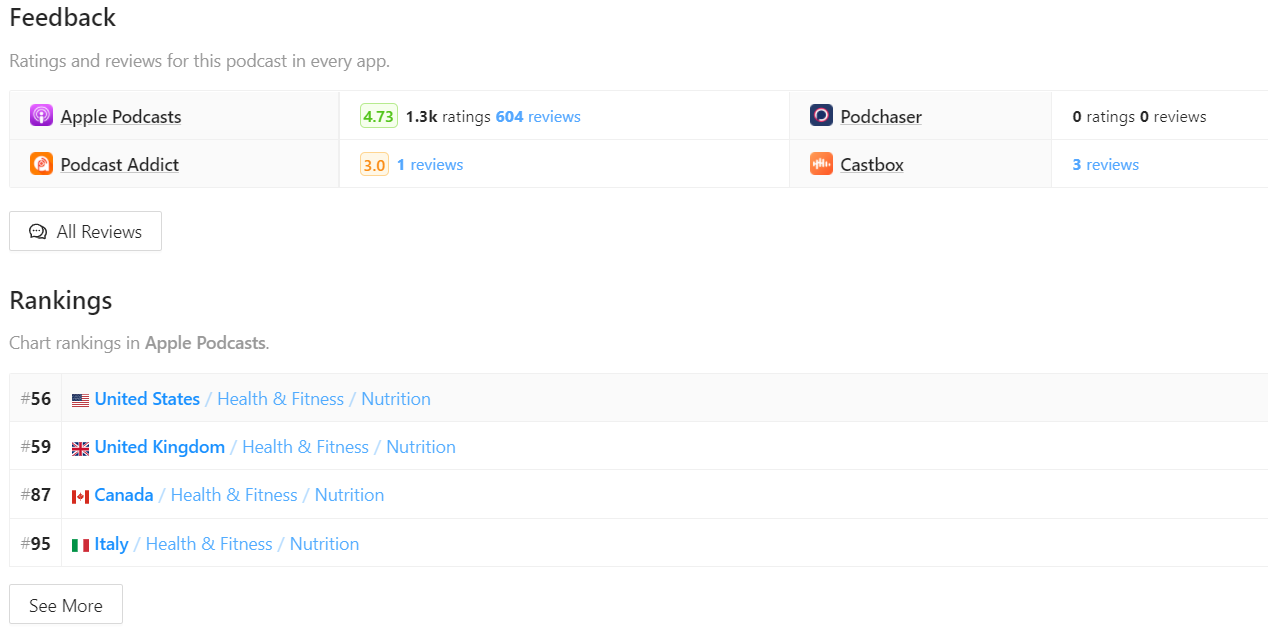 I can also check the Social section to see where the podcast shows up on social media. Each item links to the account's page on that platform. That means I have a way to DM the host if email isn't practical.
Start building a target list
Once you've found your first podcast, you can start making a list of possibilities. That's easy! Just tap the Add to List button beside the podcast title.

Using related podcasts to find more leads
Having established that I'd like to get on this podcast, I'd like to find other similar ones to pitch. So I turn to the Related section right under the Social data.
This comes from Apple Podcast's Listeners Also Subscribe To data and it's helpful for quickly building up my list of suitable shows and shared audiences.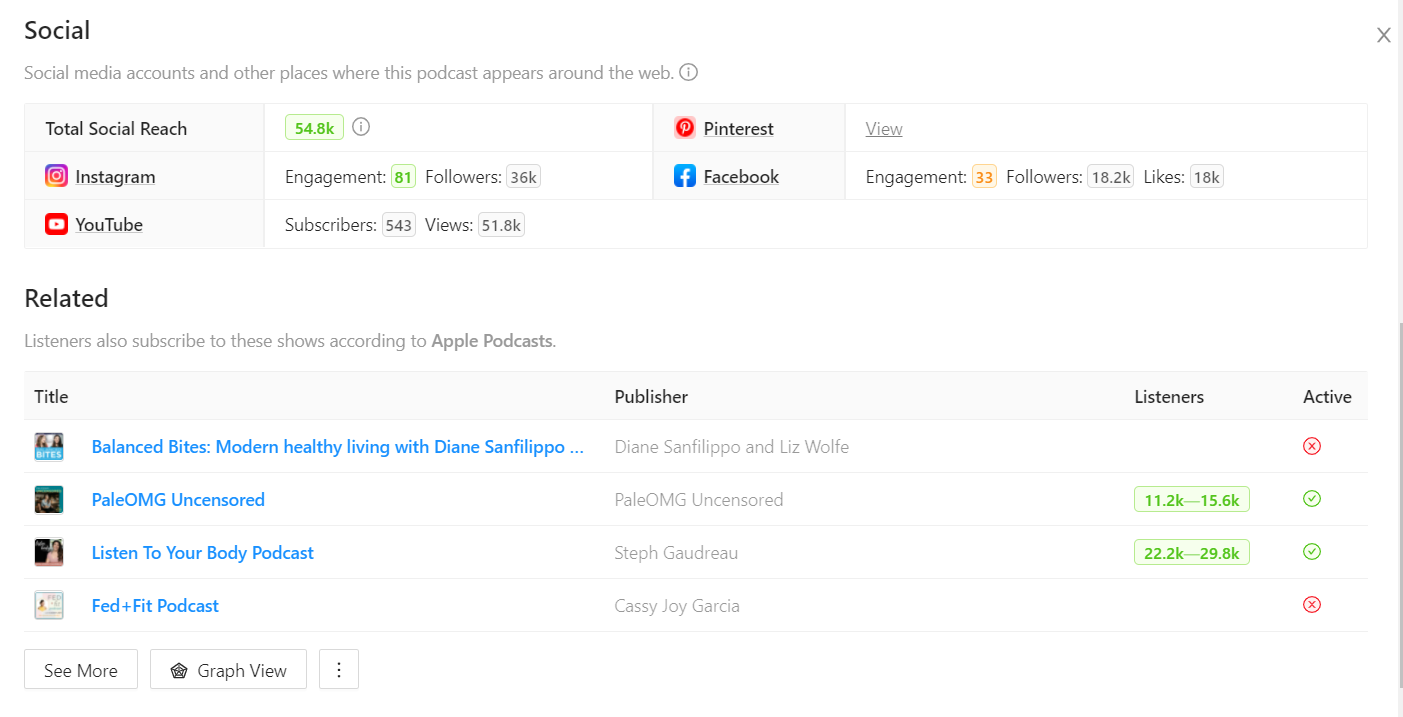 Accessing podcast email contacts
Now that I'm ready to write an email, how will I find the best contact addresses? I could DM them but that's better for informal contacts.
I can use that to make genuinely helpful comments on the Facebook Page. Maybe I'll share their Instagram posts or comment on Twitter. It all shows that I know and like the podcast.
However, it's usually better to email my pitch to be a guest. Clicking the Contacts button in the top-right corner brings up a list of email addresses associated with the podcast and associated businesses.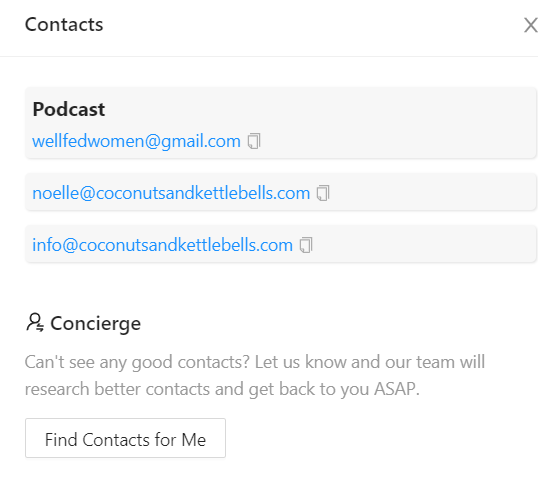 If there weren't any suitable emails listed I could just tap into Rephonic's new Concierge feature for help.
How to start pitching the shows on your list
Successful hosts get many emails, so you want yours to stand out right from the start.
Introduce yourself and get to the point — no one has time to read a five-page introduction. Let your personality shine through and make it very plain that you've listened to the show and think it's fabulous.
Check out our seven 'Ps' for perfect podcast pitches to help you write a successful pitch.
If you want to know how to get on podcasts, Rephonic is one of the best information tools around. Try it for free to see how it works, then sign up for the premium experience.
You'll have a personal list of perfect podcasts in no time!
Photo by Austin Distel on Unsplash.