As the world's second largest search engine, YouTube is fast becoming a major player in podcast discovery and consumption.
YouTube seems to be getting serious about podcasting with rumors of ingesting RSS feeds directly for a new dedicated podcasts homepage. The company recently hired a dedicated Podcast Lead and is reportedly offering podcasters grants of up to $300,000 to produce videos.
In our last industry article we explored the effectiveness of various social media channels for podcasters, so this time we decided to dive deeper into the relationship between podcasting and YouTube.
Rephonic's database tracks millions of views and subscribers across more than 200,000 YouTube channels [1].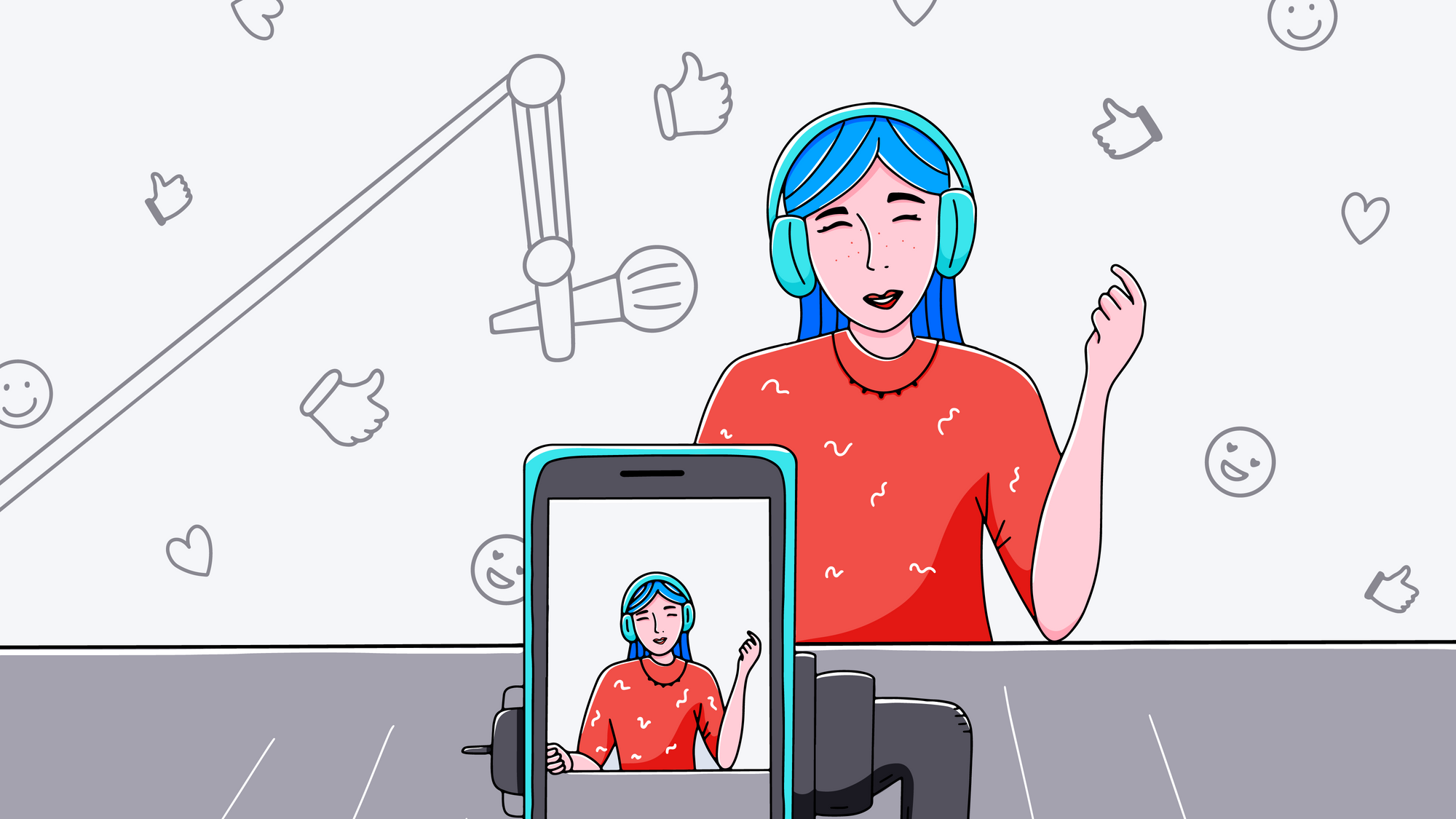 TL;DR:
There has been a massive increase in YouTube searches for 'podcast' in the last two years
Listeners in certain countries are more likely to search YouTube for podcasts (e.g. Ireland)
YouTube searches for 'podcast' in Japanese have followed this trend, but not in Korean
Podcasts with YouTube accounts tend to have slightly smaller audiences
Certain podcast categories prefer YouTube to others (e.g. Wilderness)
📈️ YouTube searches for 'podcast' are growing rapidly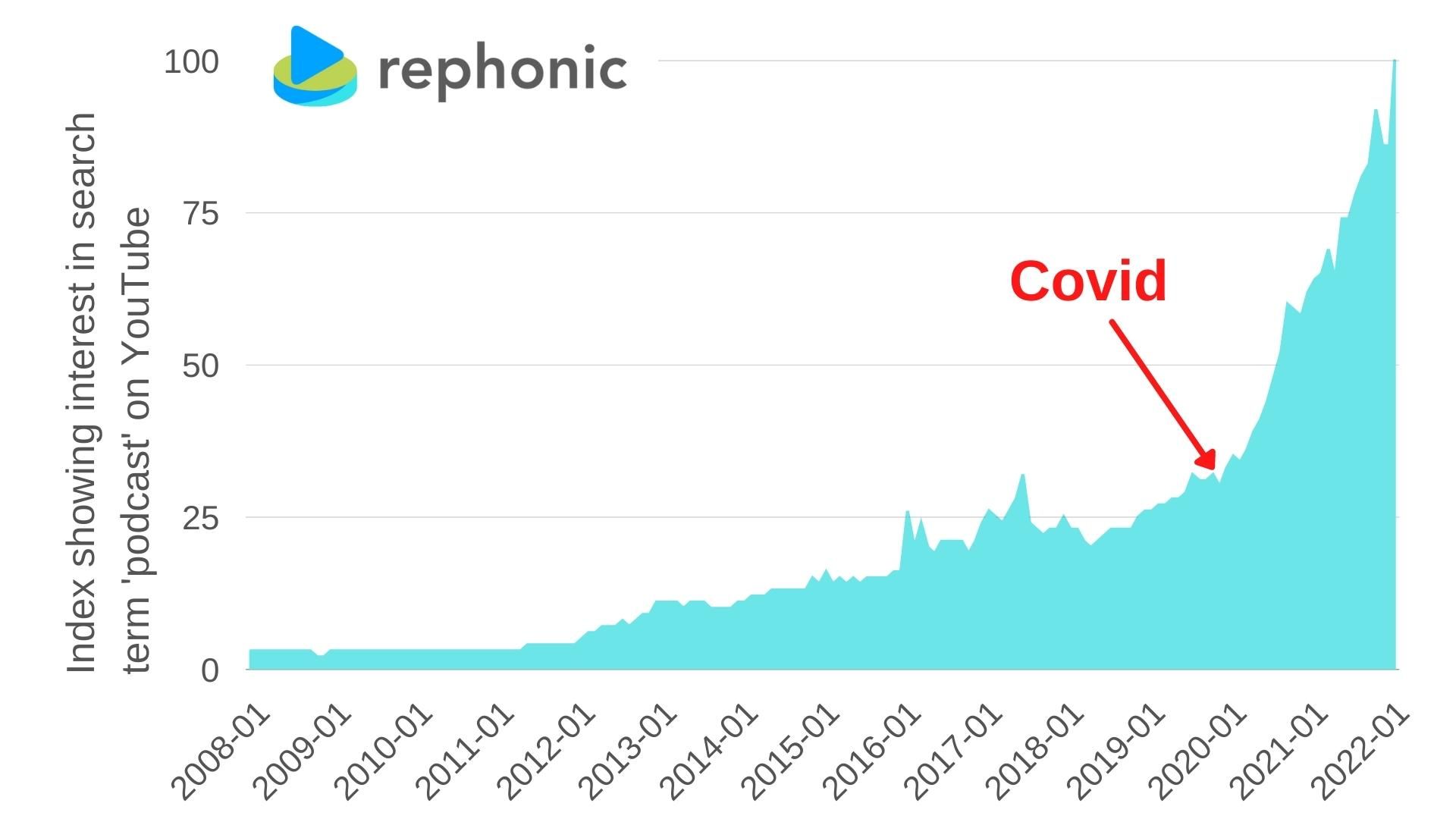 YouTube searches for the term 'podcast' have been steadily growing since around 2012. When the pandemic started they started to increase dramatically [2]. People were suddenly forced to spend more time at home and probably spent more of it on their laptops than they usually would.
Perhaps podcast hosts also had more time to spend repurposing content for YouTube, or maybe they spotted an opportunity to reach idle fans where they were spending more time?
🇮🇪 Podcast fans in Ireland love to catch their shows on YouTube
Looking at Google Trends data over the past year for certain countries (where the original term 'podcast' is primarily used due to a shared latin alphabet) we saw some clear differences.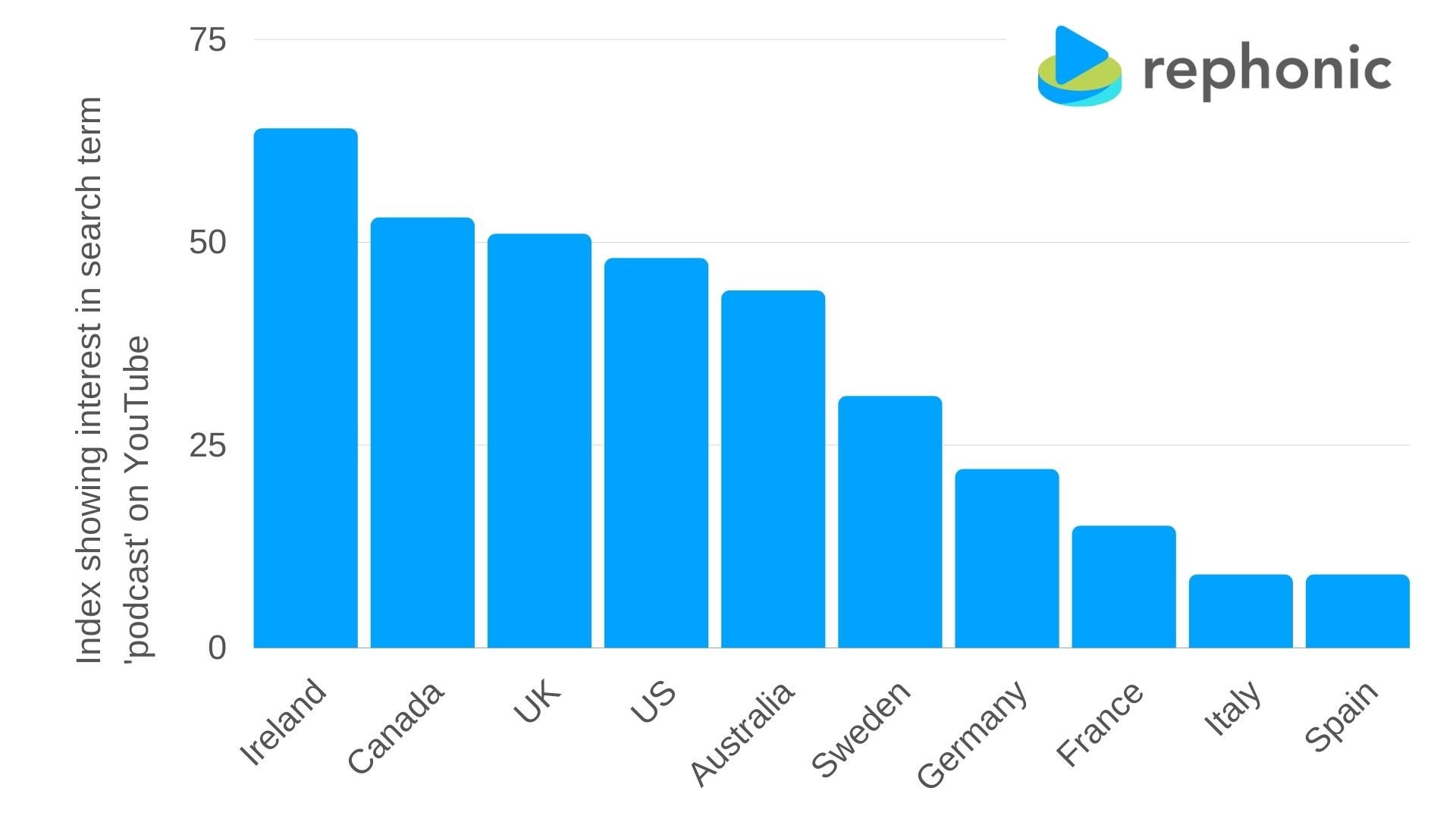 This shows that in Ireland, there's a higher chance that YouTube users are searching for podcast content than in any other country in the chart [5].
It should be noted that some of this could be attributed to language differences in countries like Sweden, Germany and France where English is not the primary language.
If your audience's primary location is Italy or Spain, it might not be worth the effort it takes to get your show on YouTube.
🇯🇵 YouTube searches in Japanese for 'podcast' have surged in recent months
We also looked at YouTube searches for transliterated versions of the term 'podcast' and found that searches in Japanese surged at the start of 2022 [3].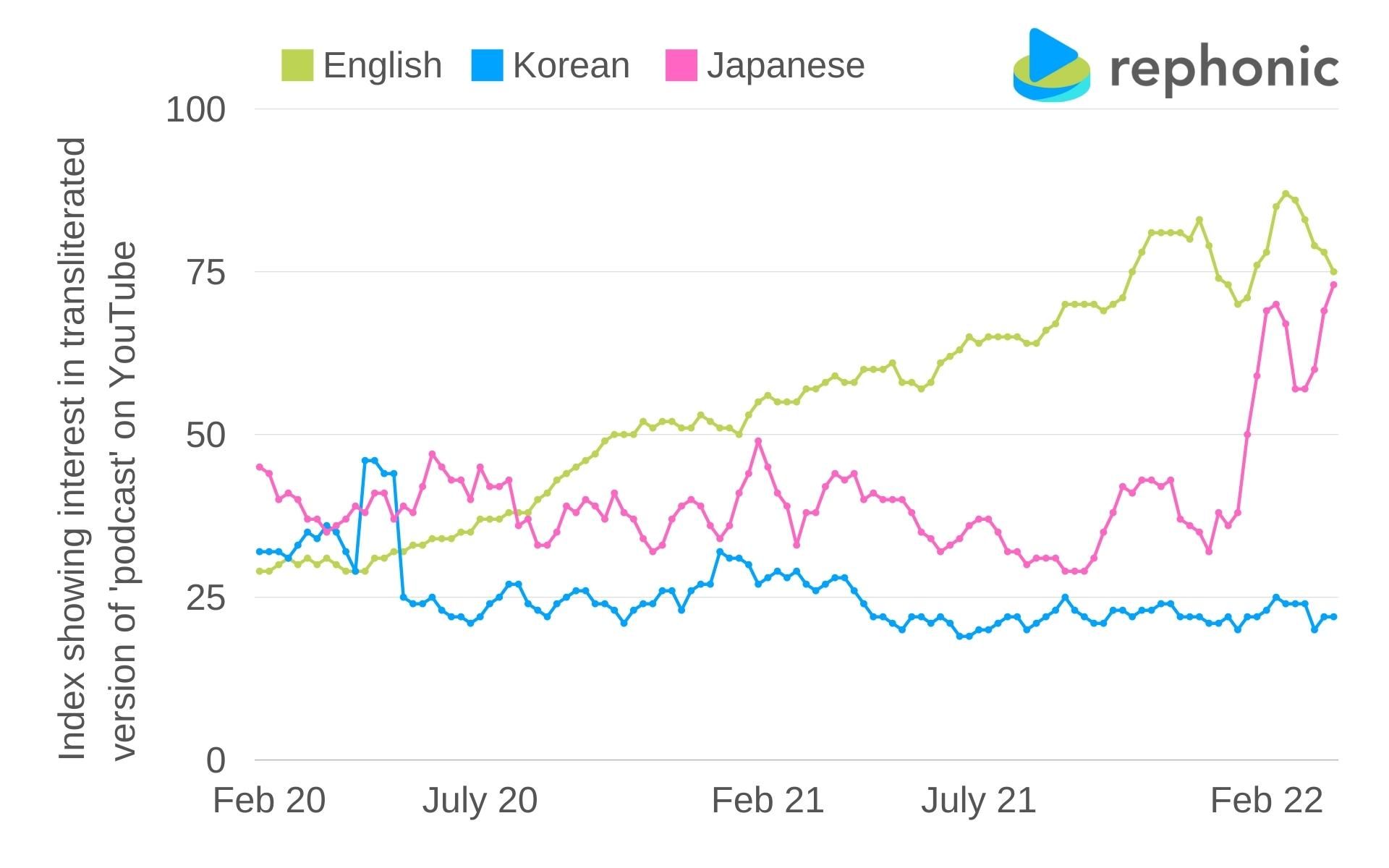 Searches for the original English term 'podcast' are increasing at a steady rate and they remain pretty stable in Korean.
While this doesn't show the number of actual searches for 'podcast' on YouTube, growth trends can be a helpful guide when it comes to deciding whether YouTube is worth pursuing depending on the language primarily spoken by your audience [4].
🧐 Podcasts with YouTube accounts have a slightly smaller audience on average
Using the data that Rephonic collects across 200k+ YouTune channels, we calculated the average number of estimated weekly listeners for podcasts with and without a YouTube account. Interestingly, those on YouTube have a slightly smaller audience [1][6].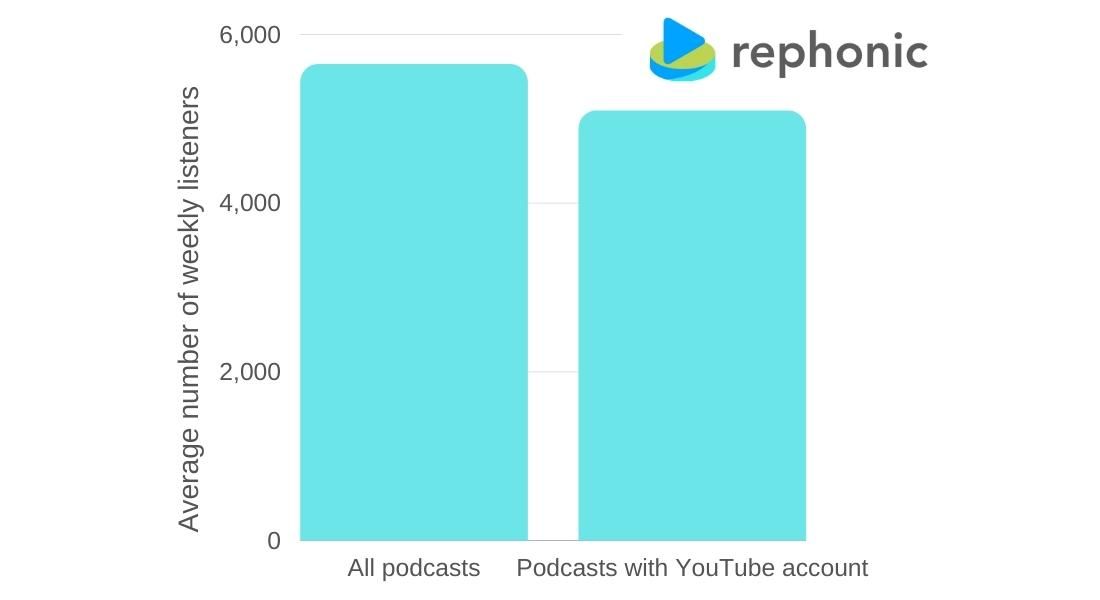 What could be the reason behind this?
Since podcasters having a YouTube channel is a relatively recent trend, it could be that it naturally skews towards newer shows and those tend to have fewer listeners. But given YouTube's investment in attracting podcasters to the channel, it wouldn't surprise us if this were to change in the near future.
We also calculated that for each weekly listener of a podcast with a YouTube account, there are 15 YouTube subscribers [1][6].

⛺ YouTube channels are most common across podcasts in the Wilderness category
We looked at every podcast in our database that has an associated YouTube channel and broke them down by category [1].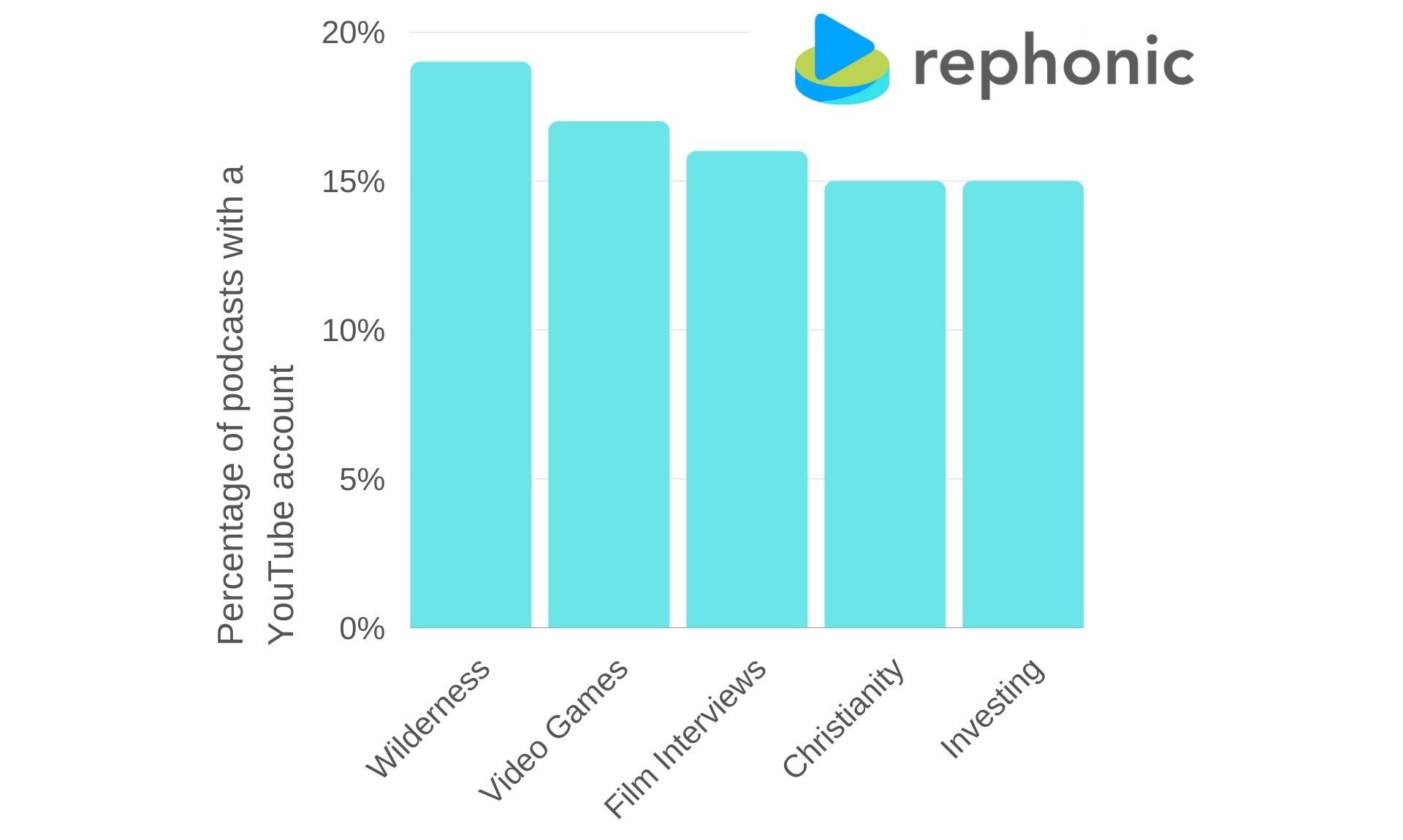 Wilderness comes out on top with 19% (!) of all podcasts in this category having a YouTube channel. This is closely followed by Video Games at 17%.
At the opposite end of the scale, only 2% of podcasts in the Chemistry, Mathematics, and Education for Kids categories have YouTube channels.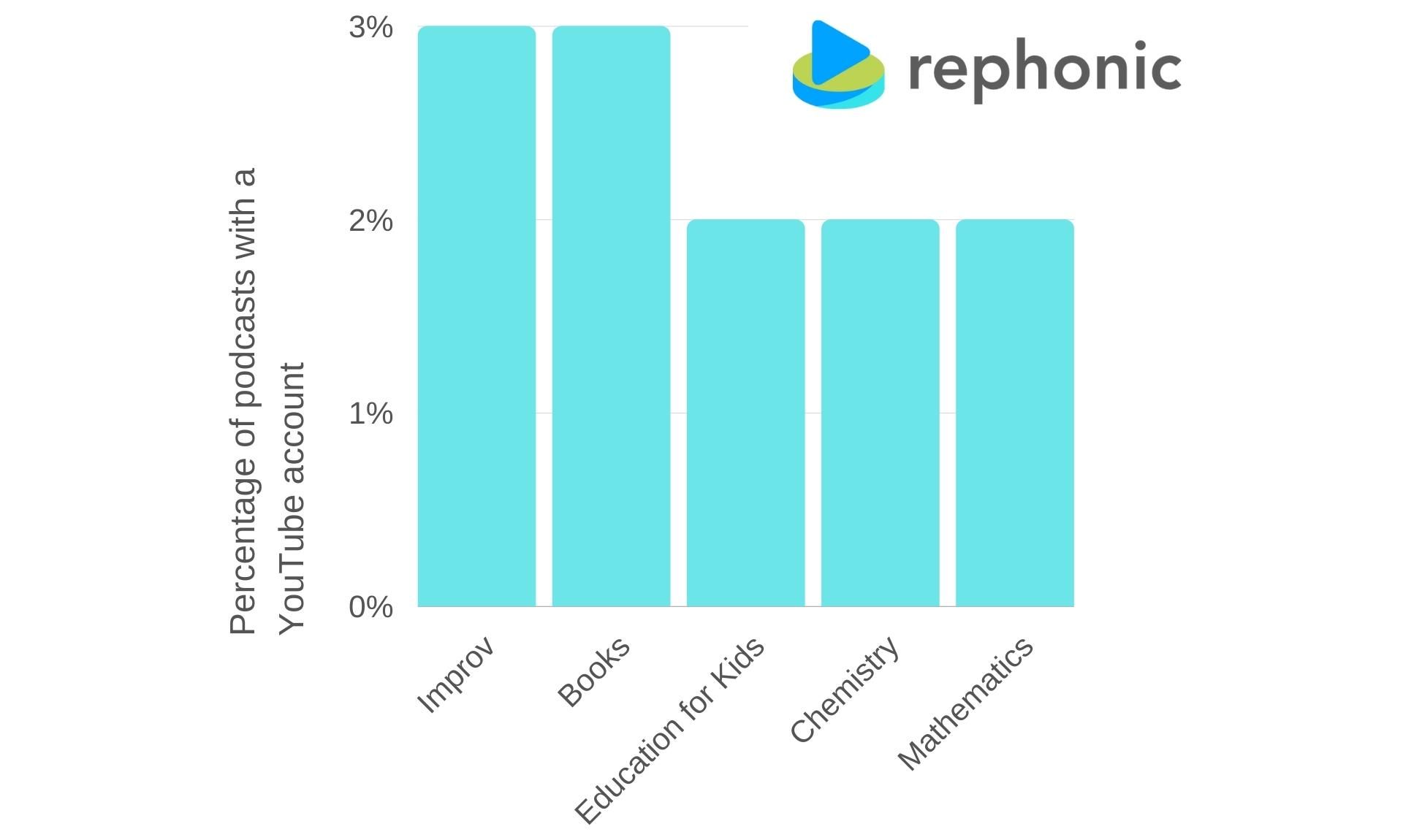 Certain categories seem to lend themselves more to video content than others, so this is a factor worth considering. But perhaps there's some low-hanging fruit if your podcast is in a category with very few competing YouTube channels.
Conclusion
So, should you publish your podcast episodes on YouTube? The answer isn't clear-cut and there are lots of things to think about before you start spending time and money on repurposing your content. After all, a low-quality YouTube video may be worse than none at all.
Having said that, the rise of YouTube for podcast consumption shows no signs of slowing, so having another platform to appear in the suggestions could help new listeners to find you.
---
As you deliberate over whether YouTube is right for you, another strategy to attract more listeners is cross-promoting your podcast on other shows.
Rephonic is on hand to make it easier to research and contact podcasters.
We provide data for over 2.5 million podcasts so you can find shows in your niche and check out their listener numbers, audience skew, ratings, and more.
Footnotes
[1] Sometimes we don't find associated YouTube accounts for a podcast or we link ones that are incorrect. Our data is therefore not 100% accurate but in aggregate, these issues are minimized.
[2] Google Trends data shows interest over time for a search term. According to Google:
Numbers represent search interest relative to the highest point on the chart for the given region and time. A value of 100 is the peak popularity for the term. A value of 50 means that the term is half as popular. A score of 0 means that there was not enough data for this term.
[3] We used Google Translate to translate 'podcast':
It's important to note that there may be more languages than the ones listed above that use these terms. For example, 'podcast' is used in many languages such as German, French, etc.
[4] The index for each language is relative to the highest point on the chart during that time period for that particular language. In order to make the trends for each language more clear, we calculated a 4-week rolling average index from the data on Google Trends.
[5] Google Trends data shows interest over time for a search term in different regions. According to Google:
Values are calculated on a scale from 0 to 100, where 100 is the location with the most popularity as a fraction of total searches in that location, a value of 50 indicates a location which is half as popular.
Note: A higher value means a higher proportion of all queries, not a higher absolute query count. So a tiny country where 80% of the queries are for 'bananas' will get twice the score of a giant country where only 40% of the queries are for 'bananas'.
[6] To estimate the number of weekly listeners for podcasts, we collect data from various sources across the web. It's very difficult to get accurate global listener numbers, so our estimates are a 'best guess'.