Social media is one of the most important tools podcasters have to attract more listeners and engage with their fans.
At Rephonic, we looked at the data we collect across more than 1.2 million* social media accounts that we've linked up to individual podcasts (including Facebook, Instagram, TikTok, YouTube and Twitter) to look for interesting patterns and insights that you can apply to your own show.
While we hope these insights are useful, not every podcast is the same and it's important to consider the demographics of your audience and the channels where they're most likely to spend their time.
* We should note that our data is incomplete as our robots are not always able to find every social media account associated with a podcast. But given the large number accounts we do track (1.2m+) we're still able to draw some interesting insights in aggregate [1].
TL;DR:
Instagram is the most common channel across podcasts launched in the last six months
There were relatively very few TikTok accounts in that same segment
Twitter is significantly over-represented across all podcasts considering its small user base
TikTok accounts have (by far) the highest average number of followers
📸 Most new podcasts have an Instagram account, very few have TikTok
We looked at every new podcast launched within the last six months and found more Instagram accounts than any other channel [2].
Instagram is huge, works well for both static and video content (check out Switched on Pop and Meditative Stories) and it attracts neither particularly high nor particularly low age groups, so it didn't come as a surprise.
But given that it was the most downloaded app of 2021 it's surprising that TikTok comes bottom of the pile. This seems like a missed opportunity.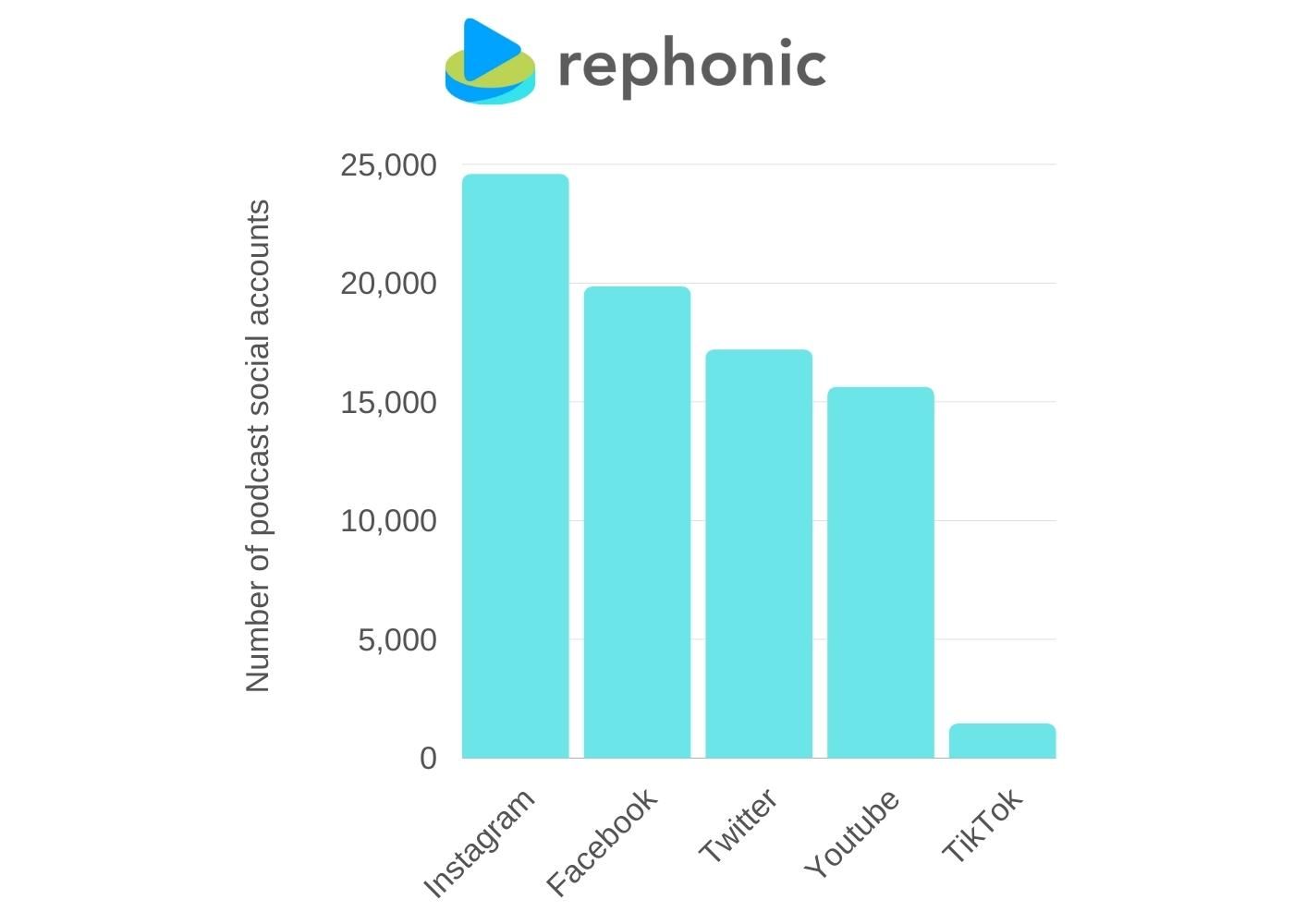 🐦 Twitter is significantly over-represented across podcasts
When we compare our followers and subscribers data to the global user base for each social network, it quickly becomes clear that Twitter is significantly over-indexed by podcasters.
Perhaps this is because the creator class tends to be on Twitter anyway, so podcasters are more likely to be Twitter users than your average person?
The chart below shows which channels are over and under-represented compared to their user base. Channels in green are over-represented and those in red are under-represented across podcasts [3].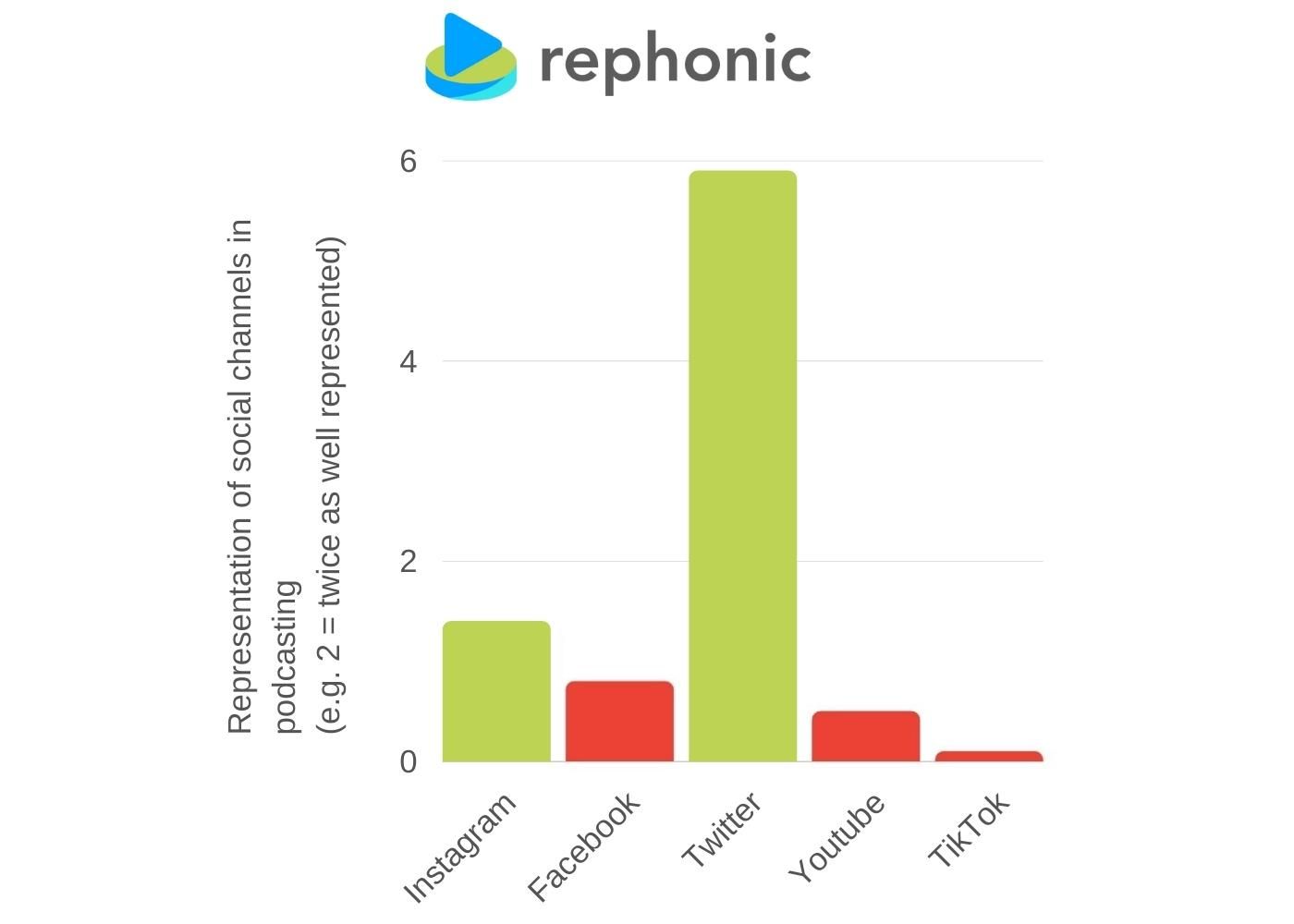 Looking at the top 1000 podcasts by our own estimated audience size we found that shows are more likely to have a Twitter account than any other channel. In contrast, there are very few TikTok accounts [4].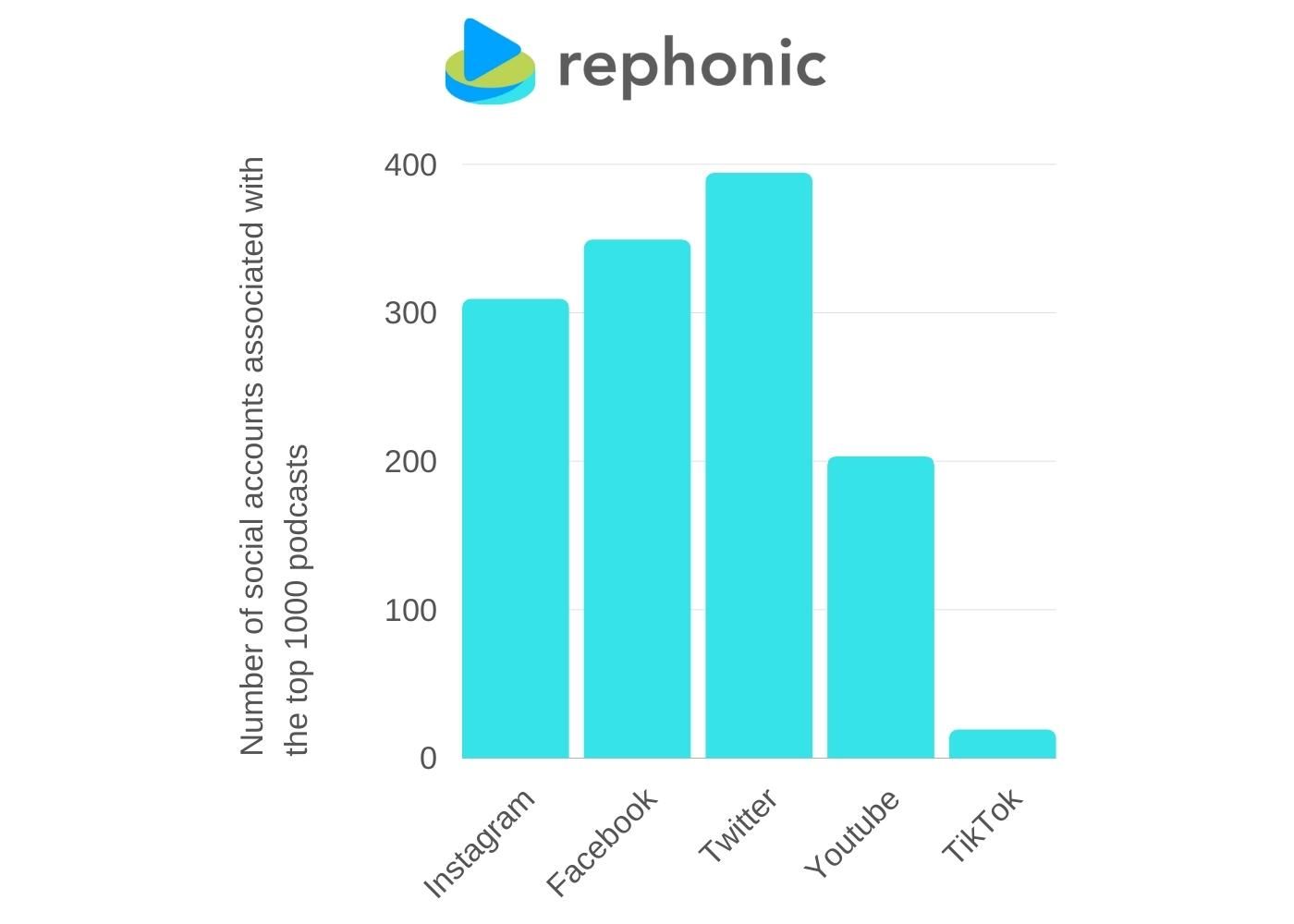 Tactics are varied on Twitter. Shows like Conversations by ABC Radio simply make use of photos in posts to attract the attention of followers. Welcome to Night Vale posts mixed content and, notably, uses the platform to promote their Patreon account.
👯‍♀️ TikTok accounts linked to podcasts have by far the highest average number of followers
We looked at the average number of followers or subscribers for podcast accounts across different channels and found that TikTok comes in head and shoulders above the rest with Facebook in a distant second. Instagram and Twitter accounts have the lowest average number of followers.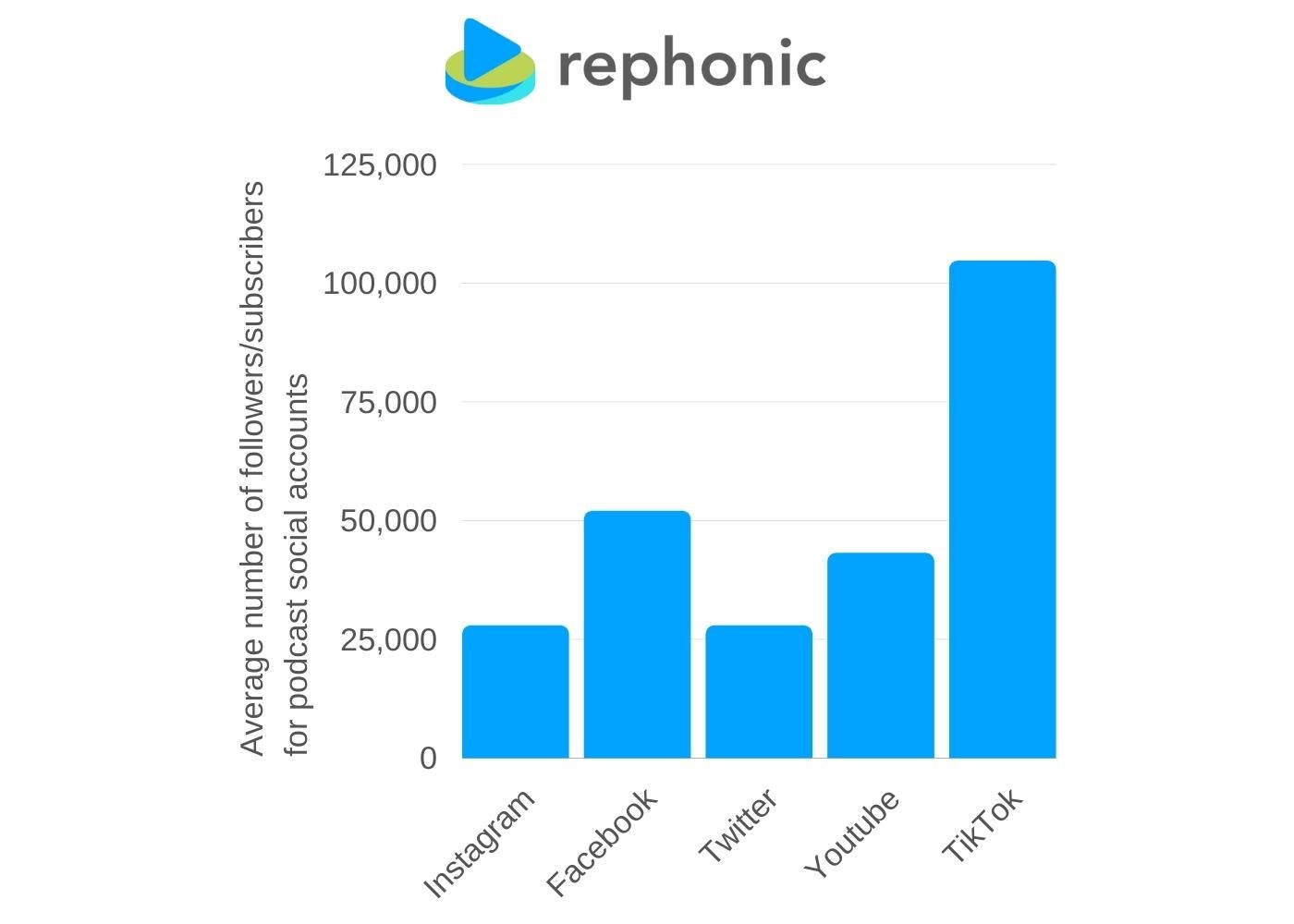 Warden's Watch is a great example of a mid-sized podcast using TikTok effectively. They've amassed over 26,000 followers by posting a mixture of podcast excerpts and original video content.
With very few accounts, a high average follower count and a fast-growing user base, we think TikTok is massively undervalued by podcasters.
Conclusion
As you try to grow your podcast, being active on social media is a no-brainer but it can be tricky to know which channels you should focus your time on.
We think you should consider the demographics of your audience (in particular their age) while also taking into account the market share of each social network and how suited they are to podcast content.
For example does your audience skew younger and mostly female? TikTok is a good option. Older audiences may be easier to reach through Facebook.
---
As you find your feet, another strategy to gain more followers is cross-promoting your podcast on other shows. Rephonic is on hand to make it easier to research and contact podcasters.
We provide data for over 2.5 million podcasts so you can find shows in your niche and check out their listener numbers, audience skew, ratings and more.
Footnotes
[1] Sometimes we don't find associated social accounts for a podcast, or link ones that are incorrect. Our data is therefore not 100% accurate but in aggregate these issues are minimized.
[2] We looked at podcasts launched between 25th August 2021 and 25th February 2022 and found the total number of social accounts by channel that our system had matched to them.
[3] We calculated the number of accounts on each social channel as a percentage of the total number of social accounts on Instagram, Facebook, Twitter, Youtube and TikTok. We then calculated the number of users on each channel as a percentage of the total number of social accounts in question and calculated a representation index. Channels with an index of >1 are over-represented and those with an index of <1 are under-represented.
[4] Rephonic estimates the number of weekly listeners based on hundreds of publicly available data points that we gather about podcasts from all over the web.