People who are new to podcasting are often astounded at how popular podcasts have become.
In 2021, more than 80 million Americans are weekly podcast listeners, with 116 million being monthly podcast listeners (Infinite Dial, 2021.) And, of course, there are many more podcast fans worldwide.
Discover new brands via podcasts
Most regular podcast listeners are loyal to their favorite shows, but many also make time to discover new podcasts. Some find new podcasts on social media; others consult Rephonic's 3D graph, and still more search out new podcasts and hosts that they've heard about due to ads or interviews on their favorite podcasts. I've subscribed to many of my best-loved podcasts after hearing about them on another show.
Podcast listeners also enjoy discovering new brands and products when they listen to their favorite shows. Whether it's a mid-roll ad delivered by the host or a recorded pre-roll or end-roll ad, people listening to podcasts know that the product or brand will probably be helpful. And that's because the brands and the podcast hosts have considered their target audience demographics very carefully indeed.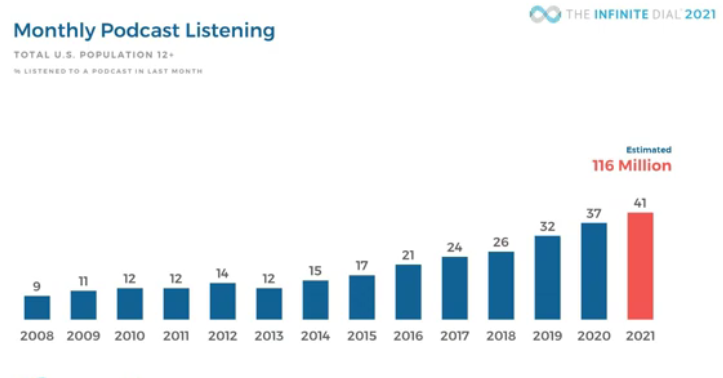 Podcasting increases your ROI
There are many ways to measure ROI when it comes to podcasting.
Financial returns are significant, of course.
'Podsights' reported in 2020 that podcast campaigns, in their study of 230 brands, delivered an average return on ad spend of $2.42.
However, they also found that listeners who heard about a brand on multiple podcasts converted 2.4 times more than those who only listened to the ads on one podcast.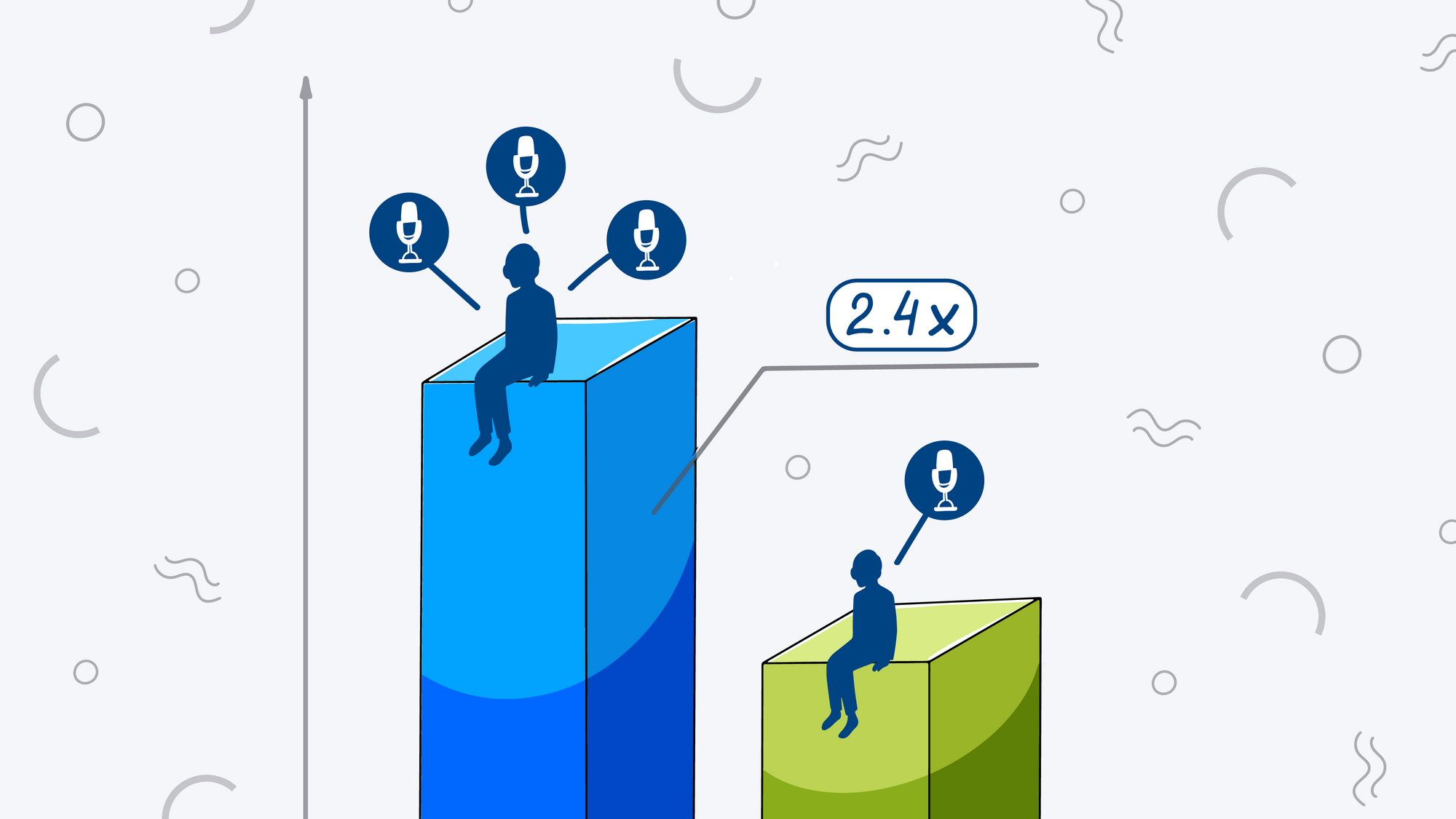 And, Buzzsprout's article on Podcast Advertising Trends quotes Midroll as saying that 60% of podcast listeners have bought something after hearing about it on a podcast. That's an impressive stat, no matter which way you look at it.
But, beyond financial ROI, we also need to consider the value of increasing awareness of your brand. With a podcast interview or ad, you're showing listeners what you stand for and how your products solve real problems.
Consider how long you'll spend with the audience. Many podcast listeners will listen to the entire episode because it fits in with their jog in the park, commute to work or household chores. So with a guest interview, you have anywhere between 20 minutes to an hour or more to impress your target audience.
Podcast listener numbers
What are podcast listener numbers?
Some sources call these download numbers, but you'll also find them called listener numbers and even subscriber numbers too. All these refer to the best estimates of the number of podcast listeners for a particular show.
It isn't easy to be exact with these numbers because podcasting is such a diversified medium. Once an episode airs, people can listen on various podcast apps and devices, including Apple Podcasts and Spotify. Some download an episode to listen to later, while others immediately tune in online. Some people grab it on their mobile and listen by themselves, and others through a smart speaker for the whole household to hear.
Why is it important to consider audience size?
Listener numbers demonstrate a podcast's popularity. They help you estimate how many people will learn about your brand when they listen to your interview or hear your ad.

Rephonic solves the "how many listeners?" problem by researching across all the publicly available data points to bring you a podcast's "number of listeners per episode." That stat gives you a more accurate idea of a podcast's popularity and engagement per episode and over time.
The Podcast Host has assembled some podcast statistics from Buzzsprout on overall listener numbers to put these in perspective. They found that the average podcast in the top 50% gathers more than 28 listeners per episode while leading podcasts in the top 1% have more than 3647.
Bear in mind that these numbers cover over 2 million podcasts, so 1% is still an enormous number. A podcast that shows listener numbers per episode in the high thousands is doing very well.
Podcast listener demographics
What are podcast listener demographics?
When you're considering which podcasts to target, there is other data you should think about.
Listener demographics show you what sort of people make up each podcast audience.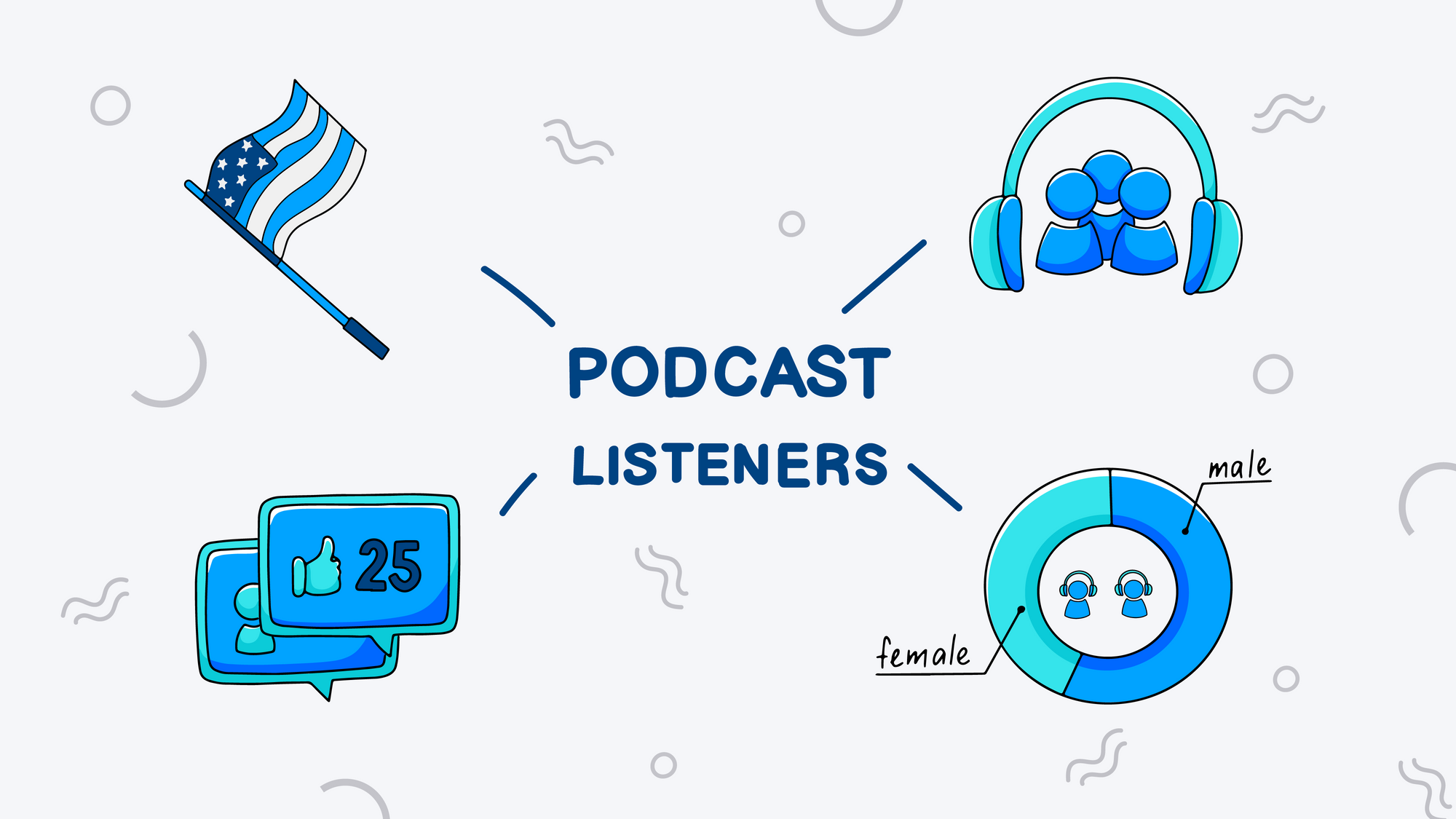 They include:
Gender skew - is this show more popular with men or women? Or maybe it's equally popular with both.
Location - if your organization is based in England, you may want to appear on podcasts with high listener numbers in the UK. If you're an Australian outfit that wants to expand into the US market, then you'll be searching for podcasts in your niche with a US fanbase.
Why are audience demographics relevant?
It's essential to see if the podcast audience matches your target audience. After all, if you're offering the latest in men's haircare, there's probably no point in advertising to an audience of women.
Similarly, if you want to target Latino teenagers, you shouldn't choose a podcast whose audience is mainly businessmen in their 50's.
Rephonic shows gender skew, location, and engagement,  and provides links to the podcast's social media accounts to help you further your research.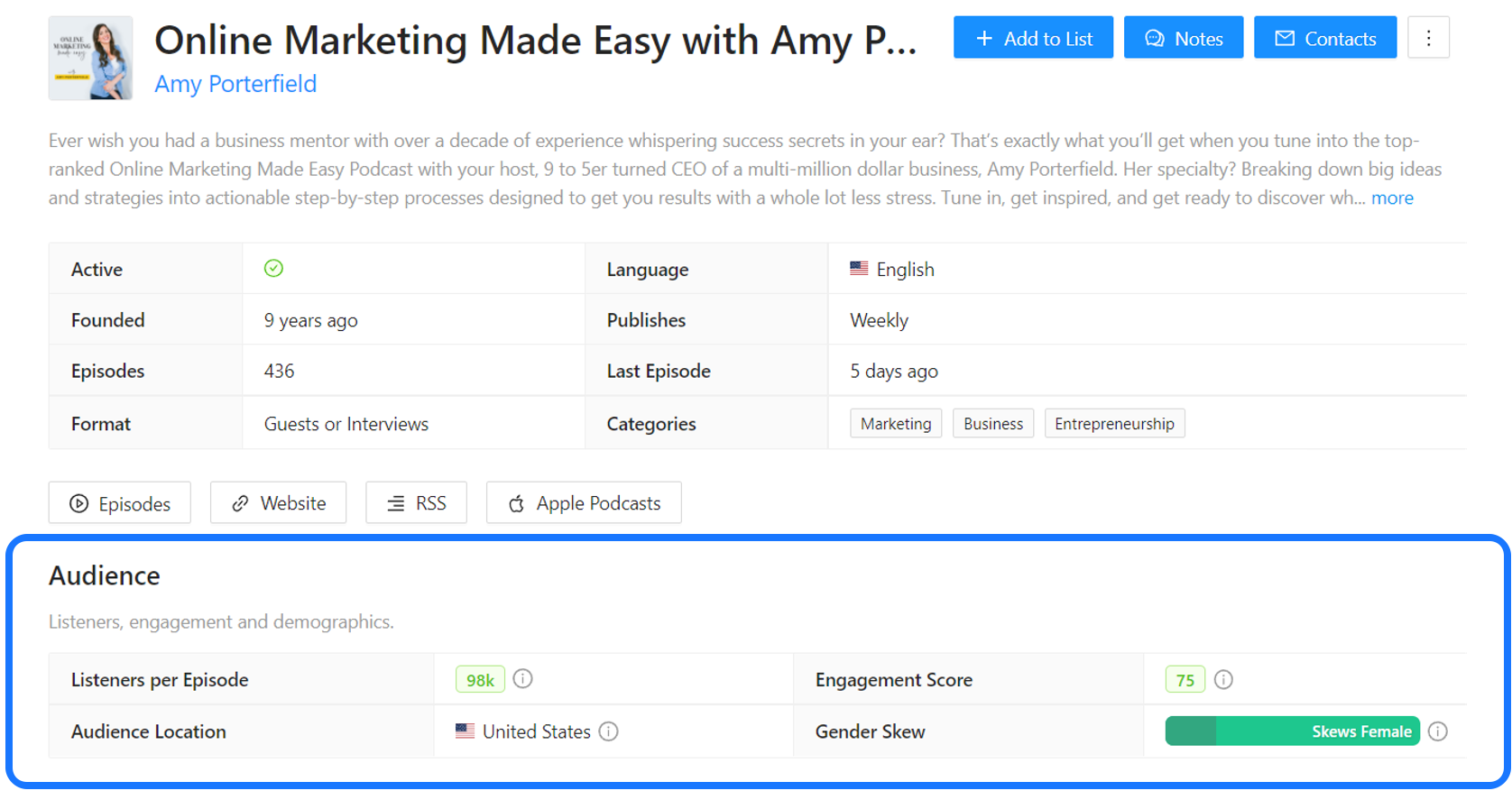 Which podcast data is more important?
It's not a case of one versus the other. Both podcast listener numbers and demographics are equally meaningful. The essential thing is to know your target market and find podcasts that reach it.
After all, the more niche your product is, the more deliberate you need to be in pitching podcasts. Whether you're aiming to be a guest or you want to run an ad campaign, you'll get the best ROI by doing your research to find the right audience then checking the listeners per episode number to see if the audience is big enough to make it worth your while.
Remember, too, if you've focused on a small but dedicated niche, your perspective on the numbers will be different from that of a brand with a large target audience.
How to find podcast audience data with Rephonic
All audience data is essential for identifying podcasts that can generate a good ROI for your brand or business.
Just remember that return on investment comes in many forms. You may not see many direct sales from one podcast guest interview or a run of five pre-roll ads, but engaging in a consistent podcast PR strategy could see your brand awareness amongst a new audience soar.
What's more, that initial interview may pay dividends down the track when listeners then find you discussing your topic from a different angle on a second podcast.
That's because your first podcast appearance warms them up while the second interview tips them into buyer mode.
Are you ready to gain access to the data on more than 2 million podcasts? Then Rephonic is the right tool for you. Grab your free trial and start your podcasting  campaign today.