Podcasts are one of the most powerful yet intimate digital marketing platforms on the planet. As such, they are a great way to get your message to millions of listeners all around the world.
Sure, people love the immediacy of social media, but these days they increasingly see through the carefully curated images on Instagram and the constant interruptions of ads on Facebook. Even YouTube, with its millions of channels, has a relatively small number of superstars.
Therefore it makes sense to secure yourself plenty of guest interviews or paid spots on podcasts so that you can connect with highly engaged fans in the US, UK and through all the world's continents.
Podcasting is unique because it focuses on your voice.
When loyal subscribers hear a podcast host in their ears week after week, they feel connected. What's more, that bond often extends to podcast guests, especially when they hear the same person on different episodes or shows.
Podcasts are portable, too.  Listeners can take you anywhere they want - and they do! People listen to podcast episodes while they're on the treadmill in the gym, cycling on a trail or driving to work. You're in their ears while they're walking the dog or cleaning the house. And when they're on the tube or jogging around the park.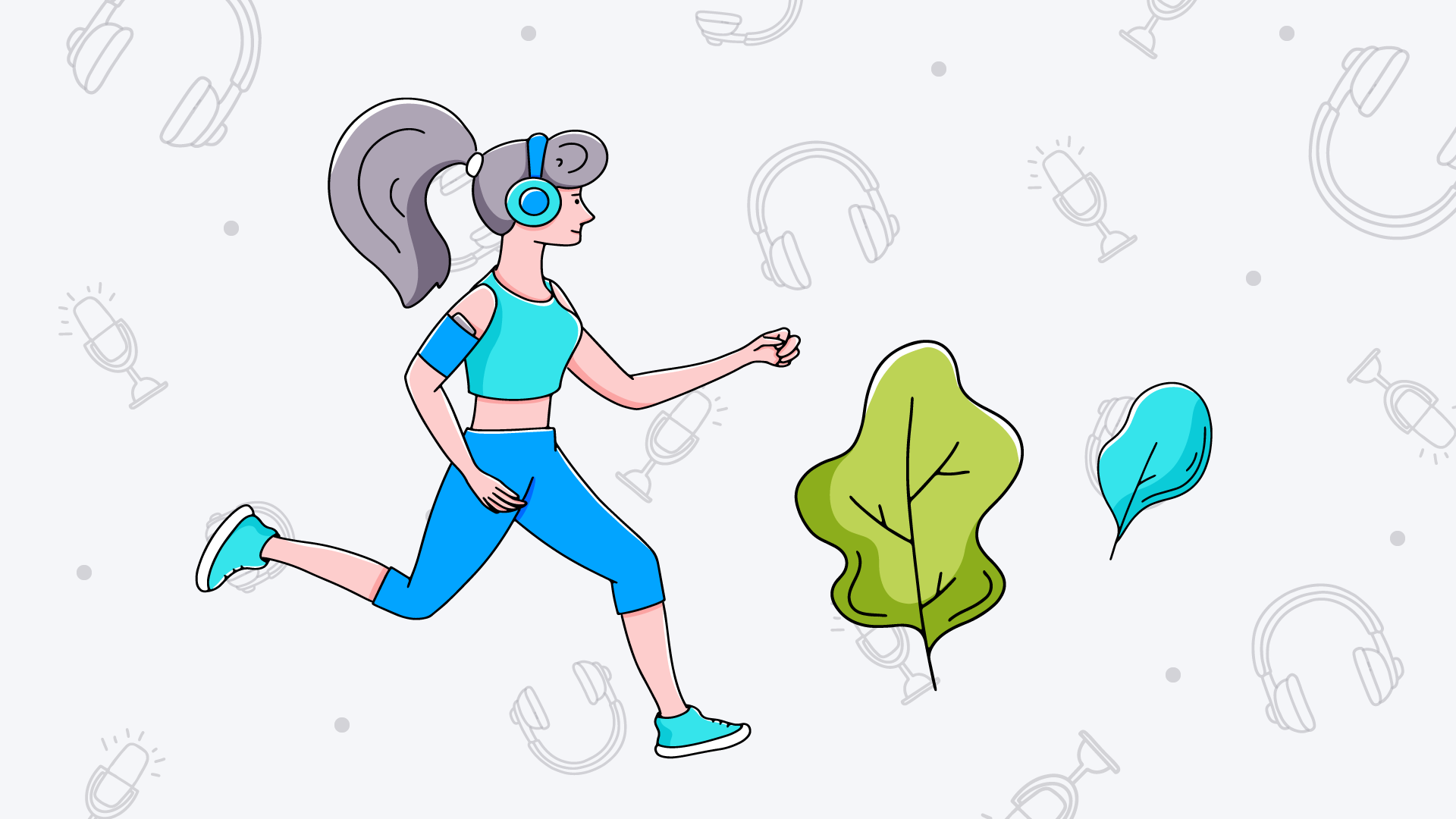 People listen so often that they almost feel like they're part of the conversation. Think about it. How many times have you found yourself commenting aloud or mentally composing a message so you can add your opinions to the mix?
That close connection can boost your brand when you score a guest interview on a podcast episode because it gives you a perfect chance to share your origin story, struggles and values.
So, once you've decided to include podcasts as part of your PR and marketing strategy, what's the best way to reach out to your chosen podcast hosts?
How to find podcast contact information
1. Do it the old-fashioned way
It used to be time-consuming and somewhat frustrating trying to find a podcast contact address.
Here's the process:
Search for the best podcasts to dovetail with your brand.
Look for the podcast on Google or in the podcast apps. (Cue extra frustration when the podcast isn't across all the apps and you had to search through Apple, then Spotify, then iHeart to find it.)
Find the website link in the podcast show notes.
Finally, search the website or trawl through the social media pages for a contact address - some make it obvious, others hide it in the fine print.
Repeat the process for each potential podcast on your list.
Each of these steps takes up precious time that you could use in other parts of your business.
Fortunately, you can bypass the tortuous route and streamline the process with Rephonic.
Rephonic provides all the available contact data (email and social) and gives you the names and contact details of related podcasts. It's a "one stop shop" in your podcast outreach campaign, saving you hours of frustration by putting all the data you need in one convenient location.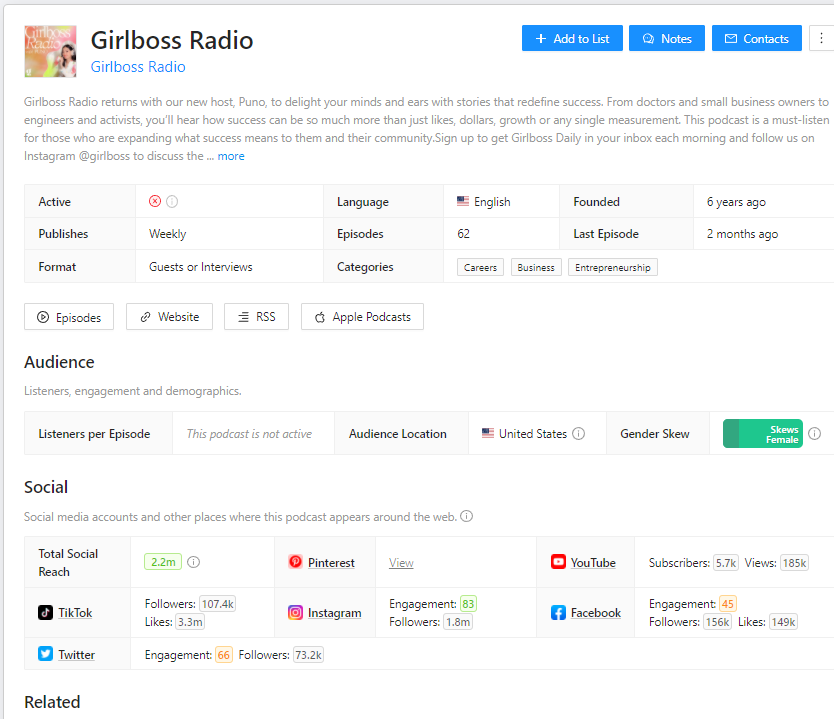 2.  Search Rephonic's contact directory
We have all the online tools you need to make that valuable first contact with podcast hosts.
When you're ready to reach out to a new podcast, click on the podcast name from the list. Then, when the data comes up, look for the Contact Button in the top right corner.
Press that to go straight to all the podcast's contact information, including email address, web pages and social media accounts.
As a bonus, if you've already written your pitch, use our little copy icon to quickly copy the contact to your clipboard and paste it into the email.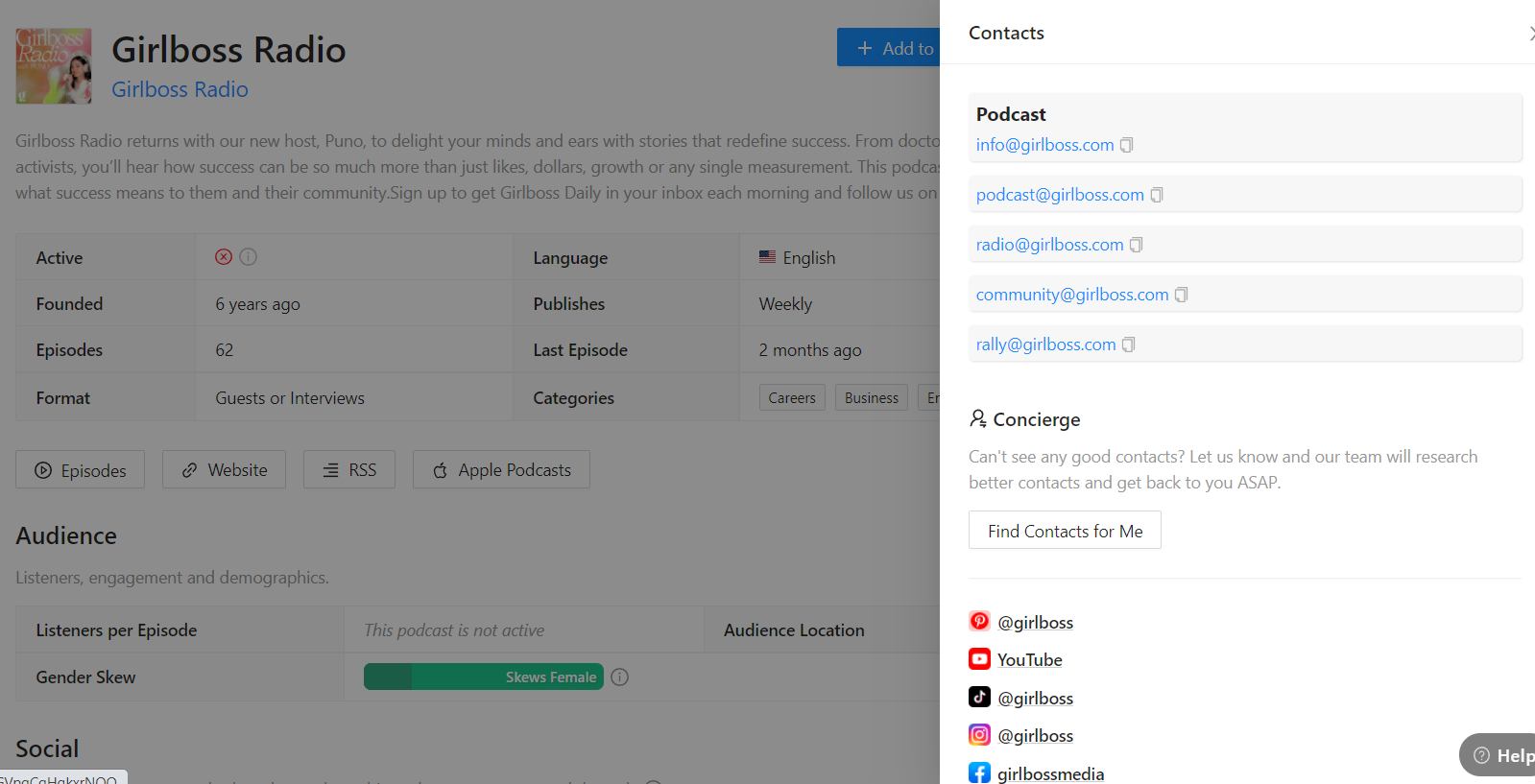 3. Get researchers to find alternative contacts
Sourcing the best contacts across our database of more than two million podcasts is complex, and sometimes the automatic system can't find good information for a particular show. But, if your chosen podcast's info doesn't show a contact address, don't panic.
There's now a seamless way for you to ask our team to research the best contacts for you for those cases. Just tap the Contacts button while viewing any podcast and then tap Find Contacts for Me to request the concierge service:
Our team of researchers will go out and try to find the correct contact info so that you can save time and focus on pitching. You'll get a notification when your request has been processed.
Your team gets a monthly quota of concierge credits to use as needed.
If you're pitching a lot of podcasts, this could save you many hours of manual research time every week.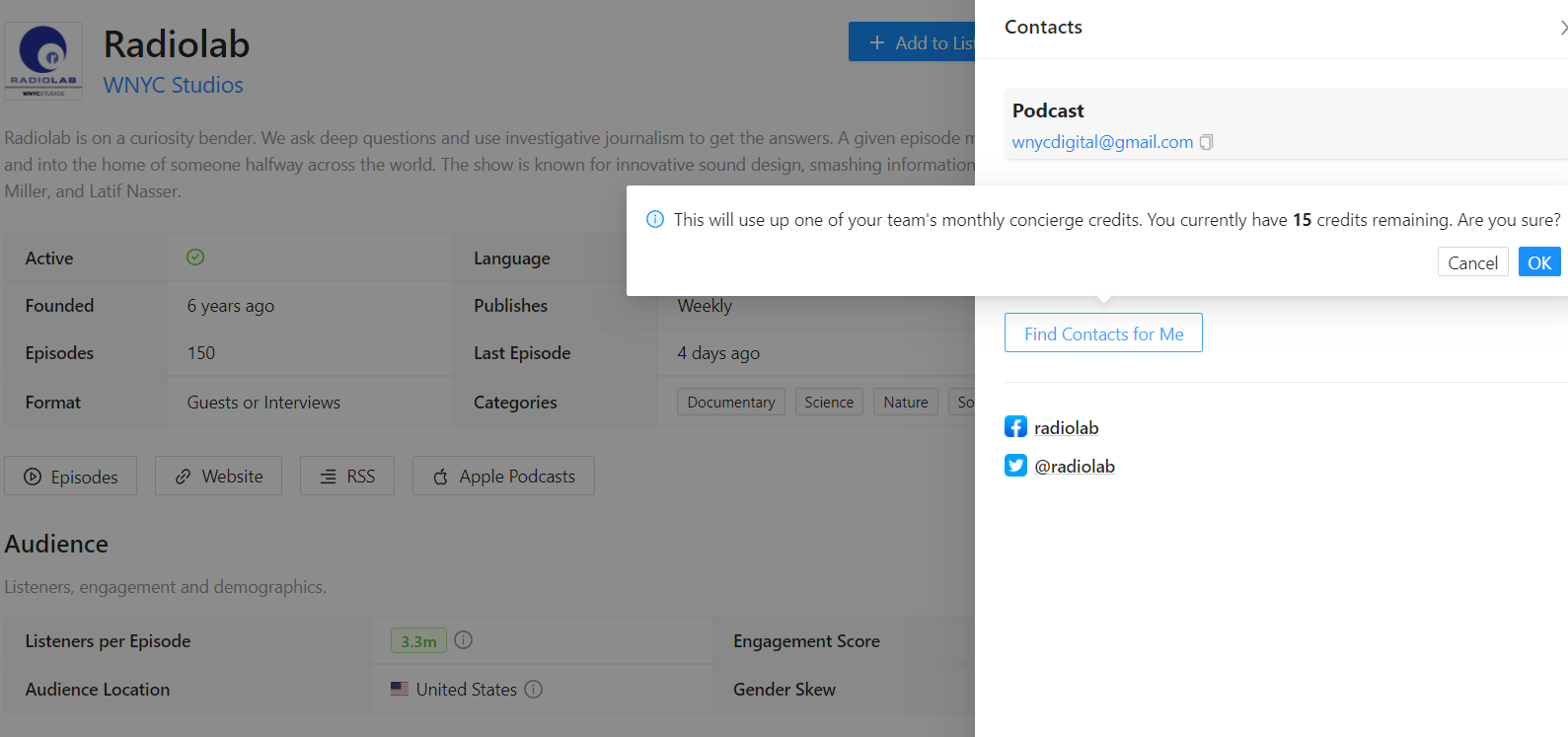 So, what do you get from Rephonic's podcast contact directory?
Rephonic provides incredible value to anyone planning to use podcasts as a marketing tool or their public relations strategy.
Discover more than two million podcasts in our database
Look up podcast content by show topic and other attributes
Get email alerts when they discuss your brand or keyword
Build podcast contact lists for your favorite shows and export their data as a CSV
Easily find hostnames, audience numbers and links
No need to fuss around with a podcast app; you can listen to any podcast episode straight from our website
Our podcasts cover all areas of life, from technology to popular trends and fashion. So, whatever your business, we're sure to find the podcasts where your listeners hang out.
Conclusion
Get started with Rephonic and take the hassle out of finding the perfect podcasts to partner with your business and brand. Find out more and register for a free-trial today.