Podcasts are one of the most powerful yet intimate digital marketing platforms on the planet. As such, they are a great way to get your message to millions of listeners all around the world.
There are different tried and tested ways of getting featured on podcasts, including guest interviews and paid advertising. Whichever method you decide to go for, you'll need to find relevant shows to reach out to using a podcast contact database such as Rephonic.
Table of Contents
How to find podcast contact information
There are a few ways to find the right email address and contact a podcast host. The easiest and fastest way is to use Rephonic, but you can also do it by searching on Google.
1. Do it the old-fashioned way
It used to be time-consuming and somewhat frustrating trying to find a contact address and build a podcast email list.
Here's how it used to go:
Search for relevant podcasts on Google or in the podcast apps.
Find the website link in the podcast show notes.
Search the website or trawl through the social media pages for a contact address.
Repeat the process.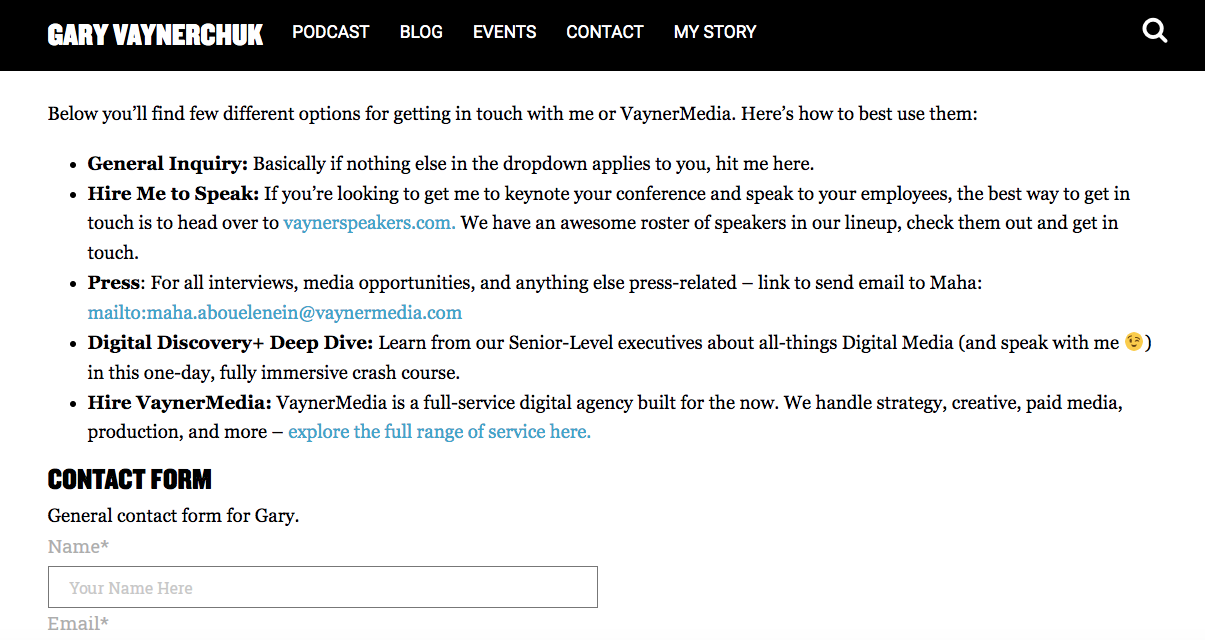 2. Search Rephonic's contact directory
Rephonic has all the online tools you need to make that valuable first contact with podcast hosts.
When you're ready to contact a podcast host as a guest, sponsor or partner, here's how to find their email address:
Search for the podcast using Rephonic's search tool
Tap on the name from the list
Hit the Contact Button in the top right corner of the podcast page. You'll be able to see all the podcast's contact information, including email address, web pages and social media accounts.
As a bonus, if you've already written your pitch, use our little copy icon to quickly copy the contact to your clipboard and paste it into the email. If you haven't crafted a pitch yet, use one from Rephonic's template library.
3. Get researchers to find alternative contacts
Sourcing the best contacts across our database of more than two million podcasts is complex, and sometimes the automatic system can't find good information for a particular show. But, if your chosen podcast's info doesn't show a contact address, don't panic.
You can ask our team to research the best contacts for you for those cases. Just tap the Contacts button while viewing any podcast and then tap Find Contacts for Me to request the concierge service.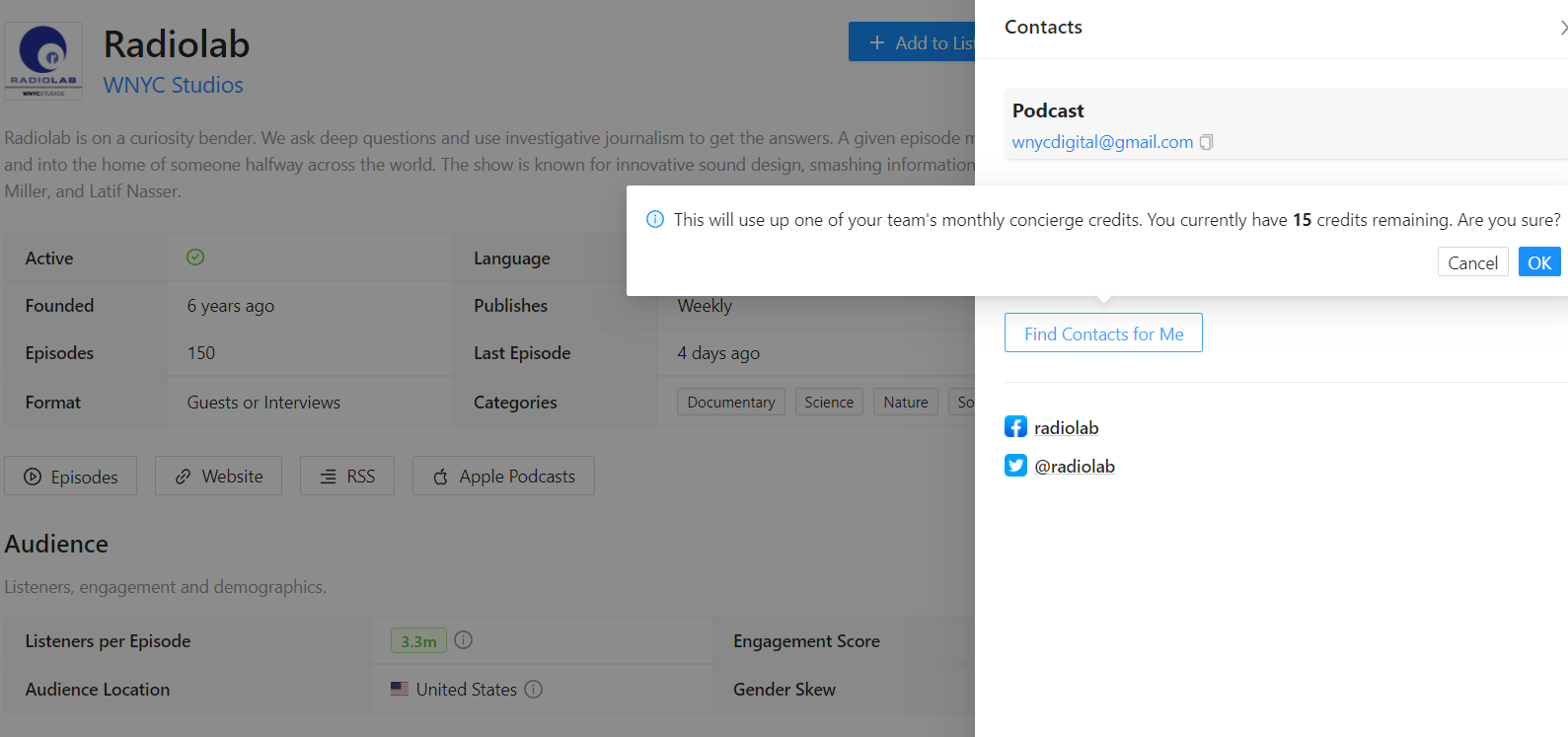 Our team of researchers will go out and try to find the correct contact info so that you can save time and focus on pitching. You'll get a notification when your request has been processed.
Your team gets a monthly quota of concierge credits to use as needed.
If you're pitching a lot of podcasts, this could save you many hours of manual research time every week.
How to contact podcast hosts
Once you've found the right email addresses with Rephonic and are ready to contact podcast hosts, personalize one of our winning pitch templates. We've made the process of reaching out to podcasts straightforward and hassle free.
Here's how you customize our templates to make your perfect pitch.
1. Choose your template
We cater for a wide variety of purposes in our templates, e.g., pitching as a guest, pitching as a sponsor, or cross-promoting your show.
2. Edit your pitch
Having selected your template we make it easy for you to refer back to the podcast info by providing snippets beside the pitch.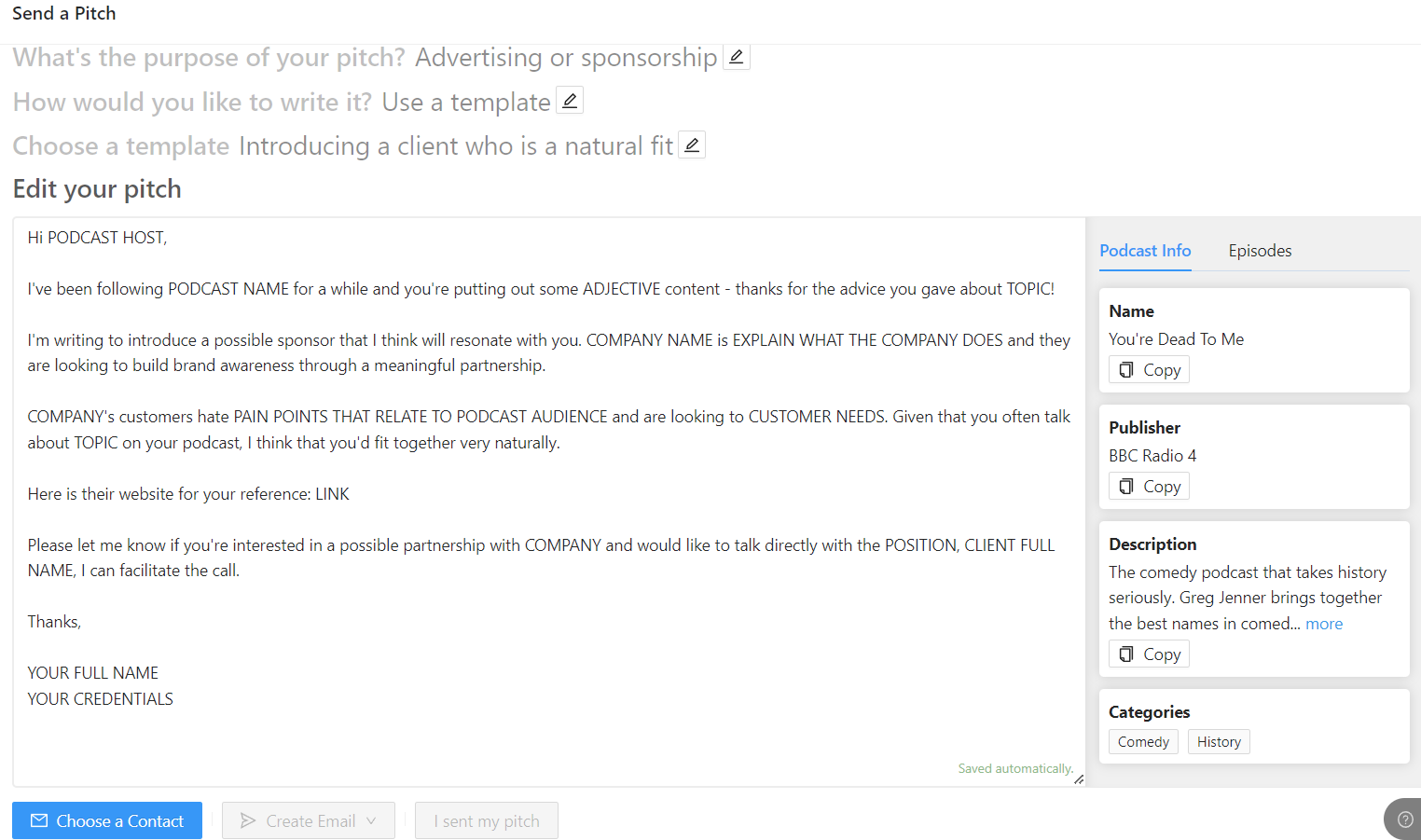 3. Send your email
Select Choose a contact to get the podcast's email address
Choose Create Email — and Copy the pitch to my clipboard .
Open a new email in your provider.
Paste your pitch into the email.
You'll see the email address at the top of the email —  copy and paste it into the recipients box.
Tap I sent my pitch to mark the podcast as pitched. You can also enable remind me to follow up and we'll send you a reminder email in three days.
That's it! Send your pitches easily using our templates or create a new template for your team and save it in your Rephonic account.
What else do you get from Rephonic's podcast contact directory?
Rephonic provides incredible value to anyone planning to use podcasts as a marketing tool or their public relations strategy.
Discover more than two million podcasts in our database
View listener numbers, social follower count, engagement rates, chart rankings and more
Get email alerts when shows discuss your brand or keyword
Build podcast contact lists for your favorite shows and export their data as a CSV
Easily find hostnames, email addresses and social links
Listen to any podcast episode straight from our website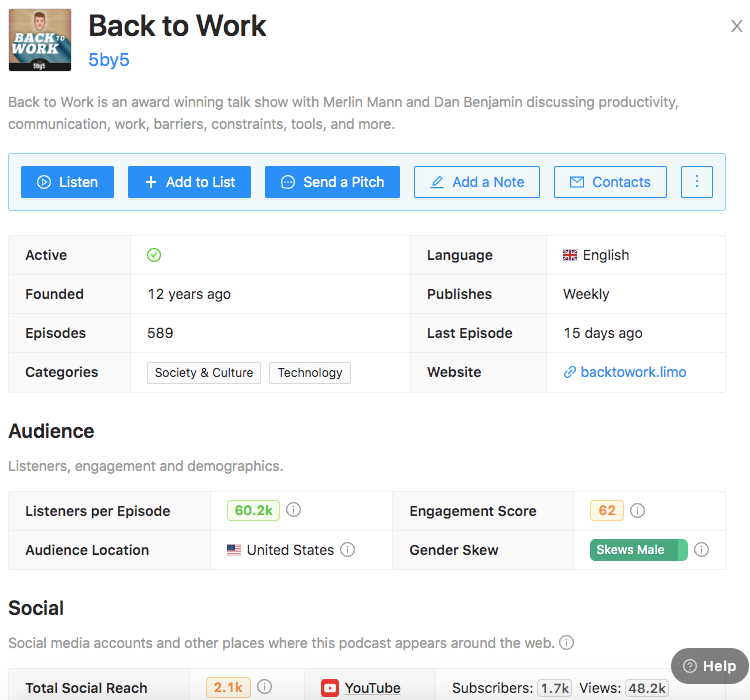 Conclusion
Get started with Rephonic and take the hassle out of finding the perfect podcasts to partner with your business and brand. Find out more and start a free-trial today.