Nowadays, it's an undisputed fact that podcast guest interviews are an excellent strategy for promoting your brand, product or expertise.
You may have read our blog post on the reasons why podcasts are one of the best new PR strategies and have grand ideas about becoming a guest on top shows.
This guide goes deeper into why interviews are so effective as a PR or marketing strategy and how you can get interviewed on the best podcasts.

Table of Contents
Why podcast interviews are good for business
1. Attract attention
Perhaps you've got your own podcast, and you want to cross-promote it by interviewing other podcast hosts. Maybe you've written a book, and as well as doing a traditional book tour, you want to get booked on podcasts with superfans who are your ideal customers too.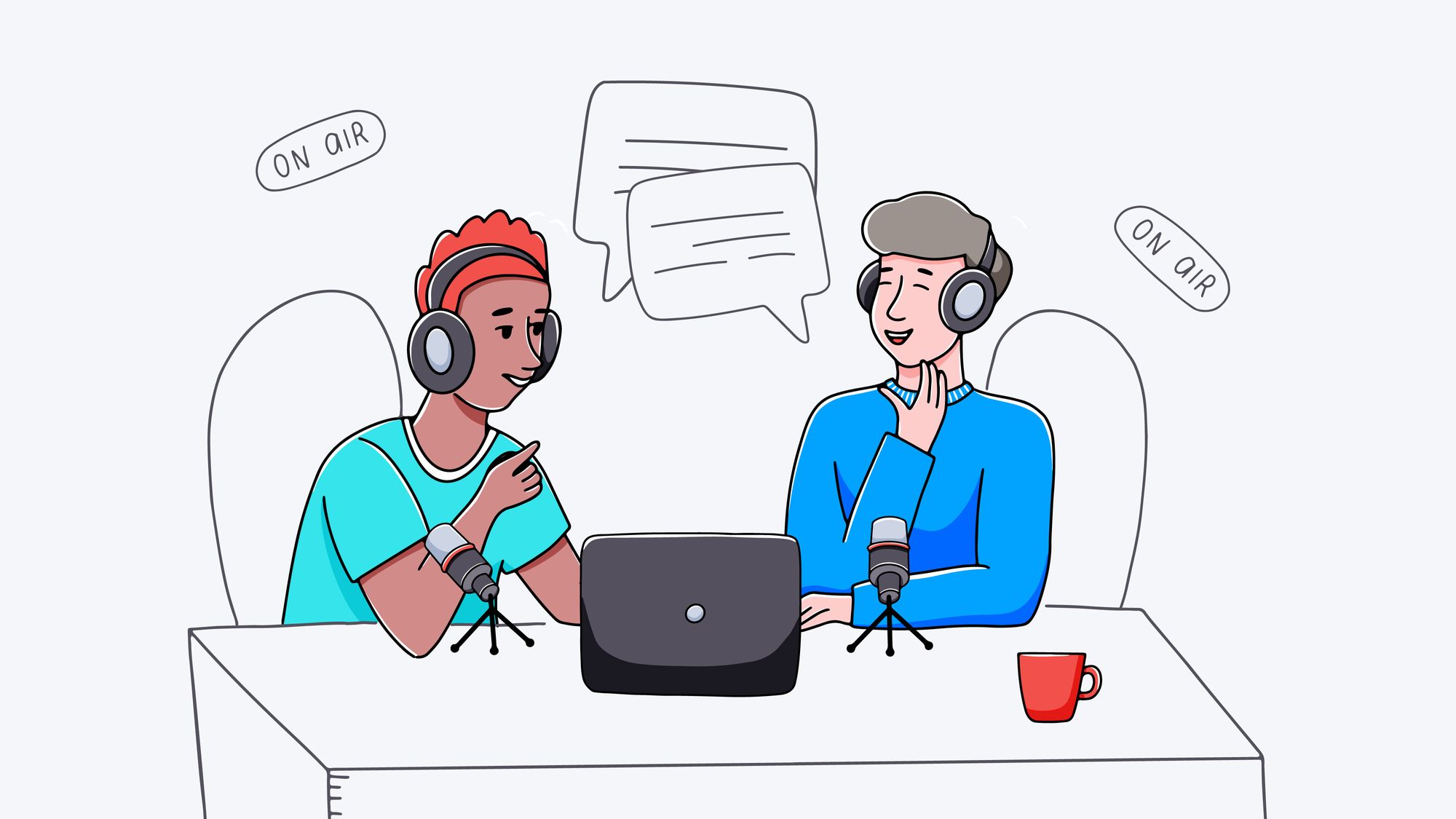 You may want to be a podcast guest because you want to attract more awareness of your new course or your company's latest app. Or maybe you want to bring attention to a social issue or an underestimated health concern.
Whatever your reason, being on podcast episodes and giving great interviews will undoubtedly attract attention.
2. Low-cost
Being a guest on a podcast is a cost-effective way to raise awareness or focus attention. And it certainly costs very little in time, effort or money to be a guest on someone else's podcast compared to hosting your own podcast.
Recruiting guests, writing scripts, recording, editing and promoting weekly episodes involves a great deal of work. In comparison, you'll only have to put in a fraction of that effort to become a memorable podcast guest. (We'll go into more detail on the work that podcast guests should do later in this article.)
3. Growing listener numbers
In 2006 very few people had even heard of the word podcast, let alone listened to one. By 2017, 15% of Americans regularly listened to at least one weekly podcast. Just three-and-a-half years later, in 2021, the figures jumped to 28% weekly listeners, and 41% of Americans listened to podcasts at least once a month. What's more, by 2024, it's estimated there'll be 100 million people listening to podcasts in the U.S. alone.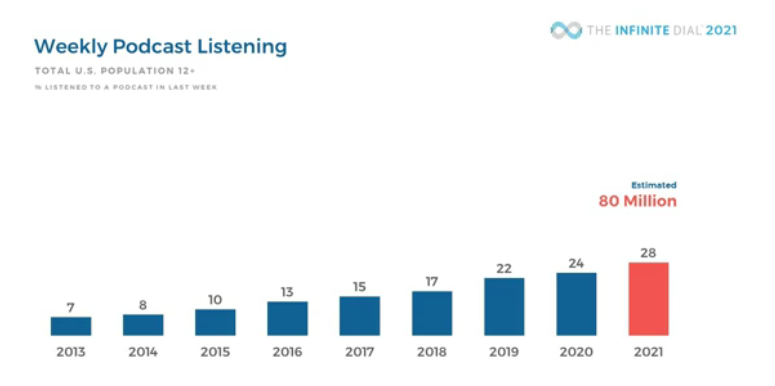 The burgeoning figures mean that podcast interviews are a great way to get your story heard.
4. Brand awareness
Most podcast hosts want to interview guests who will resonate with their audiences because people give most attention to podcasts that speak to their interests and specific pain points.
Being a podcast guest presents you with an excellent opportunity to foster awareness of your brand by talking about it in the context of those interests and problems. But, when you get the chance to chat with multiple podcast hosts, you'll increase people's awareness even more.
Once they know your name and hear your story, your brand will jump out at them everywhere they look. That's known as the Baader-Meinhof effect or the frequency illusion, and I'm sure you've experienced it yourself.
It happens because suddenly people have heard something memorable about you, so their brain takes notice when your name or brand crops up in another context.
You may have been around for years, but you were flying under the radar for those listeners. After that interview, you're not!
5. Engaged listeners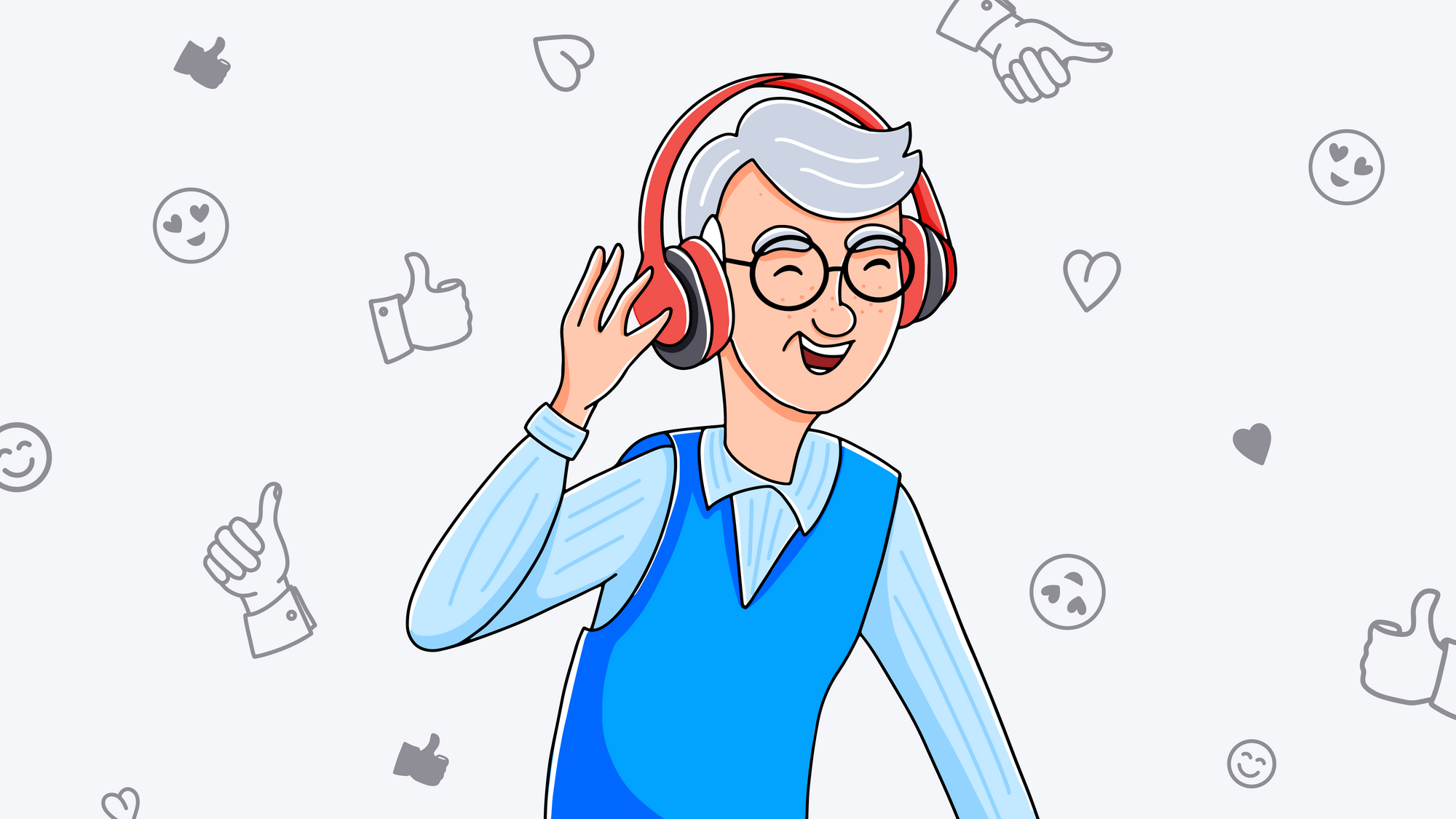 People listen to podcasts because they want to. It's as simple as that.
We're hard-wired to enjoy audio at a deep, connected level. Scientists proved that in 2016 when they mapped people's brains while they listened to "The Moth Radio Hour" podcast and found that the storytelling stimulated multiple networks across both hemispheres.
The same thing happens when you listen to music — sensory, emotion and memory centers are all stimulated when you hear melodies and stories.
Listeners also come to trust their favorite podcast hosts when they hear them regularly speak on exciting and informative topics. That trust often extends to their podcast guests — and it's one reason why podcast hosts are so careful about who they interview. They want trustworthy guests who will enhance their reputation with listeners.
6. Targeted audience
There aren't that many general interest podcasts around. Even wildly popular podcasts are usually built around a theme and designed to appeal to a specific audience.
It makes podcasting very cost effective because you're not wasting your words (and time) on people who aren't interested.
Four steps to get interviewed on the right podcasts
1. Research potential podcasts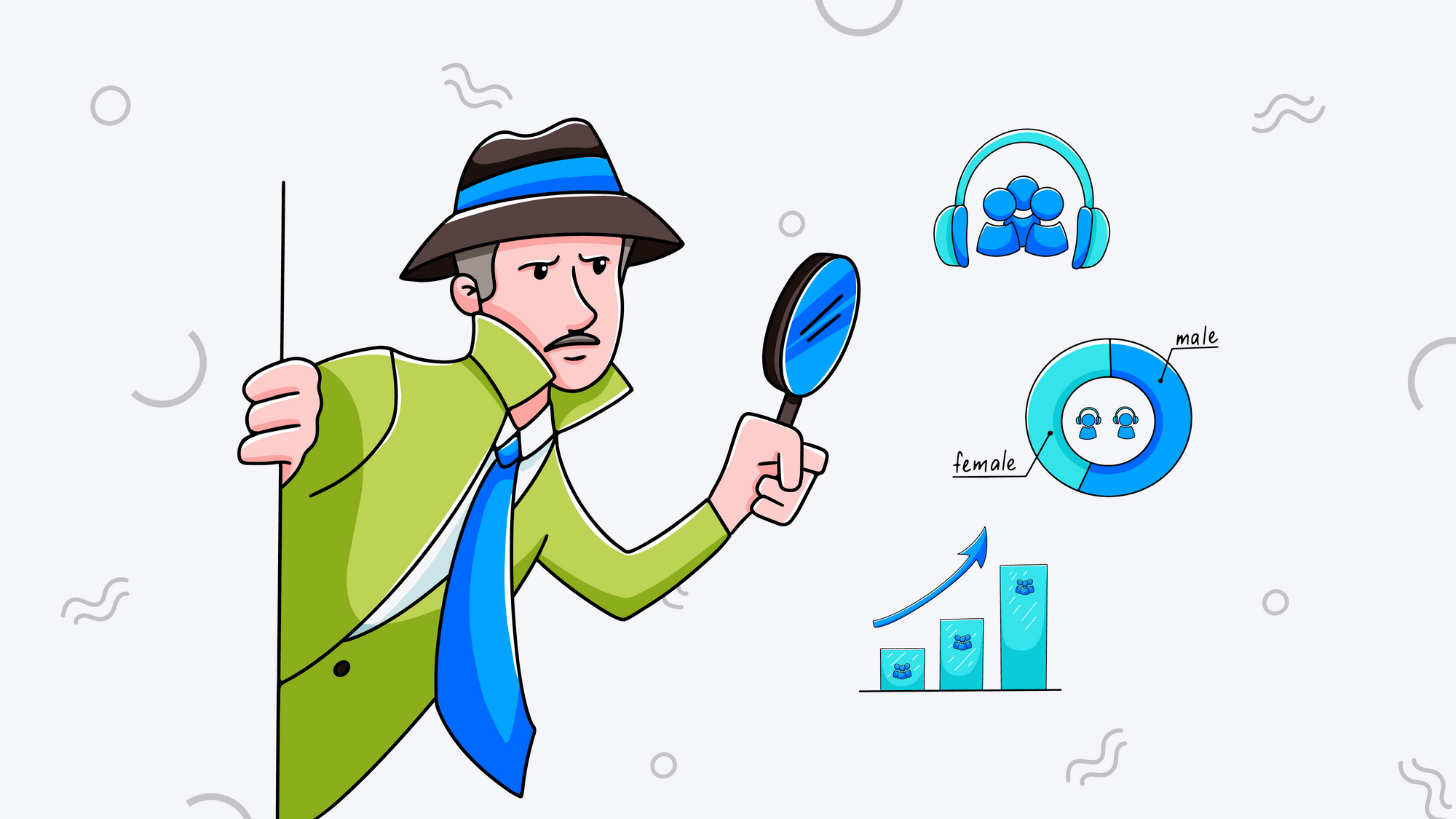 There's no point in going crazy and pitching every podcast you've ever heard of. There isn't even any point in contacting the host of your favorite podcast, even if you're a superfan and never miss an episode, if your product, service or story isn't relevant to the show. A gardening podcaster isn't going to be interested in helping you promote your latest book on computing, but they might well consider one on climate change.
Rephonic takes much of the hassle out of research and communication when it comes to podcasts. Here's how you do it:
Find active podcasts in your niche
First, do a topic search in Rephonic's podcast database. Make it more specific to your niche by using the filters to search for specific podcast listener numbers, categories, gender skew and more.

You can also search by title, publisher or even for a specific episode.
Once you've identified some possible podcasts via the search tool, use our Related Podcasts list to find other relevant shows.

Rephonic's 3D graph tool gives another view of possible relevant podcasts. Because we collect millions of connections from Apple Podcasts "Listeners Also Subscribed To" data, we're able to tell which podcasts share similar audiences.
Our 3D graph displays a podcast's close neighbors and their neighbors too. It's surprising how many connections you can find with a bit of lateral thinking.
Clicking on any image in the graph brings up more information on that podcast. If you want to see more of its data, select the "more info" button to bring up details such as how many listeners, social media engagement, whether it's active and whether it uses guest interviews.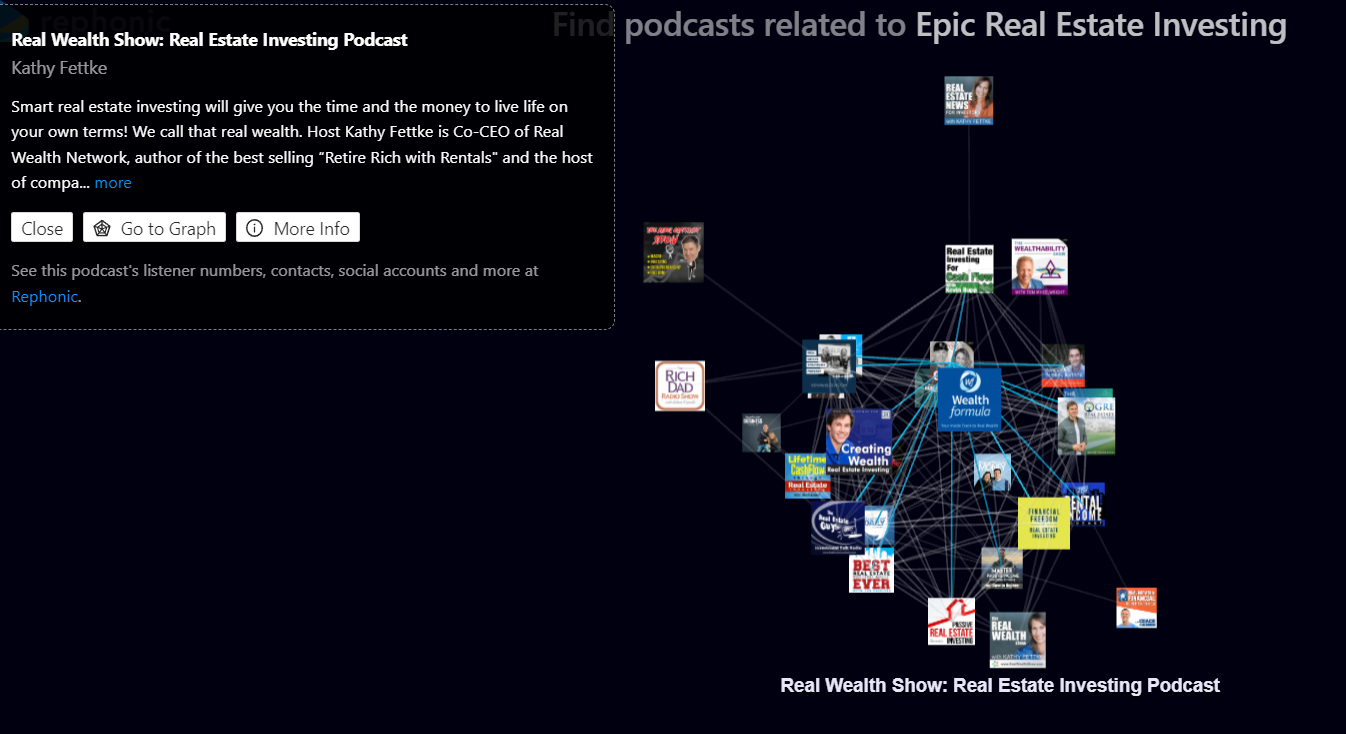 Find relevant podcasts that match your target audience
You'll want to find podcasts in your industry, but you'll also need to find ones with the right audiences before you decide to start writing your interview requests.
Consider the listener demographics, listener numbers, gender skew, podcast location, etc. These stats are hard to find when you just Google podcasts or search through the Apple charts.
Fortunately, using Rephonic eliminates that problem, too. Every podcast page on Rephonic includes information on the type of listeners who enjoy that show.

Check its popularity with a particular audience
Metrics like the download numbers or social media engagement can influence your decisions on whether it's worth making a pitch or not, too.
Rephonic helps you check each podcast's chart ranking, social media followers, engagement rate, and reviews.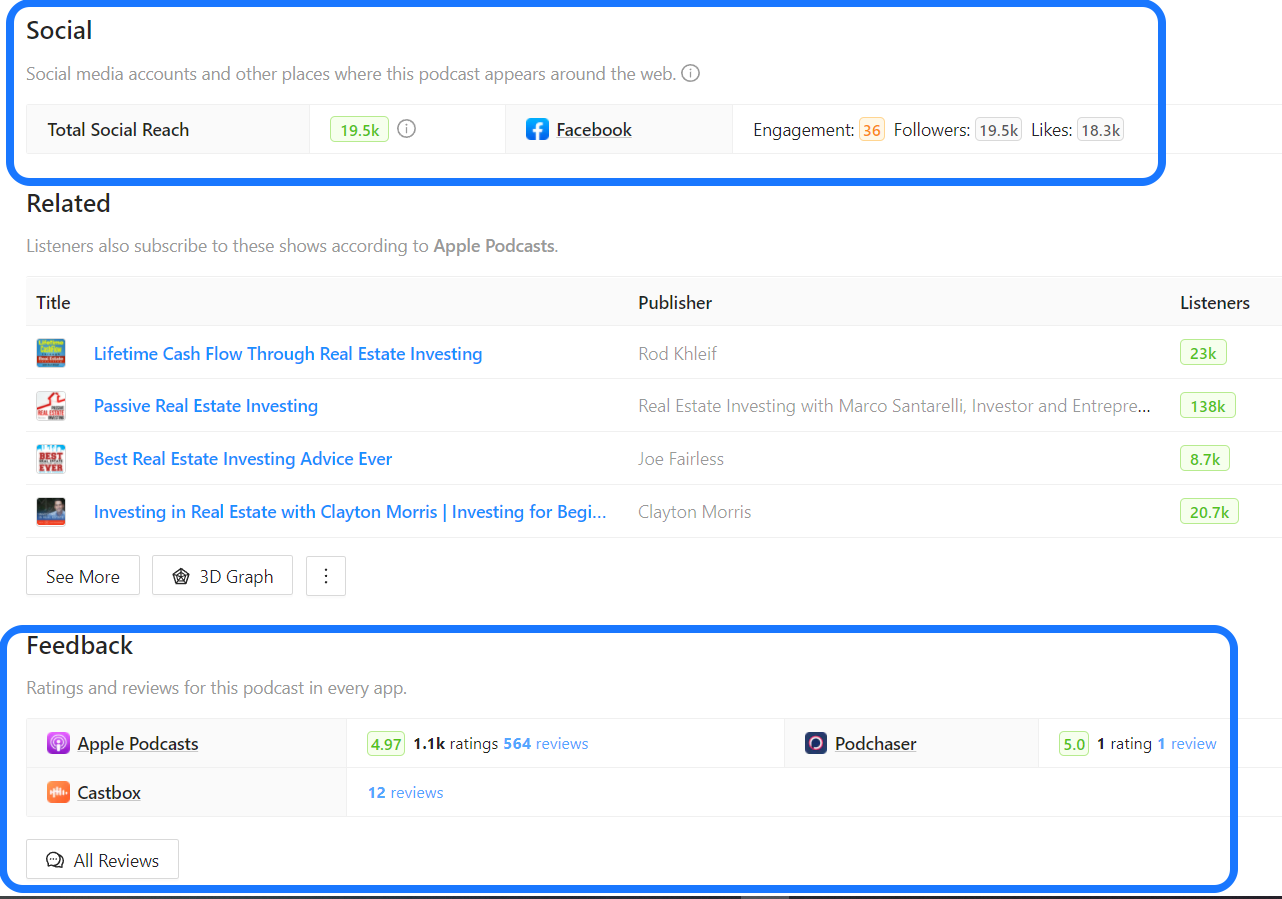 The "All Reviews" button takes you directly to the actual reviews. You can filter to find the reviews from Apple podcasts only or choose to see any of the other apps that allow reviews.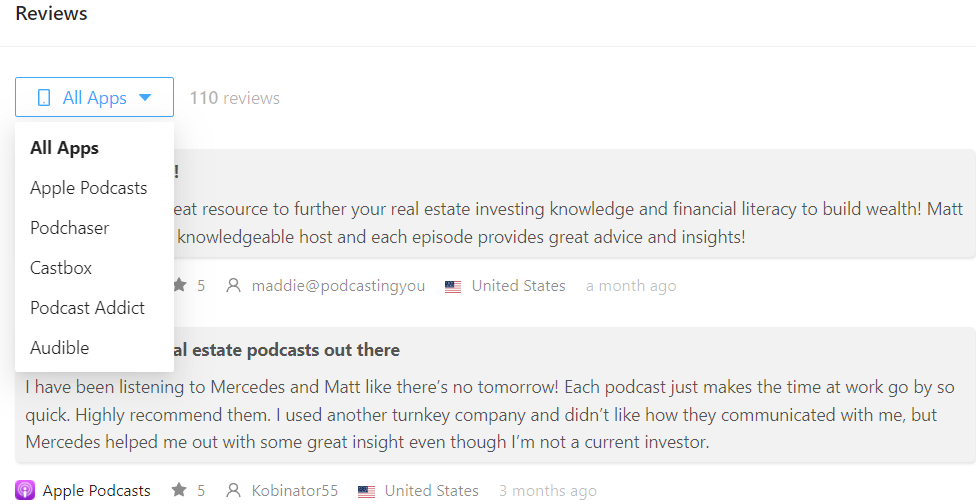 Listen to its content
Of course, you must listen to a few episodes to make sure a show is a good fit before you reach out. You're looking for several things:
Do you like the podcast interview style?
Does it feel like you'd fit in with the podcast host?
Is the podcast relevant to you and your niche - even when it looks good on paper, sometimes the style or content of other podcast interviews doesn't gel with your brand image.
Look for points that you particularly like and note down the episode number. Then write down who was being interviewed, the subject line, and a note about what they said.
You'll use these later to personalize your outreach email.
Check out our guide to creating a podcast media list for more help.
2. Pitch the podcast
A cold pitch aims to pique the host's interest so that they want to know more. Make your letter short and unique. Show them that you'd be a worthwhile guest and finish with the hope that they'll reach back.
Make sure you send a personalized email - written especially for that host and podcast. Podcast hosts can spot a generic letter a mile away, and yours will end up in the bin if it has even a whiff of generic about it.
Here's a template that you can refer to when reading through these tips.
Subject Header: Podcast Guest Pitch: [topic idea]

Hi [podcast host name],

I've been listening to [name of show] lately and I'm [blown away/impressed/staggered by] the stories and advice on [podcast name]!

[Episode name/number] was a real game changer for me as I [reason why you liked it or how you implemented the advice].

My name is/I'm [your name and the reason you're an expert in this field]. I'd love to be a guest on your show and offer your audience [your helpful tips/advice/story etc].

[A sentence on your origin story or the interesting stories you use to illustrate your points].

Other points we could discuss are:

[Relevant topic or question]
[Relevant topic or question]
[Relevant topic or question]

Naturally, I'd be delighted to promote this episode to my [social media communities and numbers] as well as featuring it prominently [on your website/blog/newsletter and numbers].

Looking forward to chatting more about this idea!

Cheers/Thanks/All the best

[Your name, credentials e.g. Author of…/ Founder of…/CEO of… etc and Linkedin profile]
Get the contact info
It's easier to find podcasts and their contact details on Rephonic than attempting a quick Google search. We all know how you can get sucked down a rabbit hole with that.
So, when you need an email or social media address, bring up that podcast's Rephonic page from your list and click on the Contact button in the top right corner.
You'll find all the necessary contact information, including email address, contact pages and social media accounts.
If you've got the pitch written already, select the icon beside an address to copy and paste it into the email.

Brainstorm content ideas
If you want to be a guest on more podcasts, it's a good idea to have several different content options that you can discuss in various podcast interviews. All the podcasts in your industry likely have overlapping audiences to some degree which means that some listeners will hear you interviewed more than once.
That's a good thing! People often need to hear about a brand more than once before acting on the message. However, listeners will tune out and turn off if they hear the same stories and information. That's why you want to have more than one angle for delivering your message.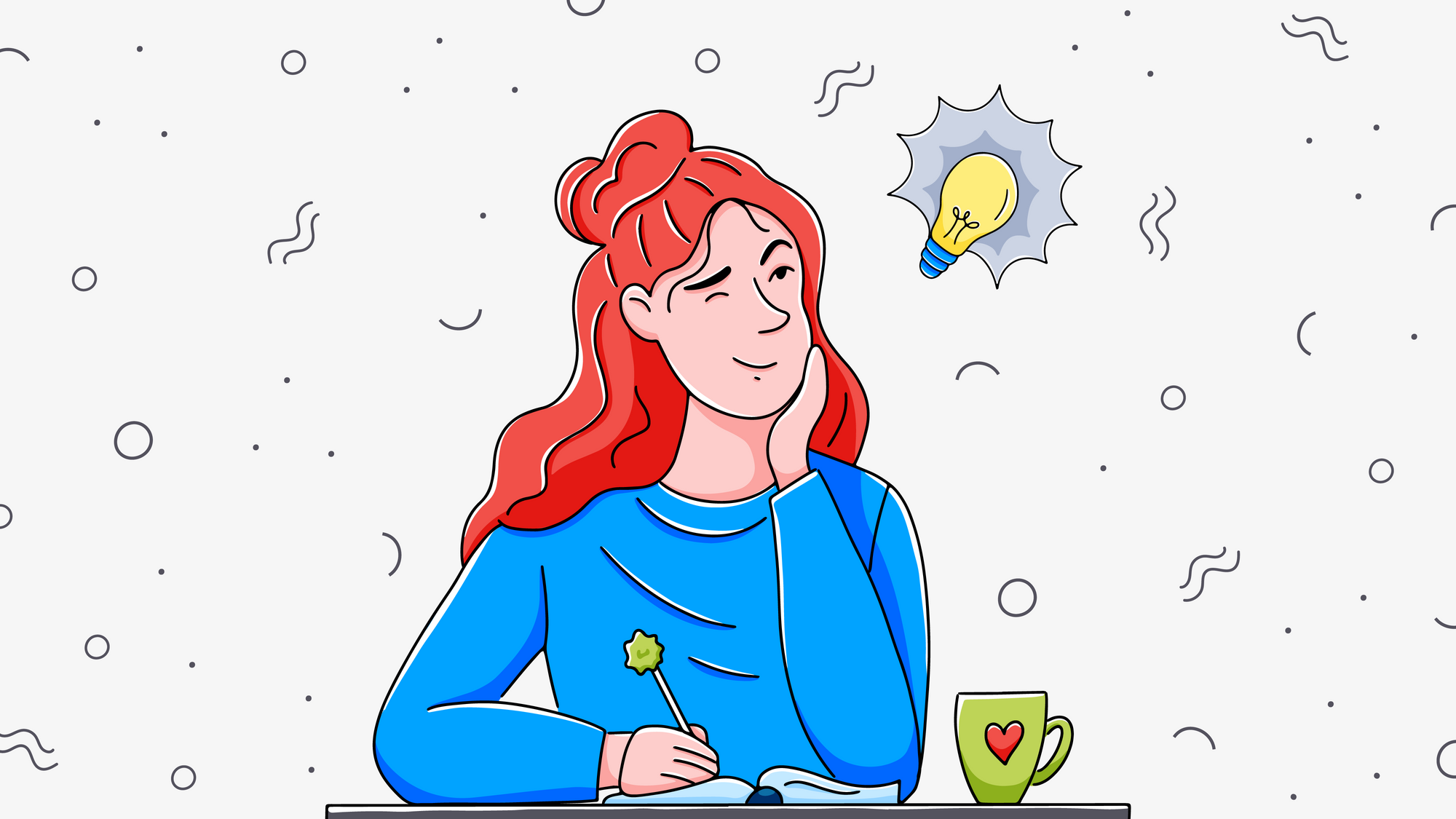 Show how you add value
One thing that all podcast hosts consider is "what's in it for my show?" They're not particularly interested in promoting your brand as such.
Instead, they want to generate awareness of their show and help their listeners with an expert guest who can speak to the problems of their target audience. So you need to say what you can bring to this podcast episode. '
So, make sure that you can talk about various problems that people in the audience are likely to be struggling with AND provide some realistic solutions.
It's especially valuable if you can offer takeaways they can immediately put into action. These are the value items that keep people coming back to the podcast for more and the ones that'll keep them listening when they hear you again.
That's why you want to have a track record of providing value in your interviews so that not only will you ace this interview, you'll be on the radar of other podcast hosts in your niche too.
Get to the point
Don't waffle; keep all your points as brief as you can. You don't want the host to reject your email just because they couldn't be bothered to wade through screeds of text.
Give social proof
Mention your social media accounts and provide a link to the account with your most engaged audience so the host can quickly check it.
NB: You don't want to put any obstacles in the host's way, so make sure every link works before you send the pitch.
Follow up
Podcast hosts often get engrossed in their current projects and find it easier to put emails on the backburner. Give it a week or two, and if you haven't heard back, follow up on your email.
Your note could be just what's needed to prompt a reply.
Suppose the answer's yes - terrific! It's time to chat with your host and prepare for your interview. But, if this one's a no, don't give up. Just as it is with any new venture, your breakthrough interview will be the hardest to get.
3. Ace your podcast interview
Agree a time and date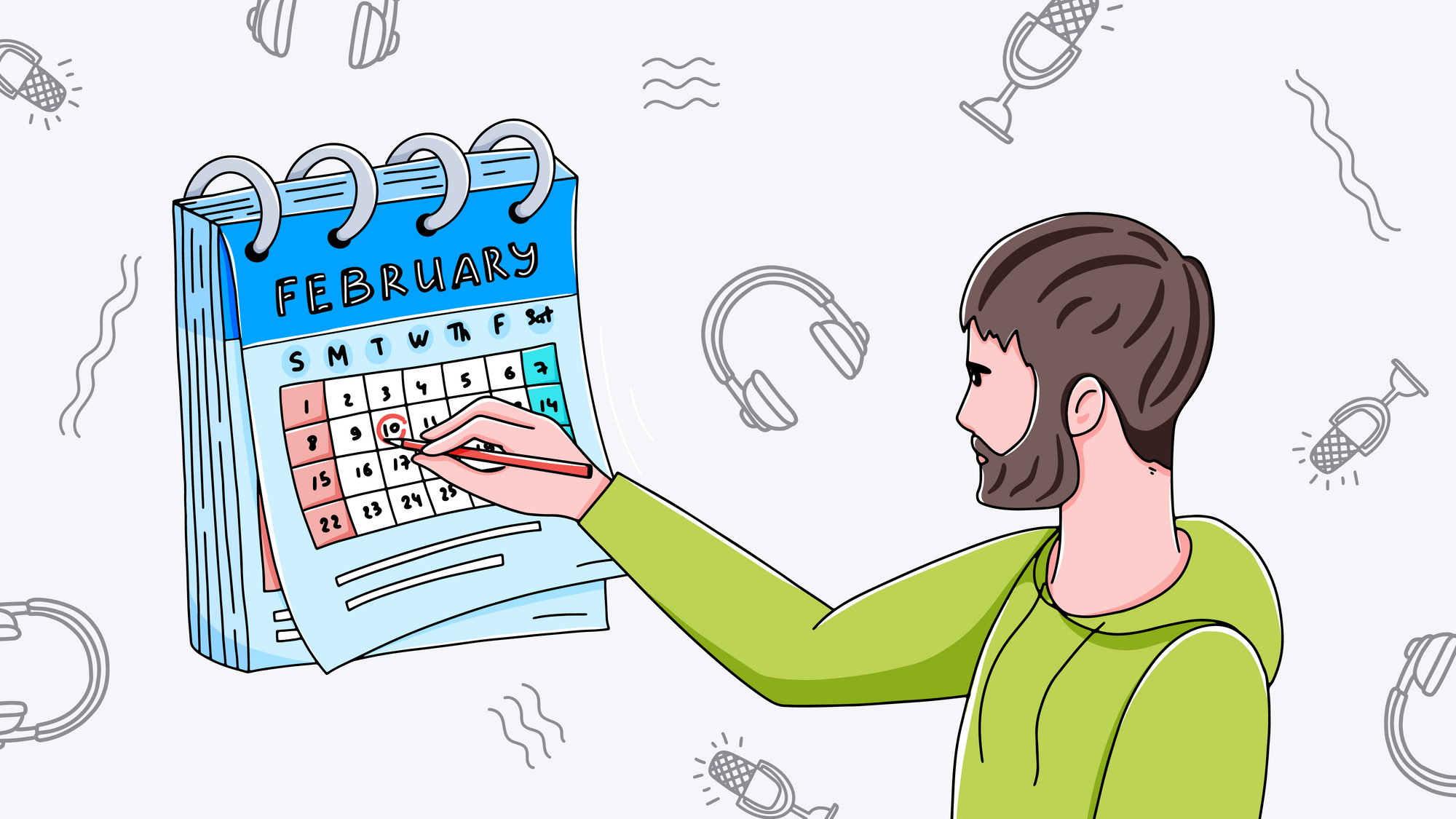 Check your calendar to ensure that the interview date doesn't clash with another engagement. Then, make sure you turn up and are ready to start on time.
If an emergency comes up, let the host know asap and reschedule. It seems rather unbelievable, but many podcast hosts have stories of guests who simply didn't arrive - and they still don't know why.
You don't want to get a bad reputation for lateness or no-shows because that's certainly going to hurt your chances of getting other interviews.
Do your homework
Make sure you understand the episode's format and get used to the host's style.
Are they serious, or do they like to throw in some humor?
Do they throw in curveball questions?
Are there questions they ask every guest, e.g., Ruth Soukup of the "Do it scared podcast" always asked, "What's the best piece of advice that you've ever received, and why?"
Not all of your stories will resonate with every audience. So do make a note of the ones that'll appeal to this podcast's audience, so you've got them at your fingertips.
Can you easily tell them off the cuff? Would it be less stressful if you wrote down the main points so that you don't forget them?
And if there are any things you particularly want to cover, it's a good thing to write a list before you start.
Know your origin story
This is a memorable story that explains how and why you got started. It often includes struggles, setbacks, or a leap of faith that changed everything.
For example, James Clear (Atomic Habits) tells how he overcame life-threatening injuries to become a top athlete, linking the good habits he formed then with his success today. Pat Flynn's (Smart Passive Income) origin story includes suddenly losing his dream job and how that misfortune ultimately led to success online.
If you're unsure where to begin constructing your origin story, this author has some advice.
Prepare your equipment and surroundings
Podcasts need to have the best possible audio quality, and listeners will soon turn away if it's unclear or has unpleasant background noise.
If you're going to be doing several interviews, it's best to invest in an external microphone. Several microphones come highly recommended in audio circles because they're so easy to use.
Shure MV7 - Music Radar calls this "one of the best podcasting microphones you can lay your hands on right now" because it has USB (with a free app for automatically setting the best levels) and XLR connections. It includes zeroes in on your voice and excludes as much background noise as possible. This microphone has as built-in headphone jack so you can monitor how you sound.
Blue Yeti - has USB connections and offers excellent flexibility and quality for podcasting, YouTube videos, live streaming and more.
Rode Podcaster - this mic is built especially for podcasting and focuses exclusively on your voice. Its tight polar pattern keeps the voice recording clear even if you have a less-than-ideal setup in other respects.
Sound bounces off hard surfaces, so even if you have invested in a good microphone - and certainly if you're using your laptop mic - try to surround yourself with soft textures. Hang a blanket behind you, close the curtains and so on.
Many people record in a closet full of clothes or coats, and some even go under their duvet. I wouldn't recommend that last one if you're recording on Zoom or Vimeo, though.
Be engaging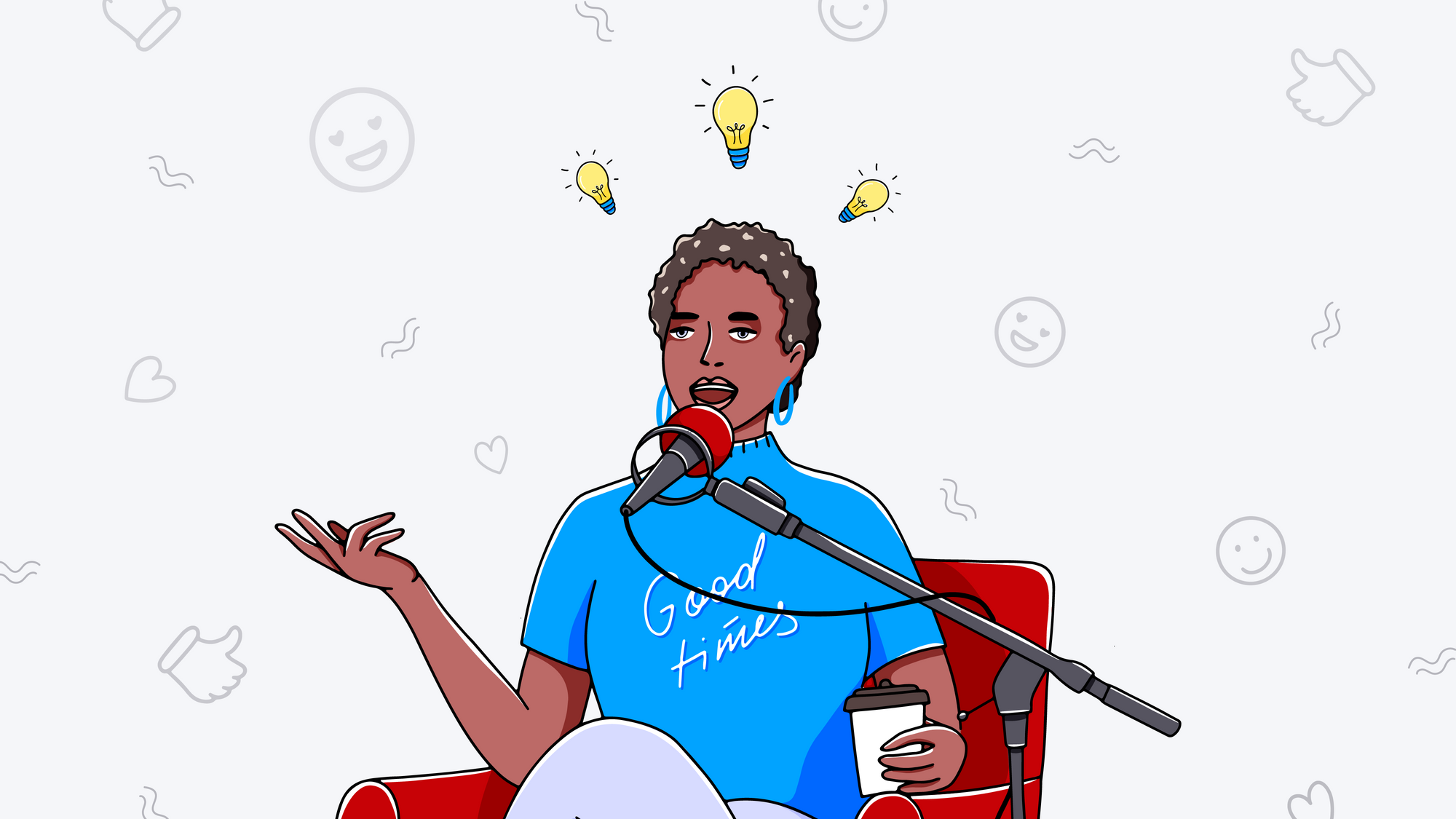 Avoid any temptations to turn the interview into a sales pitch. The goal is to:
entertain
inform or teach
spread awareness
provide valuable, actionable tips.
Podcast interviews come at the top of your sales funnel, making the sale isn't part of their brief.
Follow your host's lead
Remember that this is the podcast host is in charge. It's their show and if the show isn't new they're probably expert interviewers. Don't hijack the conversation or labor the point. Go with the flow if one of your answers piques their interest and they want to dive down that rabbit hole for a minute, even if it wasn't part of the original intention. Let the host know in advance if there are any sensitive topics (no-fly zones) you aren't prepared to discuss. Put life into your answers by using anecdotes, funny or meaningful stories that drive the point home.
Include a CTA
Check with the host that it's all right to include a call to action, then make your CTA worth the listeners' while. You could offer a discount or bonus for podcast listeners. Some guests make that discount permanent, but others prefer to make it time-sensitive, e.g., "in the four weeks after this episode airs."
Downloads with actionable tips are another popular freebie to encourage people to heed your call to action or e-books going deeper into the subject. What you offer will depend on whether you're trying to send people to a specific product or just make them more aware of your brand.
Be genuine and friendly off-air too
Podcast interviews are also a great way to network with other people in your industry, including the podcast host. They may recommend you to other podcasters or give you tips on other hosts you could pitch.
Either way, you want to make a genuinely helpful impression in your off-air dealings. Make time to chat before the interview starts. Many hosts allow time for that so that you can both relax and get the right vibe going before you go on air.
For more advice, check out our Top Tips to Ace Your Podcast Interview article, where we sought advice from expert podcast hosts and companies to help you get the best results - including being booked by bigger podcasts in the future.
4. Follow up post-interview
Support the host
Another way to show your gratitude and continue that good impression is to sincerely thank your host for the opportunity to appear on the podcast. Some guests send follow-up emails while others write personal notes or cards. That's a touch that stands out when people don't get many letters in the mail.
Another way to support the host is to share their social media content, not only for your episode but for the podcast in general.
Finally, do leave a rating & review in Apple podcasts (still the most popular place for other people to look for reviews when they're looking for interesting new podcasts.)
Promote the episode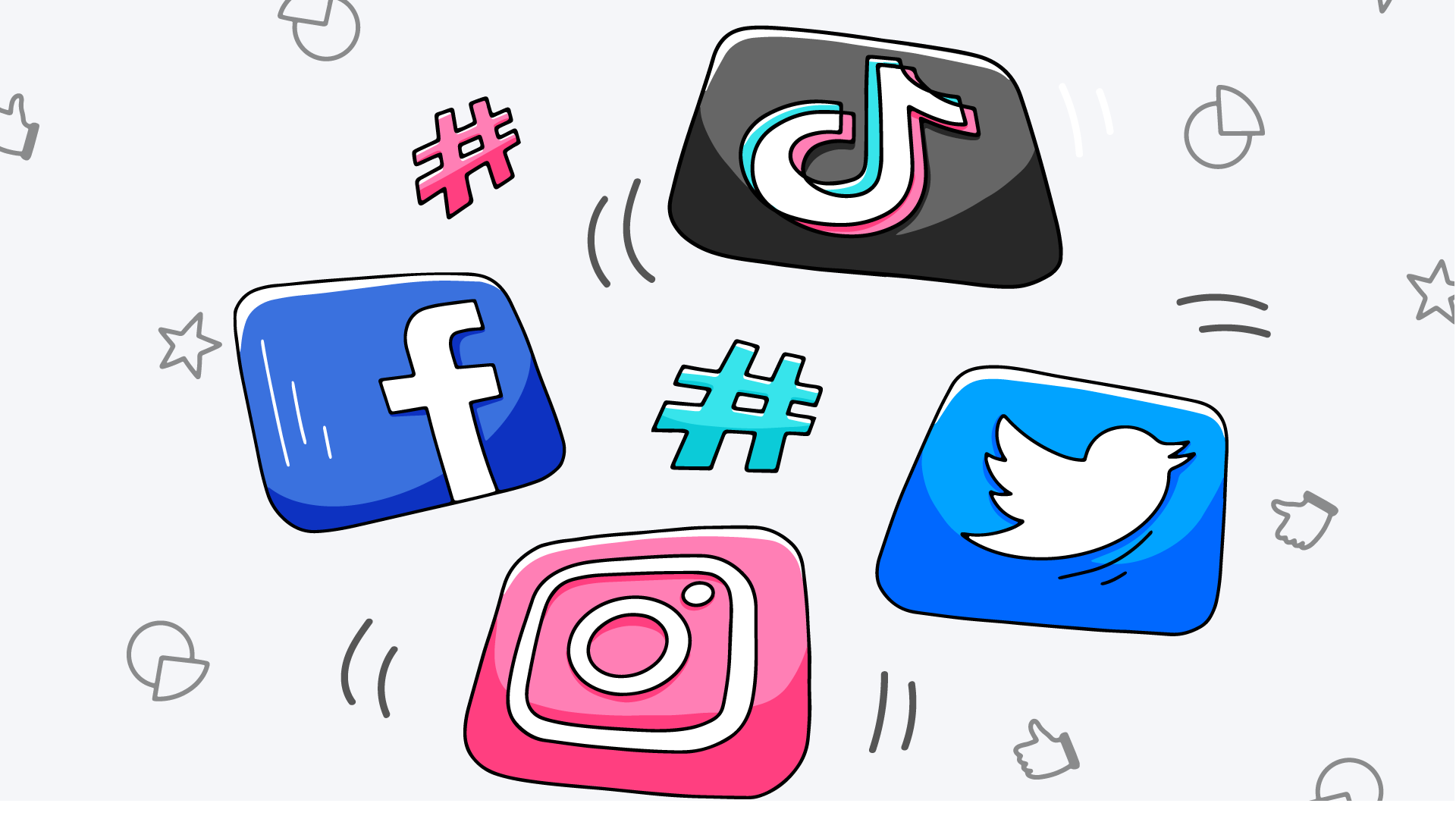 Surprisingly, some other guests record their interviews and leave promoting it up to the podcast host. Don't do that - it's in your interest and theirs to promote the episode as widely as possible.
When the host shares and promotes it, new people hear about you. When you advertise the episode, your tribe will want to listen, bringing a new audience to the podcast. Some of them will probably end up as subscribers - always helpful for the host to boost their numbers.
Repurpose the transcript
There are so many ways to repurpose your interview - I could write a whole new article about it. Here are a few ideas:
Use the best snippets as tweets (Here's a helpful article on that by acclaimed tweeter Josh Spector.)
Grab a relevant photo (book cover, course illustration etc.) and post it with interview quotes on Instagram.
Answer a relevant question on Quora and include a link to the podcast interview for more info.
Conclusion
Podcast guest interviews are a great way to drive your ROI, show your expertise and gather new audiences and potential customers.
When you're wondering how to get on podcasts that suit your brand, use Rephonic.
Our database's search tools and information help you narrow down the possibilities. We have descriptions, stats, social media and episode links, and all the contact details you need for your podcast outreach.