A great podcast interview is all about the combination of story and conversation. We humans are hardwired for both, and that's why interviews are such a popular podcast format.
There's something about human stories that hooks us in. Stories can be tragic and horrifying. But they're also funny, enlightening and inspiring. And stories are especially powerful when you reveal them in conversation.
Both podcast host and guest have an equal part in creating a compelling conversation in your interview. Now this should be no problem if you've used Rephonic to find a podcast that shares your target audience.
But in this blog post we give some extra pointers on how you can both make sure the interview goes as awesomely as possible.
Why do guests want to be on podcasts?
Featuring in a podcast guest interview has many benefits. That's why so many PR agencies bend over backward to get their clients on multiple shows.
Podcast listeners will learn about your brand, and if you tell your stories well, they'll investigate your website or pay more attention the next time they hear your name.
Nielson's 2018 research revealed that loyal audiences are more receptive to a brand or product if they've heard about it on a podcast interview or advertisement first.
Getting a podcast interview positions you as an expert in the eyes of the audience. If you bring up interesting points and give a great interview, you're well on the way to winning new fans.
If you're a podcaster yourself, there's nothing like cross-promoting your show by being on other podcasts. You'll gather more listeners and increase your subscriber count and download numbers. That, in turn, drives revenue by attracting podcast advertisers and sponsors. And it alerts a new audience to your products and services.
Why do hosts love podcast interviews?
Interviewing podcast guests brings fresh perspectives and opinions to your audience. According to Statista, one of the primary reasons people listen to podcasts is to learn new ideas and information.
That conversational vibe is so different from that of solo episodes, too. So, if it's mostly just you talking, bringing in guests creates a new mood that freshens things up for your listeners.
Your guest probably has their own loyal audience who will tune in because of their podcast interview. Hopefully, they'll like what they hear and subscribe to your podcast, too.
One podcast that uses the entertainment interview format particularly well is "You're Dead To Me". Each week, Greg Jenner (Horrible Histories) pits a history expert against a comedian to showcase humanity's fascinating past.

Because interviews are so valuable for podcast guests and podcasters alike, you owe it to yourself to make sure you'll ace your next interview.
So here are our top tips to help you do just that.
Five podcast interview tips for guests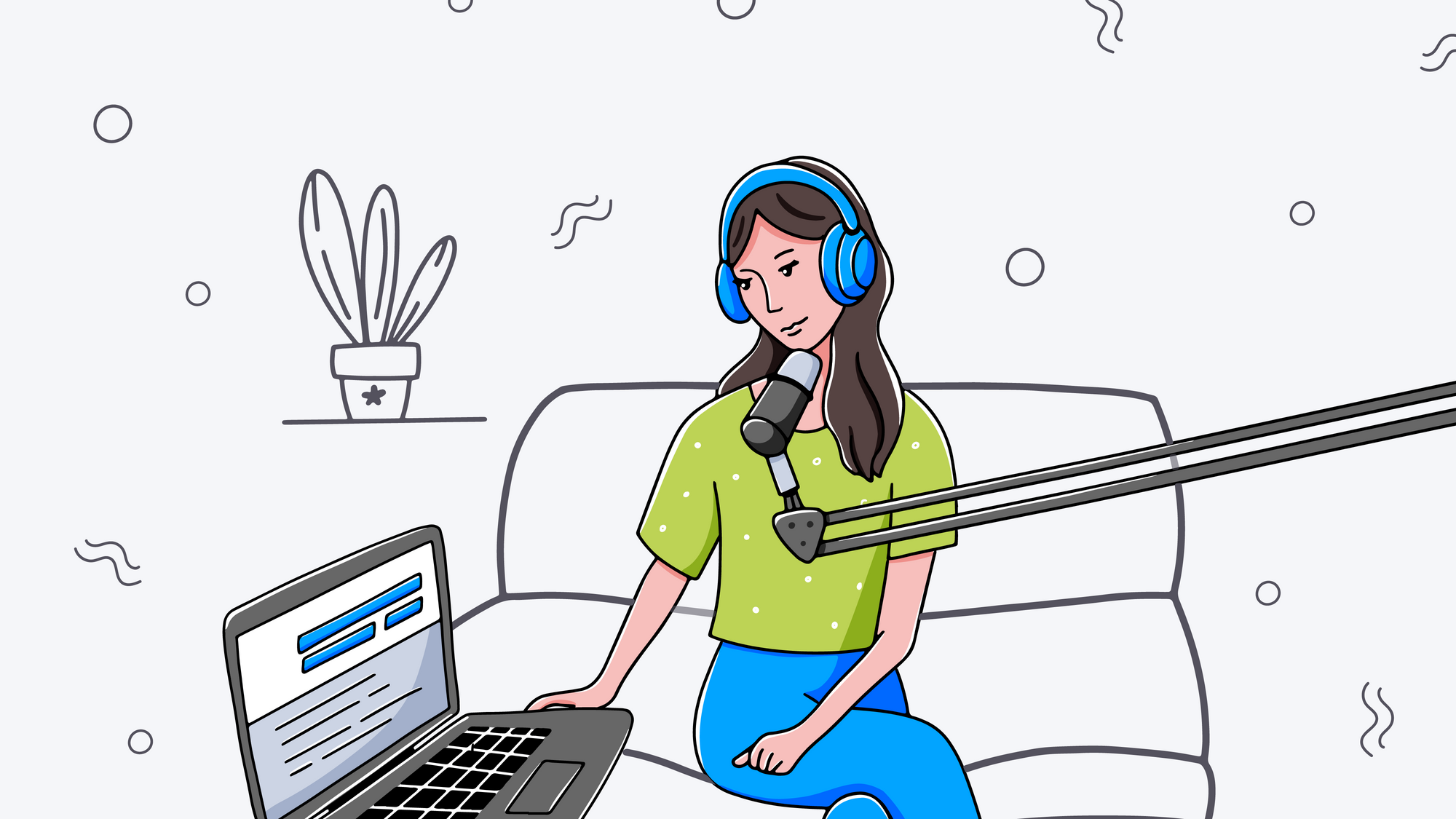 1. Do your homework
Always show up well-prepared when you're invited to podcast interviews.
Listen to an episode or two (if you haven't already) so that you know the host's style and the episode format.
Understand the podcast's niche and search through your stories and examples for ones that'll be meaningful for this podcast audience instead of general answers that aren't relevant to this show's listeners.
Creator Smarts Podcast host Jan van der Aa has interviewed many guests over the past two years. He recommends hosts be curious and know what their guest has talked about before so they can slant their topics in different directions.
And when you're a guest, he says, ask the host to send over possible topics before the interview. That way, you can give the issues some thoughts in advance and provide a more natural, flowing interview for your podcast episode.
Know what you want to get out of your interview and the points you want to make. Then jot down stories from your life and business that illustrate those points. Without that preparation, most guests forget half of what they wanted to say once they start recording, especially if they're new to podcasts.

At the same time, make it easy for your host to do their research on you, too. Send them a copy of your book and links to your social media pages, website and other articles of interest.
2.  Know your origin story
We've all heard interviews where the host asks a few personal questions to learn how it all started for their podcast guests, and five minutes later, the story's still going.
Instead of rambling on, make sure you have a short bio - a TL;DR version of your story. Then add some unique aspects that tie it to the podcast and your target audience.
If you're not sure what your origin story could be, think about your biggest failure, a time when you pivoted, and your determination turned failure into success.
Or head to episode 427 of Amy Porterfield's "Online Marketing Made Easy" podcast, where Amy's guest, Jen Gottlieb, has some sound PR advice on understanding what your origin story should be.

3. Dot your i's and cross your t's
Make sure you know essential details like the time and date of your interview. Highlight those in your calendar and block off plenty of time so you don't get double-booked.
If you're recording in person at the studio, check the address and the best route before setting off.
Missing the interview is one of the worst things you could do - especially if you don't let them know what's happened. It's almost impossible to secure future interviews if you get a reputation as a "no show."
4. Prepare for a remote interview
While it's lovely to be in a proper studio, the chances are you'll be recording your interview remotely.
If you're planning on being a regular podcast guest, you might invest in a decent microphone like the Rode Podcaster or the Shure MV7. However, as a guest, you'll probably be using your laptop mic or, perhaps, even your phone.
Whichever one you choose, you'll improve the interview's sound quality if you take a few moments to prepare your surroundings.
Keep away from hard surfaces because they bounce soundwaves. There's a reason why you hear about podcast hosts shutting themselves in a clothes-filled closet or huddling under a duvet when recording. It's the same reason studios have padded walls - they absorb stray soundwaves instead of bouncing them back.
Make sure you're in a quiet space. Some hosts don't mind the odd dog bark, but too much background noise is hard to edit out. And since podcasting is an audio medium, high-quality sound should be a top priority.
5. Understand the interview from the other side
It's the host's job to lead the conversation and ask interesting questions that showcase their guest and bring out some unique answers.
It's beneficial for you, the guest, to know how hosts can prepare for the interview. So, let's check out a few tips for podcast hosts, too.
Four podcast interview tips for hosts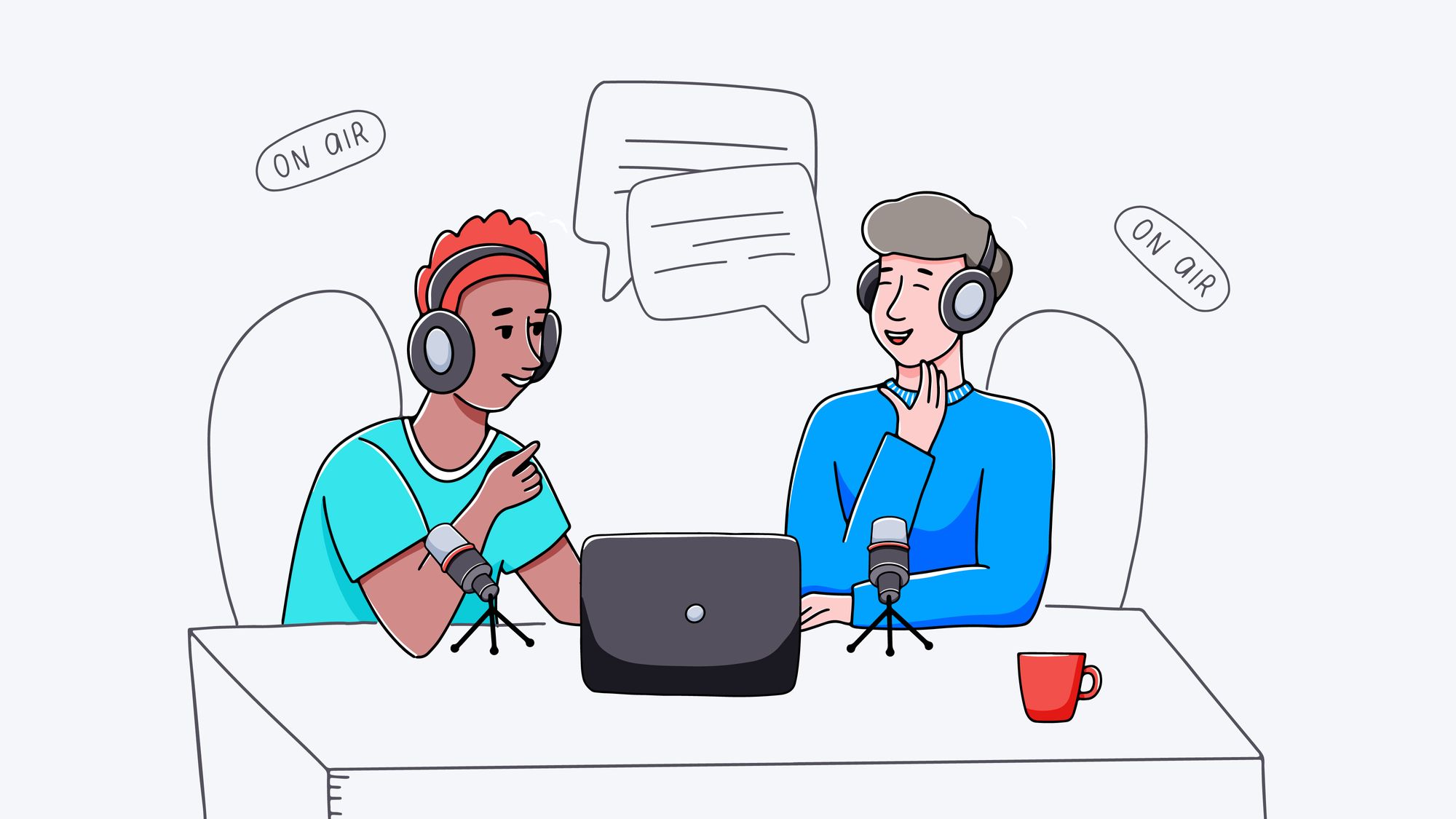 1. Prepare ahead of time to get a great podcast interview
One of the most important things you can do as an interviewer is research your potential guest. Have they written a book? You'll ask for more interesting questions if you've read it first.
Have they given a TED talk or been on other podcasts? Make time to listen, so you're not guilty of asking the same questions and getting the same old answers as everybody else.
2. Ditch the questions sheet
Interviewing a guest for your podcast is easy - all you have to do is ask questions, right? Wrong. The biggest mistake podcasters make when interviewing guests is writing down a long list of questions and then going through them one by one, says the team at Story Ninety-Four, a podcast and video production company that's all about increasing online engagement.
If you want to be great at interviewing, you need to listen to the answers and respond accordingly. Know when to ask follow-up questions, make counterpoints and explore their answers.
Don't just move on to the next question. As a listener, there is nothing more annoying than when a podcast host moves the conversation on to another topic just as it got good.
Being a good interviewer is difficult; it takes a lot of time and practice. But the best way to get there is to drop the safety net of pre-set questions and instead opt for pre-set topics and see where the conversation takes you.
3. Remote doesn't mean low quality
Podcastle, a recording platform specializing in top-quality audio, says that perhaps the biggest challenge for a podcast producer is keeping the sound quality high. So, here's their advice.
"We know that you can't always afford to invite your guests to your studio or at least a convenient recording space. More often than not, your guests might be from a different city or even continent! In these cases, the only solution is to conduct a remote interview.
However, remember that even if you're doing the interview remotely, it does not mean you can sacrifice your audio quality. Our tip here is to use a podcast creation platform with a decent remote interview feature, where all your guests will be recorded locally and on separate tracks. This way, your listeners will not even notice that you and your guests are not in the same room!"
4. Allow time to chat before the interview begins
If you want your podcast guest to feel comfortable talking in their interview, make sure you have time to chat first. That helps you to get the casual vibe going before the recording starts.
Spend some time discussing how you expect the interview questions to flow and mention any particular podcast topics you want to highlight.
Ending your podcast interview
One thing you can both do to create a genuinely memorable interview is to leave the audience with practical takeaways.
What can they do with the information you've given and the lessons you've shared?
Can you provide a download that lists your top ten action steps or the answer to your signature question?
Write engaging, helpful show notes that include links to everything mentioned in the interview.
What about showing your generosity and giving away copies of your book or three months in your membership program?
"The Little Home Organised" podcast has an excellent example of a generous follow-up in their money matters interview with Glen James, who provided free copies of his book and course to listeners who had written in with questions.

These are the takeaways that send listeners firmly into your corner, yet they're points that many podcast guests and hosts forget.
Looking for a better way to find podcast PR opportunities?
If you're a brand or podcaster, podcast guest interviews are a great way to drive your ROI, show your expertise and gather new audiences and potential customers.
But it's essential to find the right podcasts to be a guest on. And that's where Rephonic can help.
Our search tools and information on every podcast in our database help you narrow down the possibilities. You'll find descriptions, stats, episode and social media links, as well as all the contact details you need to reach out. Get started today with a free trial.
FAQs
What makes a good podcast interview?
A good podcast interview relies on both the host and guest to be well-prepared and engaging. A great podcast interview happens when there is a genuine connection between the two speakers that translates into an intimate experience for the listener. The key thing hosts and guests can do to make the episode a success is to find a match for their target audience.
How long should a podcast interview be?
Despite what you may hear, there is no specific length that a podcast interview should be. Podcast interviews should be long enough for the host and guest to have a genuine and unrushed conversation, but be wary of boring listeners with waffle. There is always the option to cut these bits in the editing process, but experts recommend keeping this to a minimum.