It doesn't take a PR miracle to get your clients featured on podcasts that complement their business brand.
Instead, matching suitable podcasts and brands takes extensive research, crafted pitches and a podcast media list that keeps all the podcast information you need at your fingertips.
It's a document - usually a spreadsheet - that lists all the information about multiple podcasts you'll consider making a pitch to now or in the future.
However, it's NOT something you use to spam every possible podcast host with a generic pitch. That'll lead straight to outreach strategy disaster when it comes to getting featured on relevant podcasts.
You can maximize publicity and ROI by using Rephonic to find the best channels and relevant contacts for your podcast media list.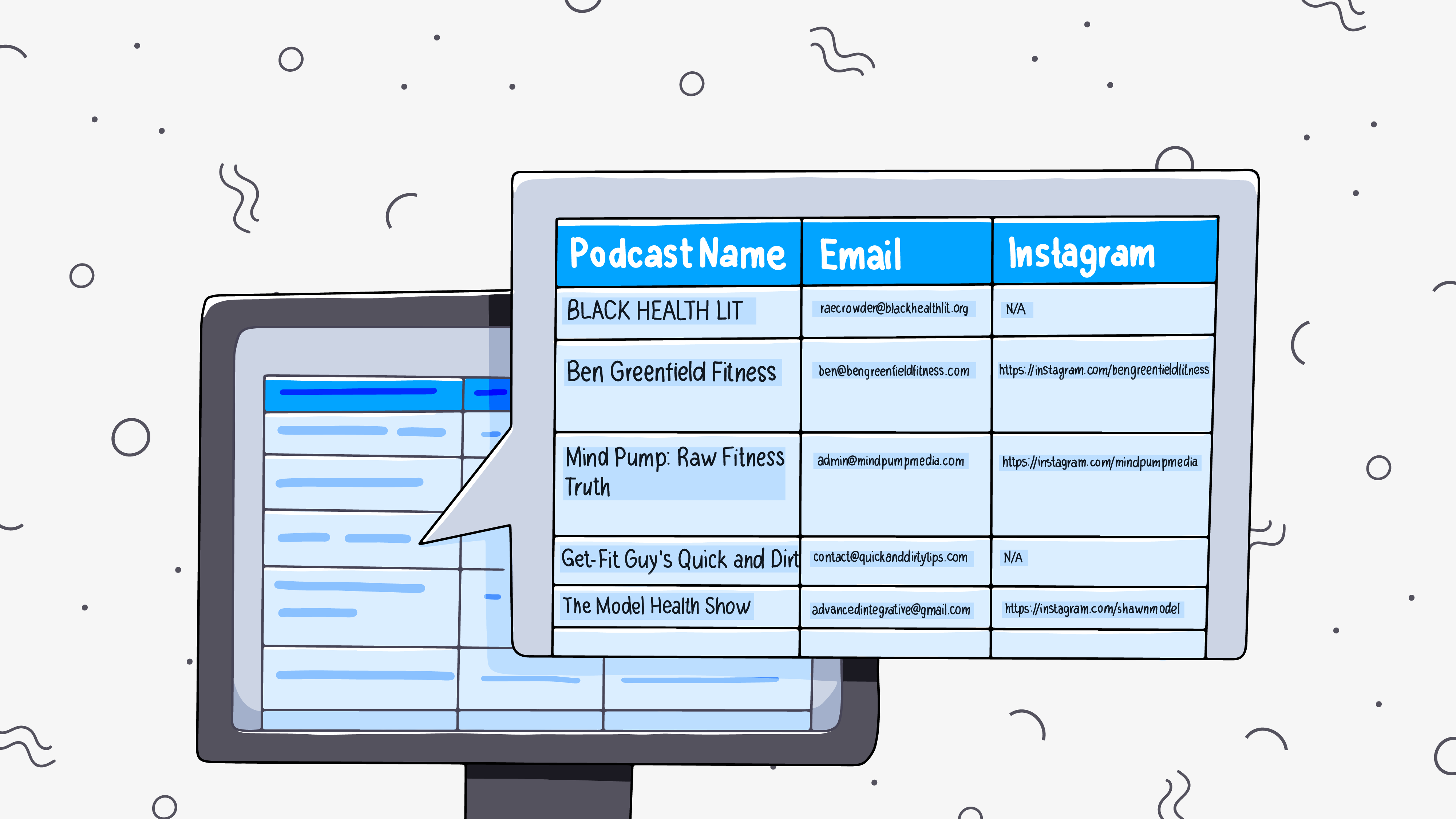 Why podcasts are the most exciting media for PR pros
There's been such an explosion of growth in podcasting since 2017 that we sometimes forget that it's still the new kid on the media block.
The exciting thing about podcasts is how personally their listeners relate to them.
Hearing the voices of their favorite podcast hosts week after week builds a trust and rapport that's unmatched in any other medium. So, when you get your client on a podcast, each listener will feel that they're talking directly to them.
If the host is a micro-influencer, their highly-targeted audience hangs on their every word and extends that friendship to their guests.
When you consider the ROI in terms of time in your audience's ear, there's nothing to beat these unique features. I mean, what other medium goes into the bathroom, the gym, the car and the kitchen with their audience and commands between 30 and 60 minutes of attention?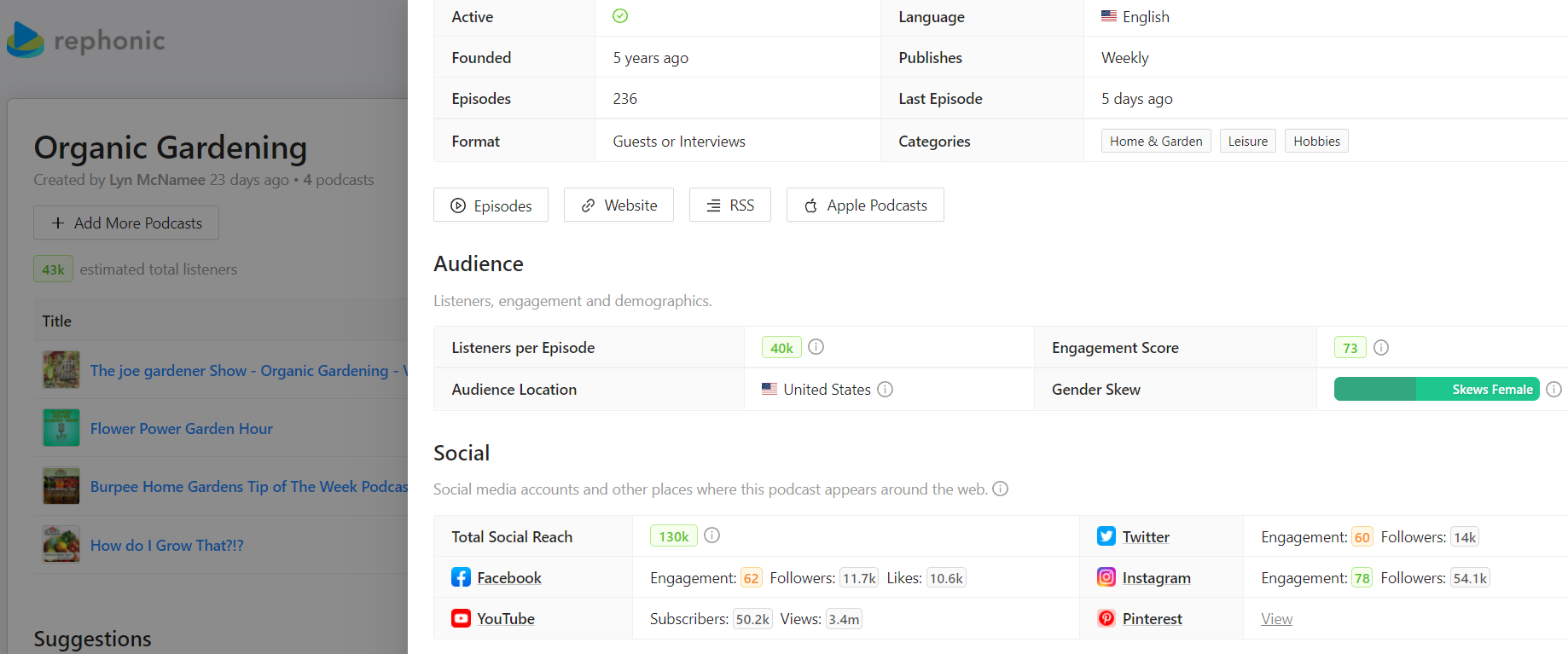 Why do you need a podcast media list?
There are many reasons why you need to have a media contact list.
Key contacts are in one place, so you can reach out to relevant podcasts quickly if you need to.
Creating a database lets you search for contacts in different groupings, e.g., industry, audience, niche, larger podcasts, micro-influencers, etc.
You eliminate that time-consuming search through disorganized documents online or in notebooks
You feel organized and in control when things happen quickly, e.g., a client wants you to send out five pitches by tomorrow, or the boss wants some detailed analytics on their desk in 5 minutes.
And you need to maximize ROI by choosing podcasts whose audiences will sit up and take notice of your brand message.
A separate podcast media contact list helps you begin some podcast outreach before pitching any shows. Competent PR agencies start building relationships with podcast hosts early so they can submit warm pitches later.
If the podcasters know who you are, they're more likely to welcome your approach. Even done well, cold pitches are more difficult to get across the line.
What are the challenges involved?
You want to maximize publicity by pitching the best podcasts for each of your target markets.
There are two million podcasts and more than 20 podcast directories (listening platforms). So creating and updating lists manually on spreadsheets is a next-to-impossible task.
Fortunately, you don't have to fill in countless columns by yourself because the lists feature on Rephonic does the job for you.
Five steps to creating a podcast media list
1. Define your target audience
Targeted marketing lets you spend your public relations dollars on more listeners who need and want your products. Conversely, a generalized approach carries the risk that few listeners will subscribe to your message.
Consider:
Your target audience's demographics - gender, location, ethnicity, and age. For example, according to Edison Research, half of all podcast listeners are between 12 and 34 years old, with the rest being 35+ years.
Analyze your existing customers' problems and pain points.
Psychographics are important too, so consider their attitudes, values, interests and lifestyles.
What search terms are subscribers using to find new podcasts? And who are your competitors targeting? Will you try and compete with them, or can you find a niche market they haven't noticed?
2. Identify podcasts
Once you've identified your best potential listeners, you'll need to find the podcasts they love, covering as many directories as possible.
Start by using Rephonic's topic search and filters to find the best podcast to match your target audience.
Rephonic helps you broaden your reach whenever you select a show by bringing up a list of related podcasts.

You can also find similar podcasts with the unique 3D graph. Rephonic collects millions of connections between podcasts from the "Listeners Also Subscribed To" data in Apple Podcasts. The podcasts with a similar audience show up as icons on the graph. When you click on an icon, it brings up the podcast's essential information. You can then click through to the Rephonic podcast contact directory to check out the data, listen to previous and new episodes and read the ratings and reviews.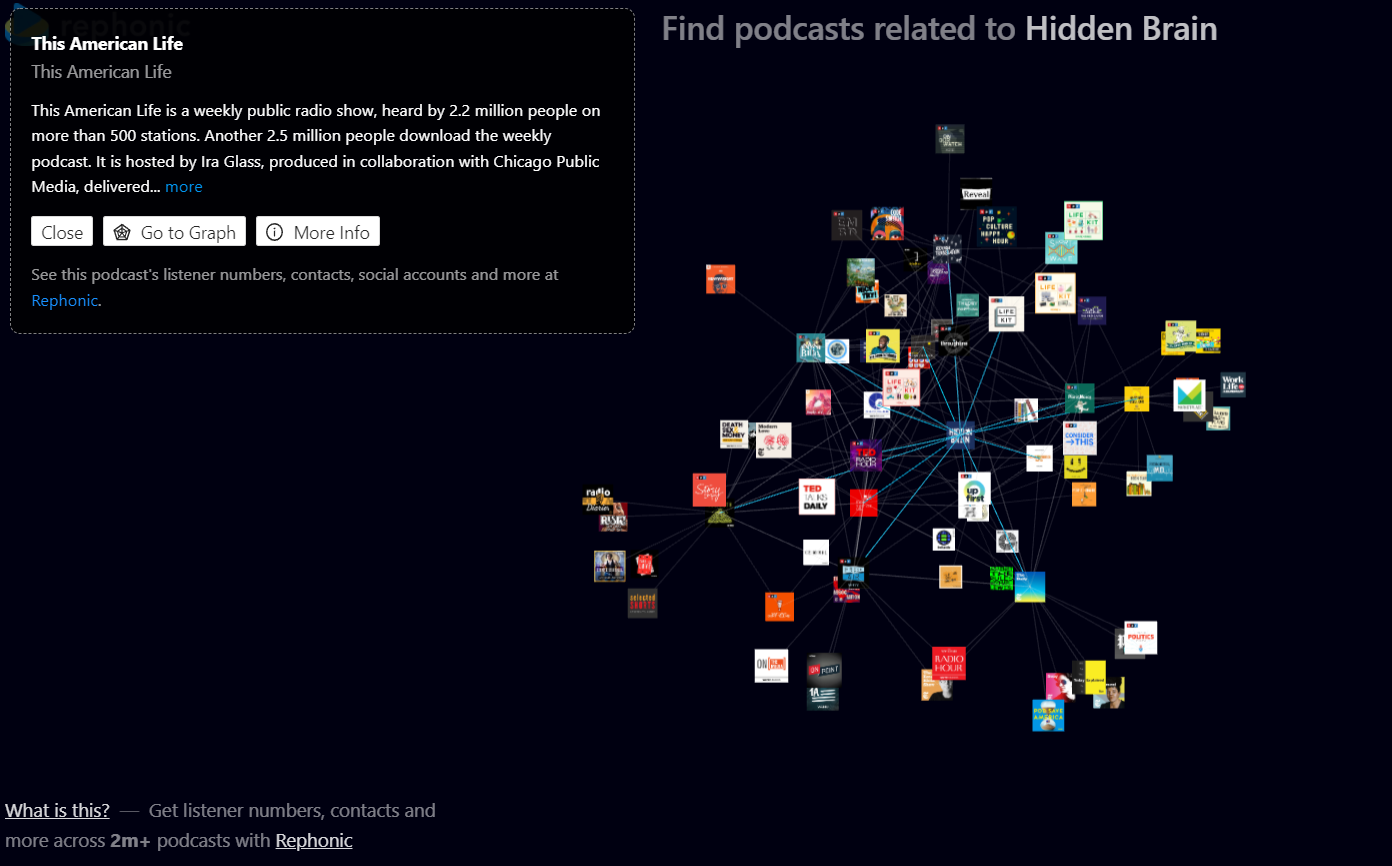 3. Create a list
When you find a possible podcast, you can use Rephonic's List feature to keep all the possibilities in one place.
Simply click the Add to list button to put the podcast on an existing list. You could also start a new list for each client or each industry or niche.
You have access to all the podcast insights you need, including:
the podcast name
contact info
podcast listener numbers
social features
feedback on each different podcast app, and so on.
You can also add notes to your list and share them with your team.

4. Update your list regularly
Make sure you save your search results as a dynamic list, so you will always see the most up-to-date list of shows that meet your criteria.
5. Easily export media lists from Rephonic
Once you've created a list, feel free to keep it on the web or export it as a spreadsheet to keep on your computer so that the data is at your fingertips whenever you need it.
The advantage of having a downloaded spreadsheet is that you can sort through the database and highlight podcasts according to different criteria.
When it's on your laptop you can also add a "conversations and comments" column to a spreadsheet to plan podcast outreach for your client.

Conclusion
Unfortunately, you can't make a list once and be done with it. Instead, it's a continual process of finding, qualifying, adding and subtracting podcasts. Your agency is constantly getting new clients, so you'll need to update your lists for them.
Podcasts come and go, too. Subscriber numbers fluctuate, podcast emails change. Altogether, it's a good idea to visit Rephonic regularly to maintain and grow your lists. And if by chance an email on your list is no longer valid, don't waste time searching for a new on one your own. Reach out to our new Concierge Service for help, instead.
Have you used the Rephonic Lists feature yet? It saves you time and effort while you're building your podcast media list so you have more time to spend on crafting more winning guest or sponsorship pitches.