You just need one person to listen, get your message and pass it on to someone else, and you've doubled your audience.
So, says author Robert Gerrish. But how do you get that one person to join your audience in the first place?
Many people in the podcasting space scratch their heads over that question. Meanwhile, they're spending time having too many meetings with their producers, writing blog posts or tweets, or sending too many messages on social media.
But YOU could increase your chances of getting heard by the right listeners by embracing podcast collaboration.
Table of Contents
What is podcast collaboration?
Collaboration is the situation of two or more people working together to create or achieve the same thing, says the Collins Dictionary.
So, in podcast collaboration, two podcasts with similar audiences in the same niche (or related niches) work together for their mutual benefit.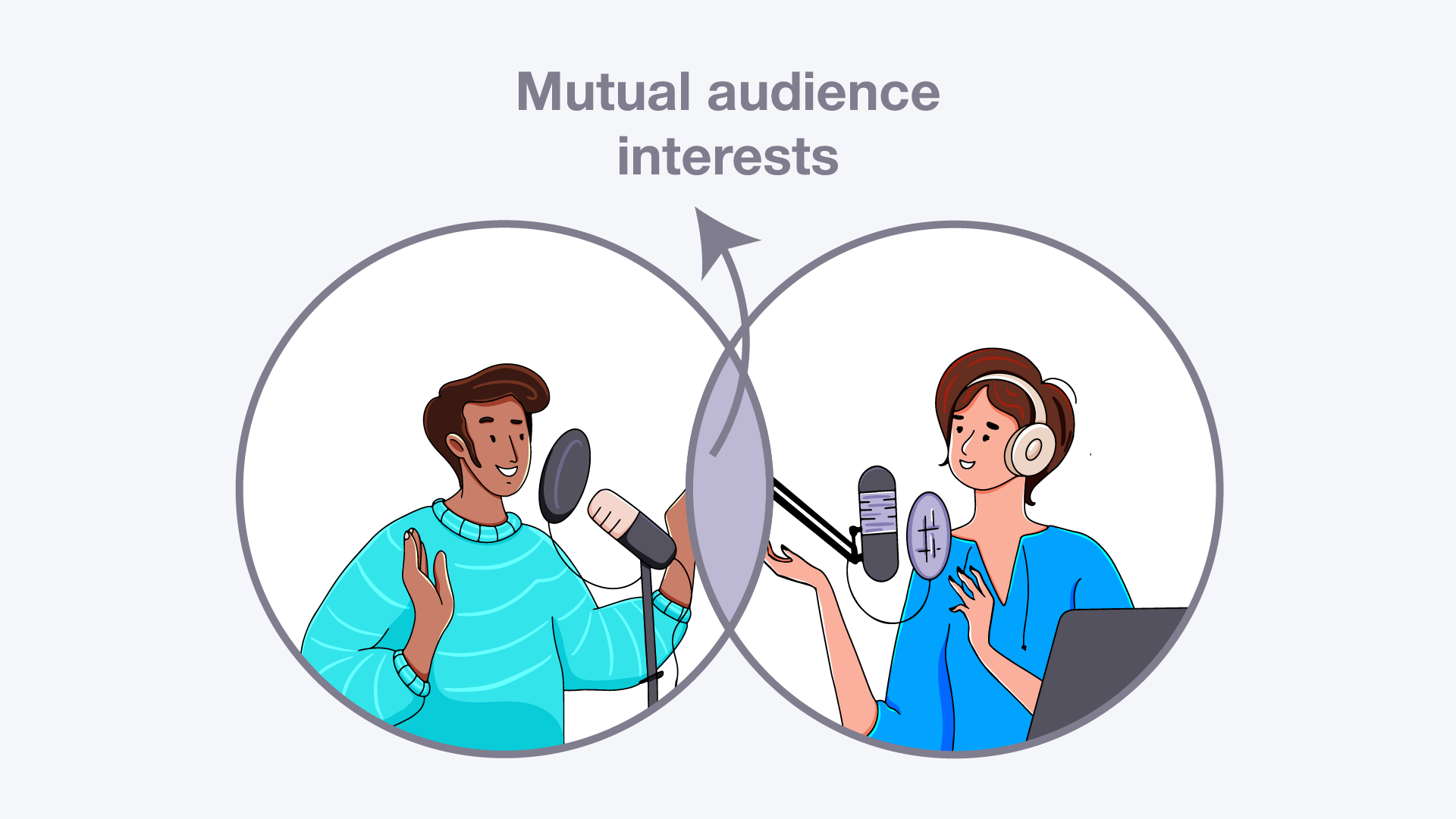 We first explored podcast networking ideas in our jam-packed "50+ hacks to promote your podcast" article. However, podcast collaborations take networking a few steps further when friends and hosts get together to boost each other's listeners.
Benefits of partnering with other hosts
One of the best things about collaborating is how much fun you can have along the way. You can do as little as mention each other on social media, appear on each other's podcasts as guests or go all the way and co-host a special mini-series together.
Creating win-win-win opportunities for each podcast host and their audience is a cost-effective way to attract more listeners to your podcast, not to mention building great relationships with other podcasts along the way.
If you're interested in the many facets of collaboration, try listening to Season two of The Stop, Collaborate & Listen podcast, where Baily Hancock interviews industry experts over several mini-series, exploring the possibilities in connecting, creating, innovating and amplifying through collaboration.
Podcast collaboration possibilities
You could work with other podcasters in many fun ways to benefit both podcasts and their listeners. Let's check them out, going from the easiest and least time-consuming to ideas that will take considerably more work but may have long-lasting benefits for you both.
Shout-Outs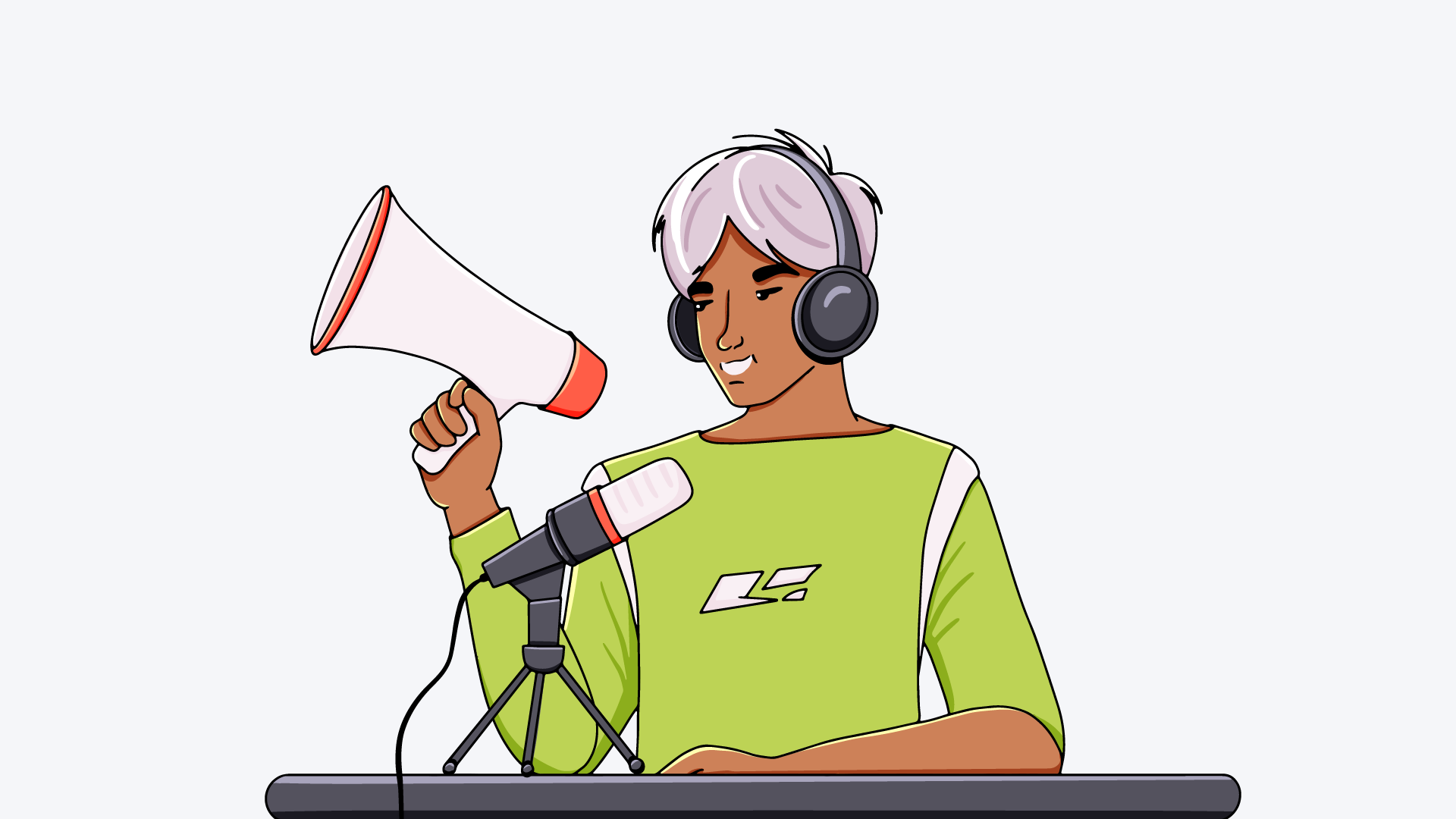 Give your fellow collaborator a shout-out to your social media community, or mention them on your podcast. You'll often hear podcasters talk about other podcasts on the same network (e.g., Stitcher or IHeart), but two independent podcasters can just as easily do the same thing.
You can mention a podcast in general or give a CTA (call to action) on a specific episode.
For example, you could each create a social media post about one episode on the other's podcast that's especially valuable to your community and encourage them to check it out. Or, you might briefly discuss that episode on your podcast in one of your ad breaks, including reasons why listening is worth their while.
Ad Swaps
Swapping ads is a little more formal than simply shouting out, but it's an easy way to introduce yourself to a new audience. You record the ad, and the other host plays it in one of their podcast ad spots.
It's a good idea to create these as dynamic ads, so you can each run them for an agreed length of time (or number of impressions) and then swap them for another collaboration or a paid sponsorship.
Guest interviews
If you want to up the collaboration stakes, you could appear as podcast guests on each other's shows. Podcast interviews work particularly well if you're promoting a new book, course or service, and you could even work it in with a podcast tour.
Include plenty of actionable insights during the interview and add a CTA incentive at the end. For example, you could give a generous discount on the price, a free bonus when people purchase or a link to a free lead magnet. Finally, encourage your listeners to subscribe to your guest's podcast or check out their offering.
Collaborating on episodes extends to social media too. You'll increase the collaboration's success if you talk to your social media community about each podcast episode and comment on the other host's posts. Create links on your website to promote both interviews there, as well.
Podcast takeover
Another podcasting collaboration is the podcast takeover, when you drop an episode of your show into another show's feed and vice versa.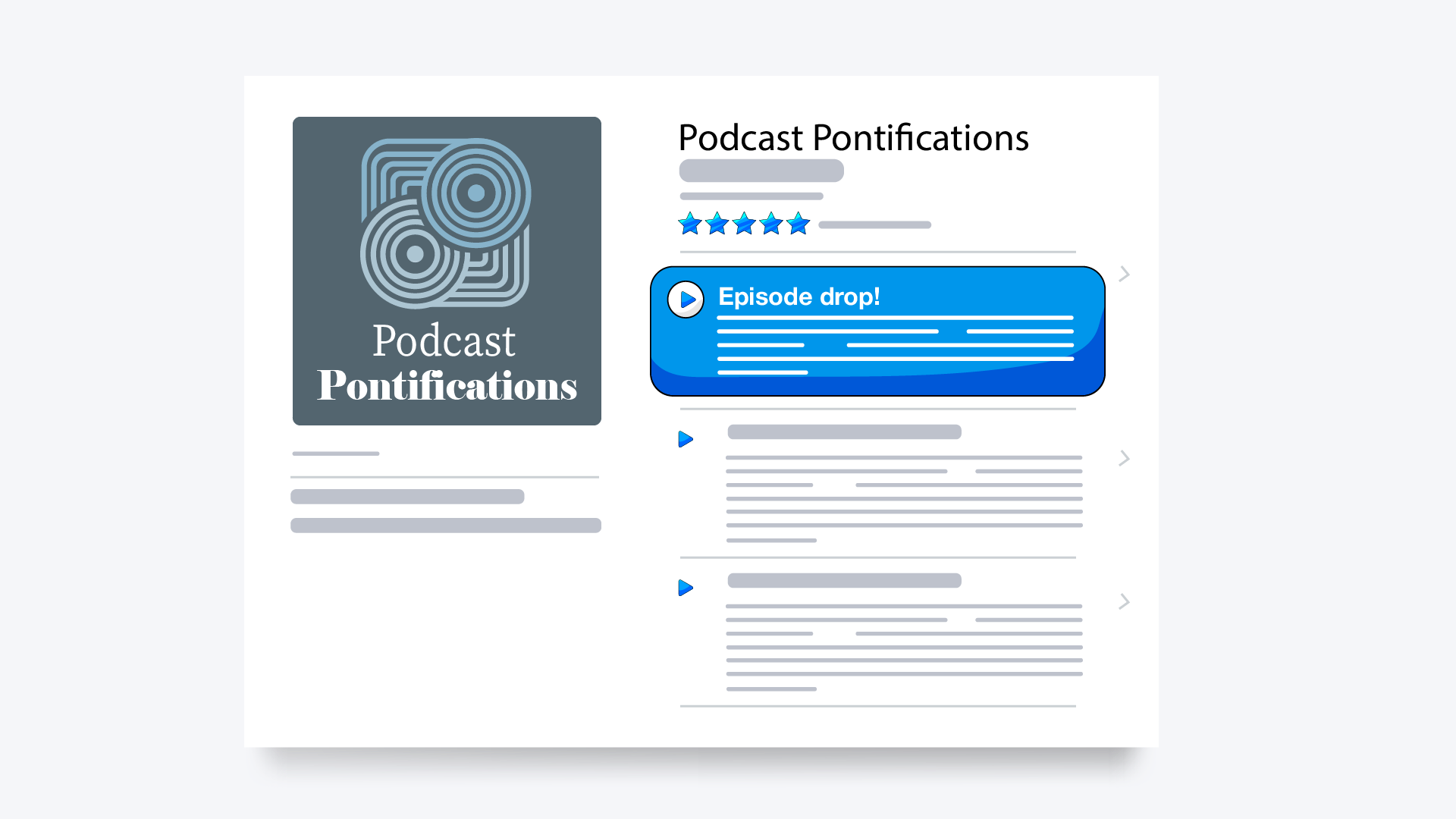 Podcasting takeovers work well for cross-promotion if your podcast is seasonal because you can keep the rhythm going for your audience and still have a break from making content. And they're a great way to get your podcast content in front of new listeners.
Here's an example:
Evo Terra hosted Podcast Pontifications as a seasonal podcast and inserted Episode Drops between seasons. His between-season Episode 534 featured an episode from "Between Two Mics." Later, Zach and Rock reciprocated by hosting "Influencing Podcast Listening Habits With Evo Terra" on their show.
In each case, the regular hosts recorded a short introduction explaining the podcast collaboration and the treat listeners were about to hear.
Feature your guest interview as an episode on your own podcast
Another intriguing podcast collaboration twist is making content elsewhere (e.g., YouTube or other podcast interviews) and including it on your podcast. (You'll need to get the other party's permission first.)
For example, podcasters Jay Clouse and Andrew Barry collaborated to talk about Jay's experiences forming communities on Barry's "Learning Culture" podcast. A little later, Clouse shared the same interview on "Creative Elements."
You can also share a speech you've done elsewhere as one of your episodes. That could be from collaborating with other podcasts or the business hosting the event.
Phil Simon, the award-winning author of 'Low Code/No Code' and an acknowledged collaboration authority, did just that when he featured a keynote speech he presented for AV Company Lightwerks on his "Conversations About Collaboration" podcast.

Feature a podcast segment
A less common way to collaborate is the podcast segment. You could add a unique perspective on the conversation in another podcaster's show by recording a short feature rather than a whole interview. The other host thanks you by sending listeners to your show and including a link in the show notes.
Co-host a podcast episode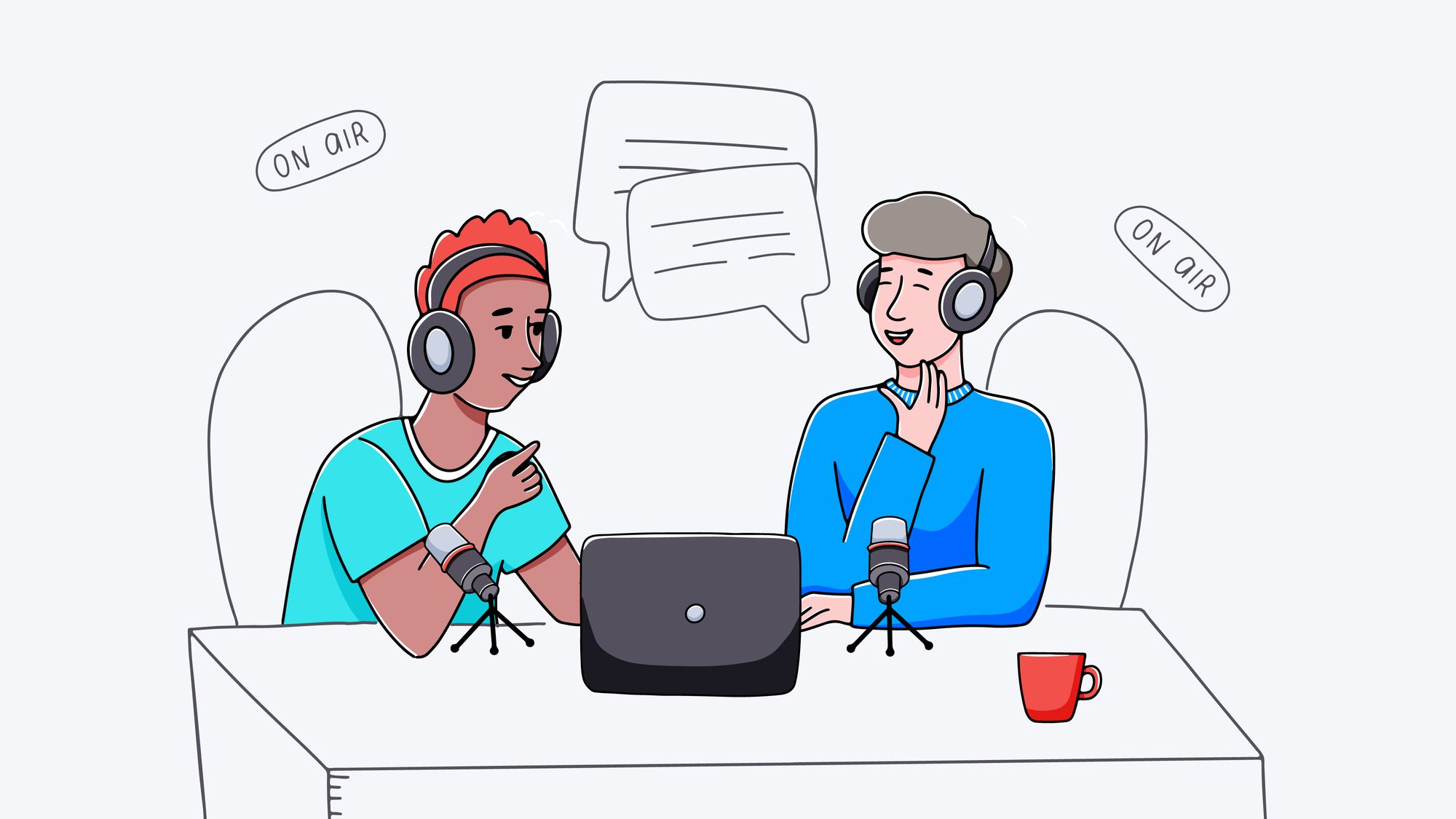 Two podcast hosts can agree to co-host their podcasts for one episode or even a mini-series. Co-hosting can work well for podcast growth by introducing your hosting style to new listeners and giving a bit of variety to your own audience.
However, there's considerably more work in co-hosting. Draw up the parameters of this collaboration before you start. Brainstorm ideas for the episode or series' content, allocate specific jobs and roles and create a timetable to keep you both on track.
You'll likely be working remotely on this venture, so factor that in, too. Discuss recording, editing, distribution and promotion responsibilities and put them in writing so you're each clear about where you stand.
How to find podcasts to collaborate with
Most podcast hosts will likely know a few other producers, but how do you find the most relevant podcasts to partner with? These are podcasts in your niche or with a listener base that crosses over with yours.
Start with Rephonic.
Rephonic is a podcast database with access to more than 2.5 million shows. When searching for other podcasters, Rephonic lets you filter by one or more categories, size, location, audience and more to whittle hundreds of thousands of shows down to those most relevant to you.
(Hint: Make sure you turn on the "Active" button while you search, to exclude podcasters who are no longer producing shows.)
But Rephonic is so much more than a podcast discovery database. Every podcast entry contains comprehensive information, including podcast download numbers, audience demographics, how engaged subscribers are, and links to the podcast's website, email and social media platforms.
Listen to episodes (a vital step in any podcast search) straight from Rephonic and sort the most likely podcasts into handy lists, so their information is always at your fingertips.
And if that podcast doesn't fit your brief, our 3D Related Podcasts graph could highlight likely podcasts that didn't appear in your initial search.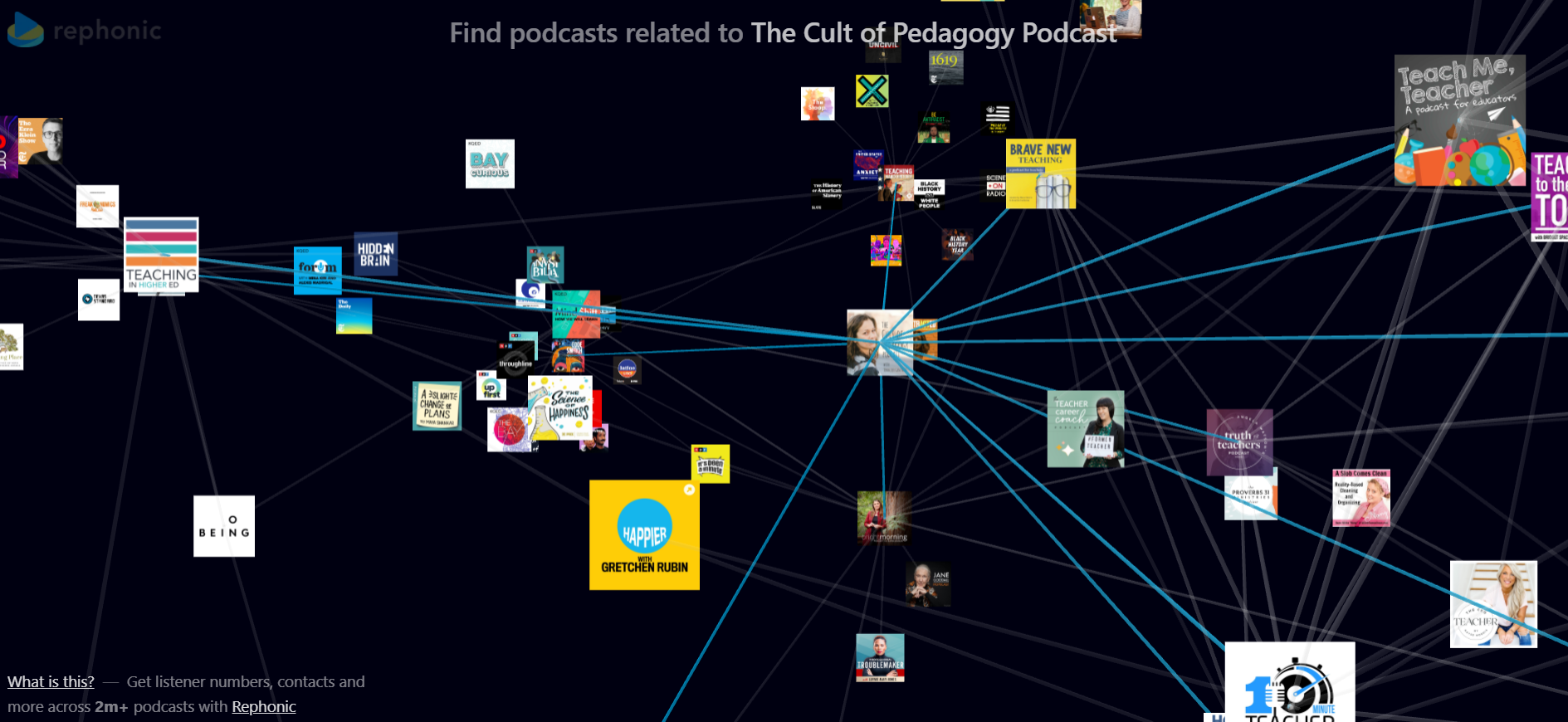 How to pitch potential collaborators
Cold pitches can be nerve-wracking (but remember, the worst that can happen is that some people say no. Others could be delighted to respond.)
Successful pitches are:
Specific - mention an episode you've listened to and viewpoints that resonated.
Valuable - show how collaboration would add value to the other podcaster and how their audience would benefit.
To the point - don't waffle for five pages, be concise in two.
Personable - flavor the email with your flare and personality
Easy to research and reply to - include a podcast-one-page or media kit with links.
Wait a week, then follow up if you don't hear back.
Make pitching easier by using Rephonic's proven cross-promotion pitch template.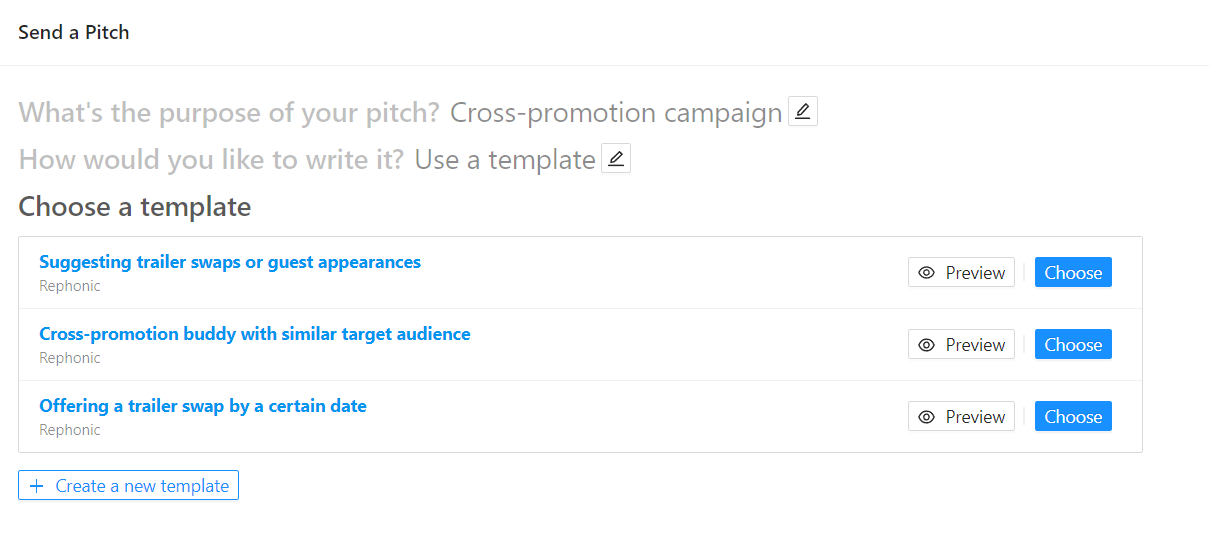 How to set up the collab
Once you've found a partner, the collaboration's success depends on communication and sound business processes.
You'll need to:
establish your goals
set dates
decide on the form your collaboration will take
assign tasks
schedule deadlines
sign an agreement
While you could draw up a formal agreement or get a lawyer, there's a handy form for everything online, and podcast collaboration is no exception. You can walk through the process using this Podcast Collaboration Agreement from Creators Legal for just $19.
How to promote the episode or series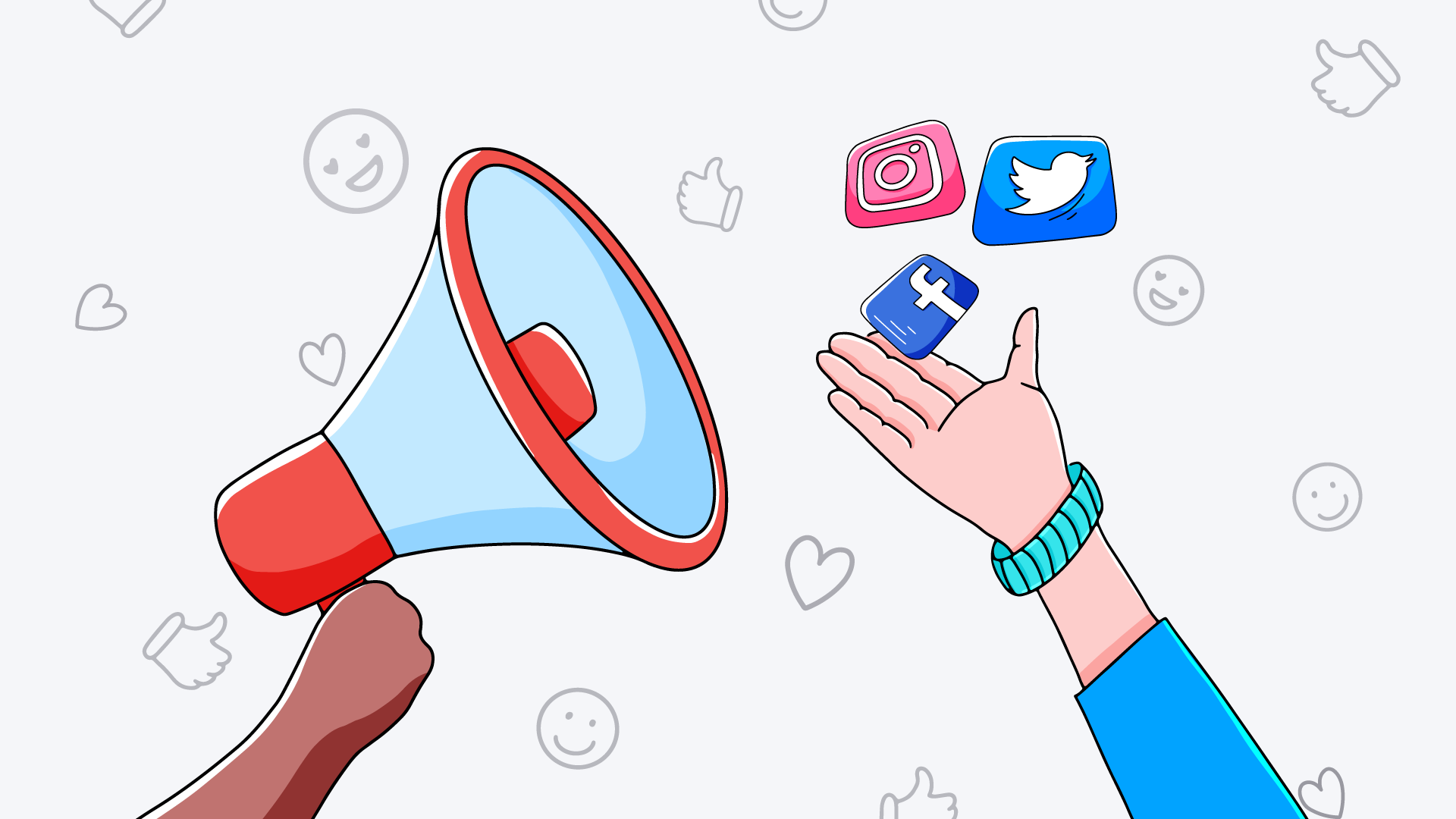 When podcasters collaborate, success ultimately depends on how listeners respond. So, get your audiences buzzing with some fun podcast promotion.
Make some social media graphics you can each post to your community. Put links to each other's podcasts on your website. Signal that your guest interview's coming up and make new posts when it's finally on air.
Final words
Working with other podcasters can be a cost-effective way to boost your subscriber numbers, and with the right team in place, cross-promotion can be downright fun, too.
If you want to include podcasting collaborations in your promotion strategies, search Rephonic and start a conversation today.