Starting and growing a podcast by yourself is hard. It's not just about speaking into a mic, posting a couple of times on social media and watching the listeners and sponsors flood in. It's an art and a skill, both of which can be learned through podcast coaching.
We spoke to six of the best podcast coaches that you should follow on social media and compiled what they had to say in this blog post. Take it from us - there's a lot to learn from them!
1. Danielle Desir Corbett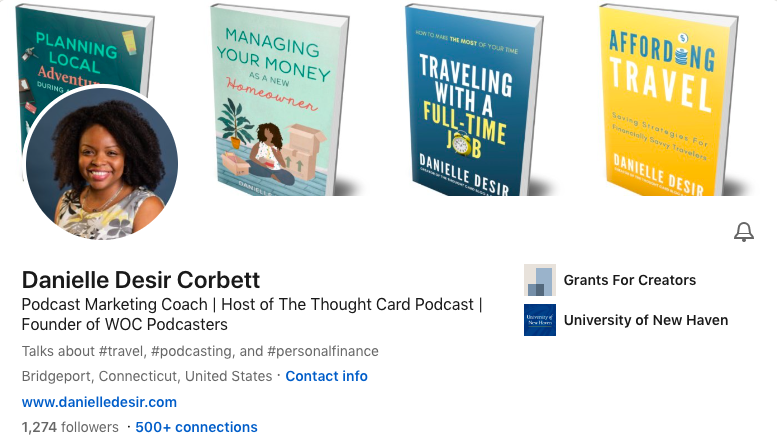 Danielle (AKA your new best friend) shares marketing tips and insights, things she's implementing right now for her own show, and feedback on how her coaching clients are achieving their goals. All in her own super relatable way.
"I focus on podcast marketing and monetization, specifically sponsorships, brand deals, and affiliate marketing. On the marketing side, I specialize in long-term marketing strategies outside of social media like SEO (search engine optimization). I coach my podcast clients through pitching brands, negotiating brand deals, and strategically creating multiple income streams, both passive and active.

I've coached lawyers, wedding planners, nurses, motivational speakers, and more. My coaching clients are podcasters with 2+ years of experience who are looking to streamline their growth and make more money.

Podcast advertising is a multi-billion dollar industry, and I want to see more indie podcasters making a full-time income through sponsorships and brand deals. We work so hard on our shows, we deserve to reap the financial rewards."
Where to follow: Follow Danielle on Instagram, Twitter and TikTok
2. Jeremy Enns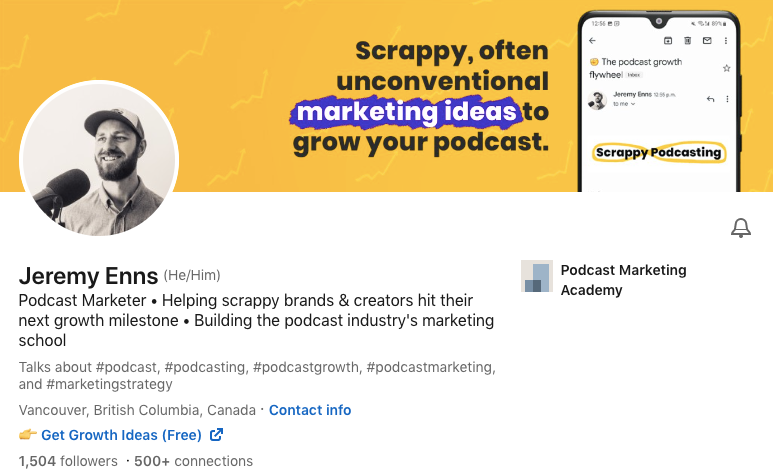 Jeremy is an much-needed nuanced voice in the podcasting world. He posts thoughtful podcast marketing tips to help creators and brands think deeper and more holistically about podcast growth and marketing.
"I'm a strategy purist. This means I always want to gain a deep understanding of the goals, opportunities and challenges currently facing a show, as well as the strengths, weaknesses and personalities of the people behind it before thinking about tactics. In addition to the high-level strategic approach, I also love coming up with novel, unorthodox, creative marketing ideas... and then operationalizing them with extensive implementation plans and SOPs. I love making sense of chaos and putting together a cohesive strategy that leverages each podcast marketing tactic as needed.

I primarily work with founders, entrepreneurs, and brands who are creative, scrappy, and deeply in love with the shows they produce and the audiences they serve. They have a solid handle on the production and content creation aspects of their show and are ready to scale things up with a focused, podcast growth & marketing strategy.

I'd love creators to come to realize that marketing isn't something that they need to be scared of or intimidated by, and that only bad marketing feels sleazy. I'd also like to see more brands approach marketing as something that is baked into the DNA of the show itself, not something that can be sprinkled on after the fact."
Where to follow: Follow Jeremy on Twitter and Linkedin
3. Vic Elizabeth Turnbull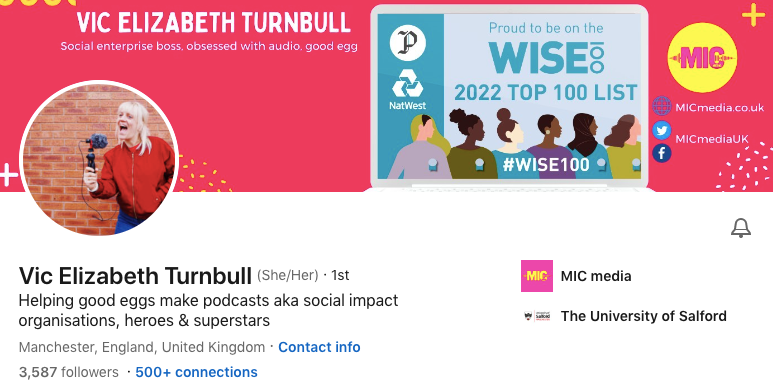 Vic provides podcasting advice (as well as the occasional post about her cat Alan), to help social impact organisations successfully tell their story and create an even bigger splash.
"I'm the Founder of MIC, a Social Enterprise that specalises in working with social impact organisations or the 'good eggs' as we like to call them. We help not-for-profits and other purpose-driven companies or freelancers to amplify their voice.

When it comes to podcast coaching, I'm a big believer in stripping out the jargon, the heavy tech chat and reams of unnecessary advice. I think tech and a fear of getting started hold a lot of potential podcasters back. We recognise this and through our training, help people to break down these barriers. We also keep it fun. Podcasting is a joy, if it feels like chore or a pain in the arse you're probably not going to keep at it!

As the podcasting industry progresses, I'd love to see more peer-to-peer support because it's so powerful. We launched couple of initiatives in the last few years to help with this - a series called 'Grab The MIC: Live' and a podcasting community called 'MIC's Podcast Club'. Some of the stories about how people have supported each other in the community are so brilliant. From collabs, new shows, sponsors, listener milestones and even paid work."
Where to follow: Follow Vic on Linkedin
4. Neal Veglio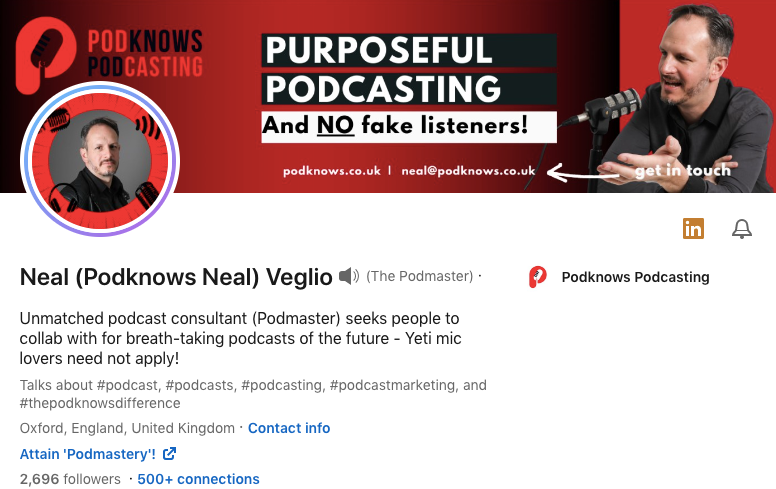 Straight-talking and persuasive, Neal isn't afraid to tell it like it is. He uses his social media to educate newcomers in best practices and to disrupt commonly held misconceptions.
"I work with entrepreneurs, small to medium sized organisations, and larger corporates who like to outsource. As an ex radio broadcaster who has a wealth of experience coaching presenters, I excel at making 'normal people' sound like superstars and coach their personalities into the recordings. I've been in the space for more than 20 years so I know all the podcasting tips and tricks! Even some of the ones the podcast hosting companies don't even know.

One of my bugbears is around so-called 'podcast coaches' who use scam blackhat techniques to falsely elevate their rankings and have them 'launch in the charts'. I know a number of UK and US based podcast marketing agencies are doing this and I want to call them out and raise awareness of it so entrepreneurs don't get conned out of their cash working with these people.

I would like to see less elitism and more inclusivity from Apple Podcasts, along with improved search indexing. Podcasting has become something of a walled-garden with only the influencers and big names getting a look in. Yet we all know there are great podcasts in the indie community that deserve to be heard."
Where to follow: Follow Neal on Linkedin
5. Taesha Glasgow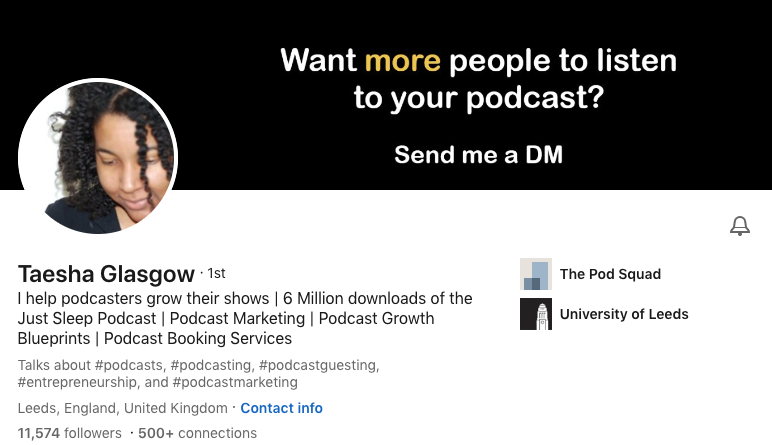 Having been there and done it, Taesha provides actionable advice about how you can grow your show and move past the common mistake of thinking that a few posts on social media will cause new listeners to flood in.
"When I started podcasting, I applied the knowledge I had built from my 20 years in digital marketing to my podcast. This was fundamental in growing my show to over 7 million downloads in less than 2 years (without spending on ads). I use this experience to build blueprints to help my clients start and grow their shows.

I usually work with business podcasters that are either starting a new show or have reached a plateau with their current show and need help to move to the next level. As the industry evolves, I'd love to see more tools to help podcast discoverability and measure ROI."
Where to follow: Follow Taesha on Linkedin
6. Joe Casabona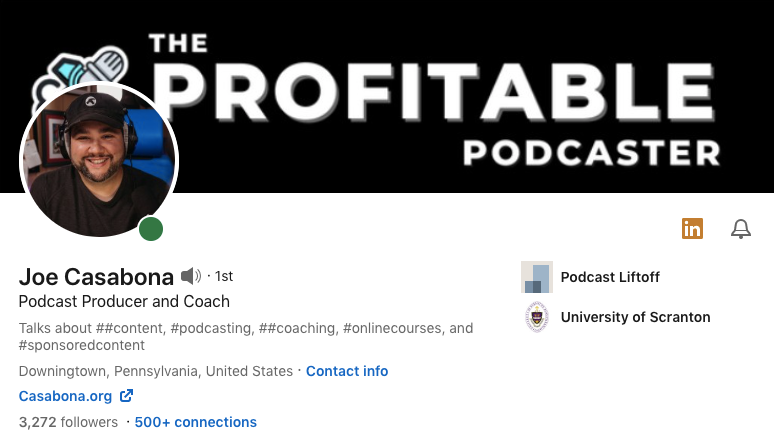 According to Joe, he's a pretty open book on social media. You'll get everything from podcast growth tactics to monetization strategies, with the occasional tweet about the Yankees.
"My specialty is helping people turn their podcasts into profitable businesses by giving them systems to put in place for idea generation and capture, pre- and post-production, guest outreach, and monetization. One of my favorite things to help podcasters with is automation. Once I'm done recording an episode, I pretty much don't see it again until it shows up in my podcast feed. This allows me to focus on important tasks, like getting sponsors, delivering for my members, and doing podcast growth outreach.

My target audience is small business owners, for example, authors, coaches, and educators who can use their podcasts not only to gain revenue from sponsorships but also to sell their own expertise. They are the perfect candidates to implement multiple parts of my SMASH framework for podcast monetization.

In the future, I'd love to see the podcast industry evolve past downloads as the gold standard metric for success. There are lots of ways podcasts can be considered successful. Downloads is just one of them."
Where to follow: Follow Joe on Linkedin, Twitter and Instagram
---
So there you have it. Six of the best podcast coaches that you should be following on social media.
If you're looking to grow your show by getting in front of untapped audiences, try Rephonic. We provide invaluable podcast stats such as estimated listener numbers, social follower count, chart rankings, contact info and more for 2.5m+ shows so you can discover the best cross-promo opportunities.