If you're launching a podcast, it makes sense to discover who your competition is.
Research uncovers what formats and topics other podcasts are doing. You hear the ongoing conversation in your niche, and it helps you identify possible gaps or over-saturation in the market.
Some people are born researchers. They light up at the thought of digging into all the published data or finding out what somebody in their field says on Twitter.
Other people find it difficult.
In this blog post we explore the most efficient way to do research for your new podcast.
Make sure you read until the end to discover Rephonic's free 3D graph tool - it's as cool as it sounds!
Table of Contents
What podcast info should you research?
Podcasting is a somewhat fragmented industry, and until recently, it was challenging to find out much of the information you wanted to know.
That's because there isn't one podcast platform that everyone subscribes to. Instead, there are multiple players, from podcasting giants like Apple and Spotify down to the smaller platforms like Castbox.
Each platform has a different process for reporting podcast listener data, ratings and reviews, subscriber numbers etc. Many have various lists and methods of ranking podcasts or helping you find podcasts in your niche. Some don't allow ratings and reviews at all.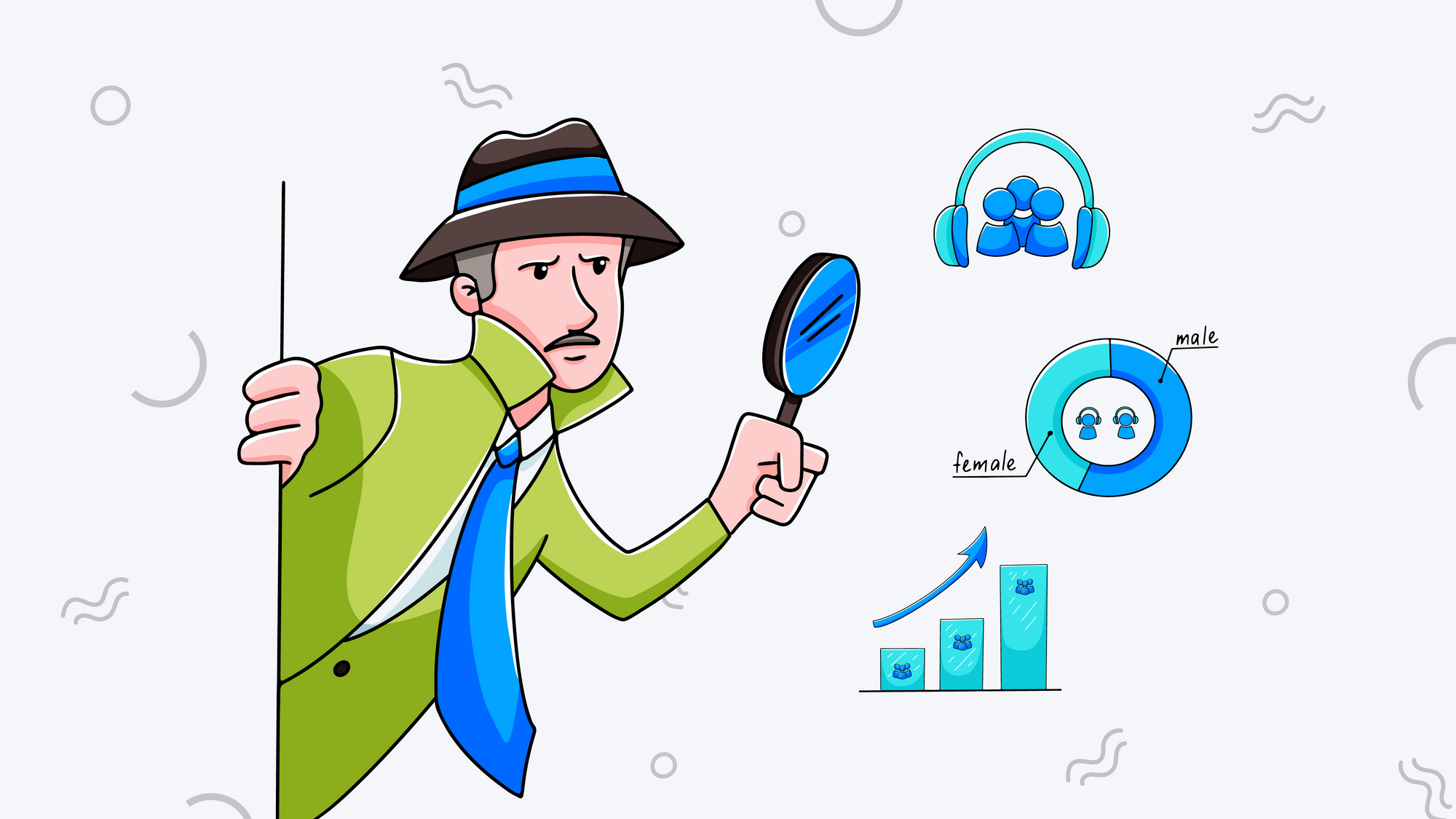 Fortunately, Rephonic lets you bypass all those obstacles. Our technology collates all the data across hundreds of sources and brings it together in one tool.
Let's see what podcast data research you can achieve on Rephonic.
Podcast episodes
A vital research component involves actually listening to a few episodes of the podcast. You can do this with a quick search on Apple Podcasts, Spotify, or Rephonic.
If you're producing a podcast, you'll want to listen to similar shows to gauge the topics they cover and their formats. What's their brand story? What personal touch makes them stand out?
Knowing that information allows you to create a point of difference for your podcast.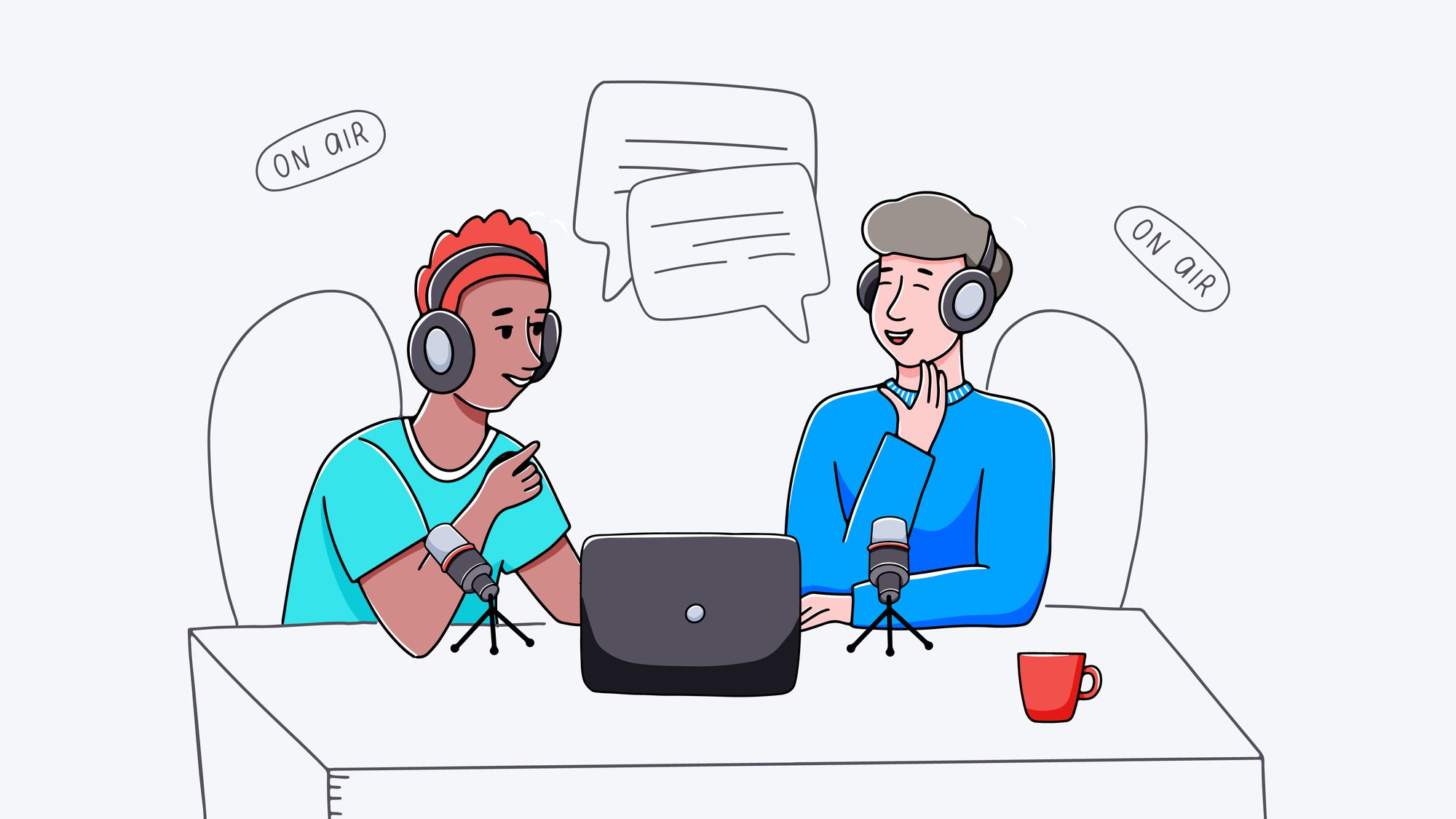 You're also checking the audio quality because nothing turns listeners away, like consistently poor audio recording.
All in all, there are certainly many pieces of information to consider when you're researching podcasts.
So the next questions are, what podcast data is available, and where can you find it?
Podcast listener numbers
Some sources refer to download numbers and others to podcast subscribers, and still others refer to podcast listeners.
Rephonic shows the estimated listeners per episode for most of the half a million or so active podcasts in its database. Knowing how many listeners are tuning into each podcast episode gives you a more accurate idea of how many people regularly engage with the show.

Chart rankings
Most people look to the Apple Podcasts charts to see how niche podcasts rank across various categories.
You could do a Google search or try to find the podcast in Apple. However, these rankings differ from country to country, and Apple doesn't have one universal chart. If you're in the US, you'll automatically see the United States chart, but you'll have to search to discover the podcast's rankings in other countries.
Rephonic makes it much easier by reporting the podcast chart rankings from all of Apple's charts on that podcast's data page. You'll automatically see the rankings and categories in the US, UK and Canada at the top.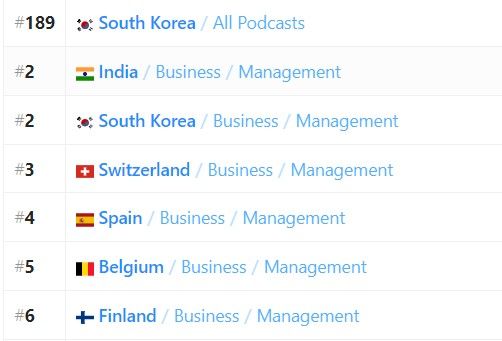 Listener gender skew
When you're researching whether particular podcast listeners fit your ideal audience profile, it can be helpful to see whether their listeners are predominantly female, male or a mixture.
Rephonic shows that data on each podcast page, but it also lets you look for podcasts with the gender skew that applies to your audience.
So, for example, if you're a mom blogger, you'll perhaps want to look for podcasts that skew female. But if your ideal customer avatar is middle-aged men, you would search with a male gender skew selected.

Audience location
Where the podcast's primary audience is based may factor in your research, too, especially if your target audience is located in one particular country.
Again, Rephonic will show you where most of the podcast audience is based. However, you can also find podcasts based on audience location if necessary.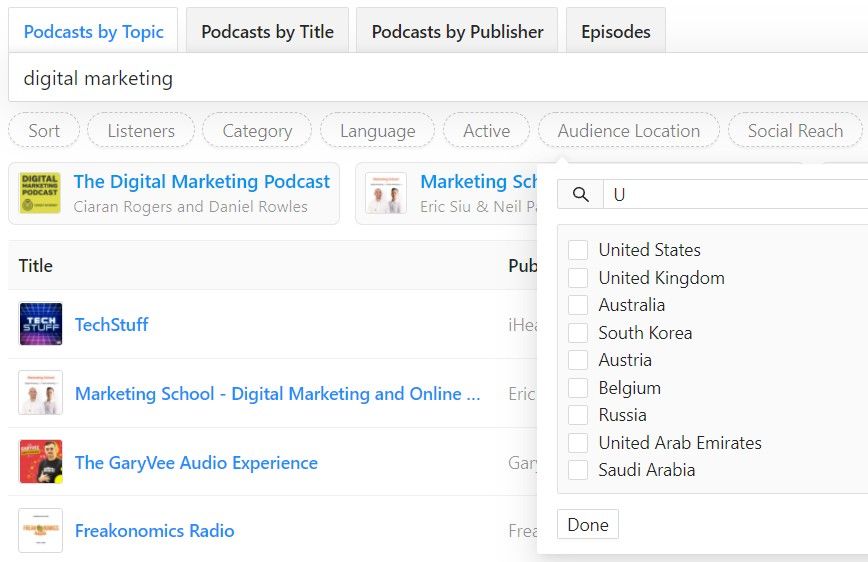 Listener engagement
Rephonic looks at the growth in new listener ratings and reviews over multiple podcast apps over the past 30 days to determine the listener engagement score of 0-100.
It also lets you search for podcasts based on an engagement score range.

It's worth noting that the engagement score doesn't relate to audience numbers. Some micro-influencers have small but highly-engaged audiences. Other podcasts may be much larger, but their audience is not quite so passionate.
Episode release frequency and active status
Every podcast listed in Rephonic has a page of data and metrics that includes information on how often the episodes are released. Most podcasters find that weekly episodes are about right, but some record twice-weekly, some fortnightly and more than a few broadcast every day.

Here, Eric Siu and Neil Patel publish daily episodes of the Marketing School Podcast, and the episode format is primarily guests and interviews.
Crucially, the podcast is listed as active. That's vital information if you want to pitch these hosts to become a guest or sponsor.
Contact information
Finally, when you've decided to do some podcast outreach, you want an easy way to contact the host or producer.
Rephonic has links to the podcast's social media accounts and a contact button that brings up the appropriate email addresses.
And if you need extra help, you can contact our Concierge Service, and the Rephonic team will find more contact information.

How do you find a niche for a new show?
When starting a new podcast, the last thing you want to do is dish up more of the same old thing. Many podcasts use the same formats of interviews or conversations, while relatively few are solo shows.
However, within those formats, there are comedy podcasts, news shows, industry updates, reality podcasts, commentaries, crime and drama, stories, how-to podcasts and a whole heap more.
If you want to launch a podcast, first work out your WHY so that you understand your goals. They could include:
Raising awareness of an issue
Positioning you as an expert in your field through teaching and the guests you interview on the show
Highlighting new research or innovation in a particular niche
Creating brand awareness
Making people laugh and lightening their day
Challenging yourself to learn new technical skills
Overcoming a fear of public speaking
Repurposing content from your blog or YouTube channel
Or it could be that you just think it would be a fun thing to do.
Next, think about your interests and industry. Find out what other niche podcasts are doing.
Brainstorm how you could do things differently. What unique format could you use? How could you (and maybe a co-host) add value in that niche?
Use Rephonic's 3D Graph to find related podcasts
Here's the tool you can't miss when it comes to researching and launching a new show.
Our free 3D graph makes it easy to research podcasts in your niche. Once you find one, you'll gain access to all the others where Rephonic has found subscriber overlap.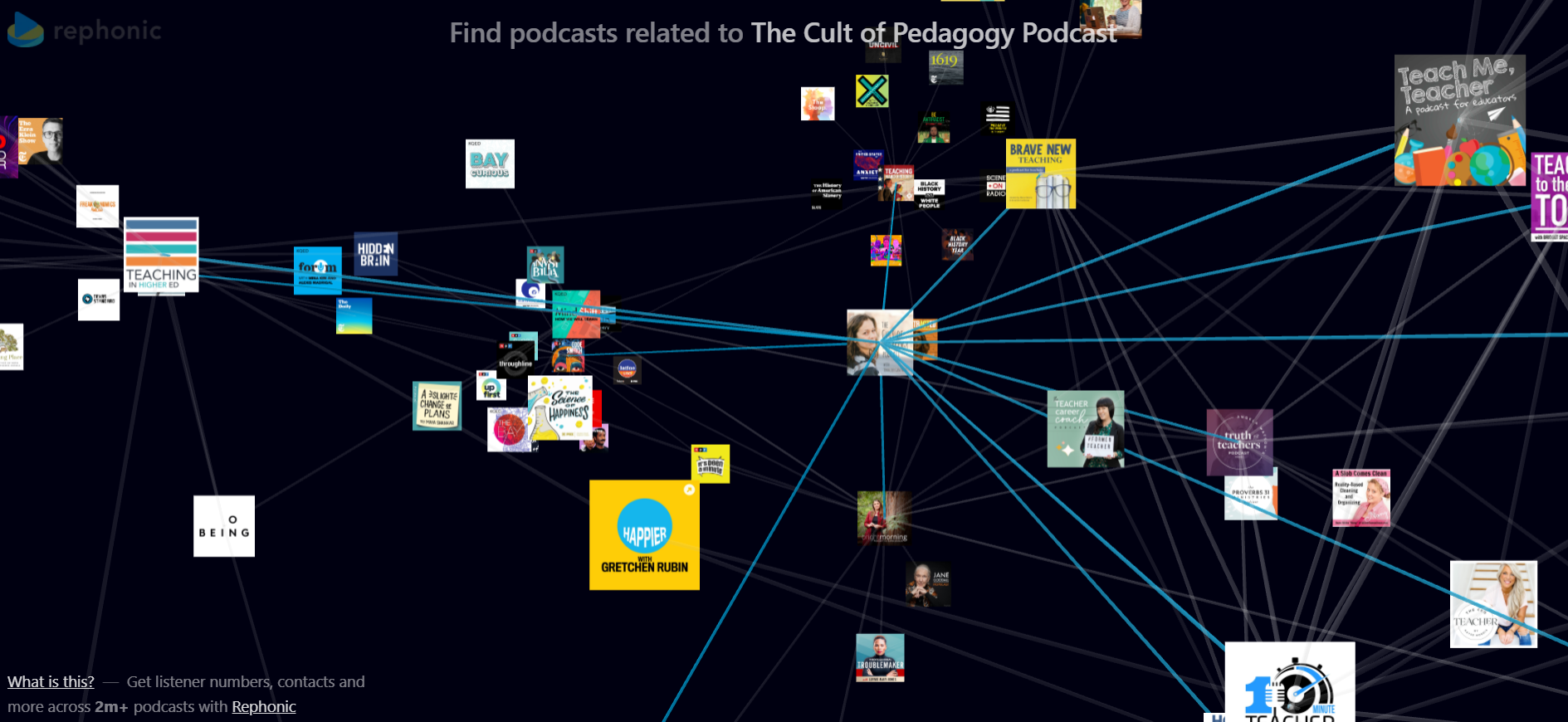 So when you discover one show in your niche, you can either scroll down to the "Related Podcasts" section or select the 3D graph—every clickable icon links to a podcast with a similar audience or ethos.
Final words
Research is not an optional extra when it comes to podcasting.
Whether you plan to be a guest, sponsor a show or launch a new podcast, you need to know who's doing what and where you and your talents and ideas will fit.
Rephonic is the go-to platform for podcasting research. With Rephonic, all the information and links you need are either right there on the screen or just a click away.
So, if you're planning to launch a new show or draw attention to your message through podcasting, start your research journey today with our free trial.