What's the deal with the podcast vs YouTube debate? Should you have one, both or neither? That's the question puzzling many content creators and brands these days.
Rephonic is a podcast database providing metrics and links to all publicly available podcasts. We're fascinated by the relationship between podcasting and YouTube, so we've researched some stats in a previous post.
We found that it often makes sense to repurpose your podcast as a YouTube video. Or do the reverse and publish the audio files from your YouTube channel as podcasts. That way, you get the best of both worlds, capturing those who prefer to listen to an audio file while commuting or exercising and those who love video content.
This article will dive in deep with information on the similarities, differences and possibilities with podcasts and YouTube and the pros and cons of each to help you decide which is the best way to go.

What are the differences between podcasts and YouTube?
Podcasts
Podcasting evolved from the development of three different technologies:
Compressed audio files - which make the audio data small enough to download
RSS (Really Simple Syndication) - which makes it easy to share written, video, and audio files
and iPods, which gave people a portable device to download their audio files onto.
In the early 2000s, podcasts were something that tech lovers raved about, but no one else understood. Then in 2005, Apple added a podcast directory to iTunes. That made it easy for anyone to download radio and other audio shows and listen to them when convenient. And while people paid to download music onto their iPods, they could listen to podcasts for free.
Fast-forward a few years, add in faster internet speeds, smartphones, and all manner of smart devices, and podcasting has become a well-established and growing media format. It's an easy and relatively affordable way for anyone with a message to connect with an audience interested in listening.
TL;DR Podcasts are audio files made with recording software and then distributed to listeners' devices through RSS feeds from many different platforms. There are currently more than two million podcasts, but few podcasters make a living directly from their shows.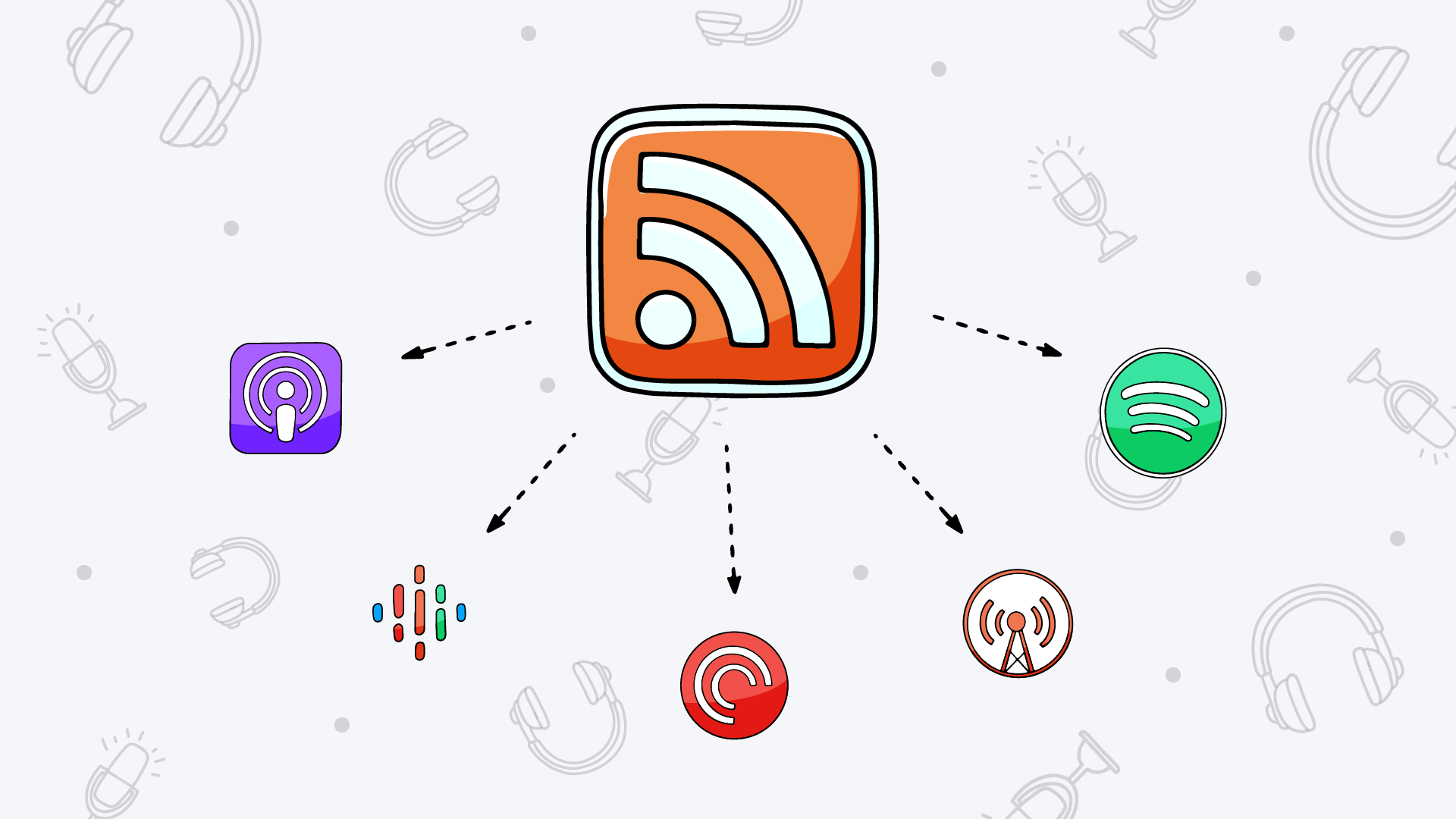 YouTube
Now YouTube was born at a similar time to podcasting, on Valentine's Day, 2005. Its developers, Chad Hurley, Steve Chen, and Jawed Karim, aimed to solve the growing problem of people filming video clips on their phones with nowhere to share them.
Their original plan was simple and is encapsulated in the name; You - meaning user-generated content and Tube (an old name for television.) Their beta site was up and running by May 2005, and by November, a VC firm was on board.
Just a year later, although YouTube was still in its infancy, Google saw its potential and bought the platform for $1.65 billion.
Under Google's watch, YouTube has become a mega search engine - second in size only to Google itself. Run by a complicated and ever-evolving algorithm, it attracts more than two billion users across 75 countries and includes content made in 61 different languages.
TL;DR YouTube is a video-sharing platform that allows creators to make a video and upload it for other people to watch. An increasing number of YouTubers make a full-time living from the ad revenue generated from the thousands or even millions of times people view their videos.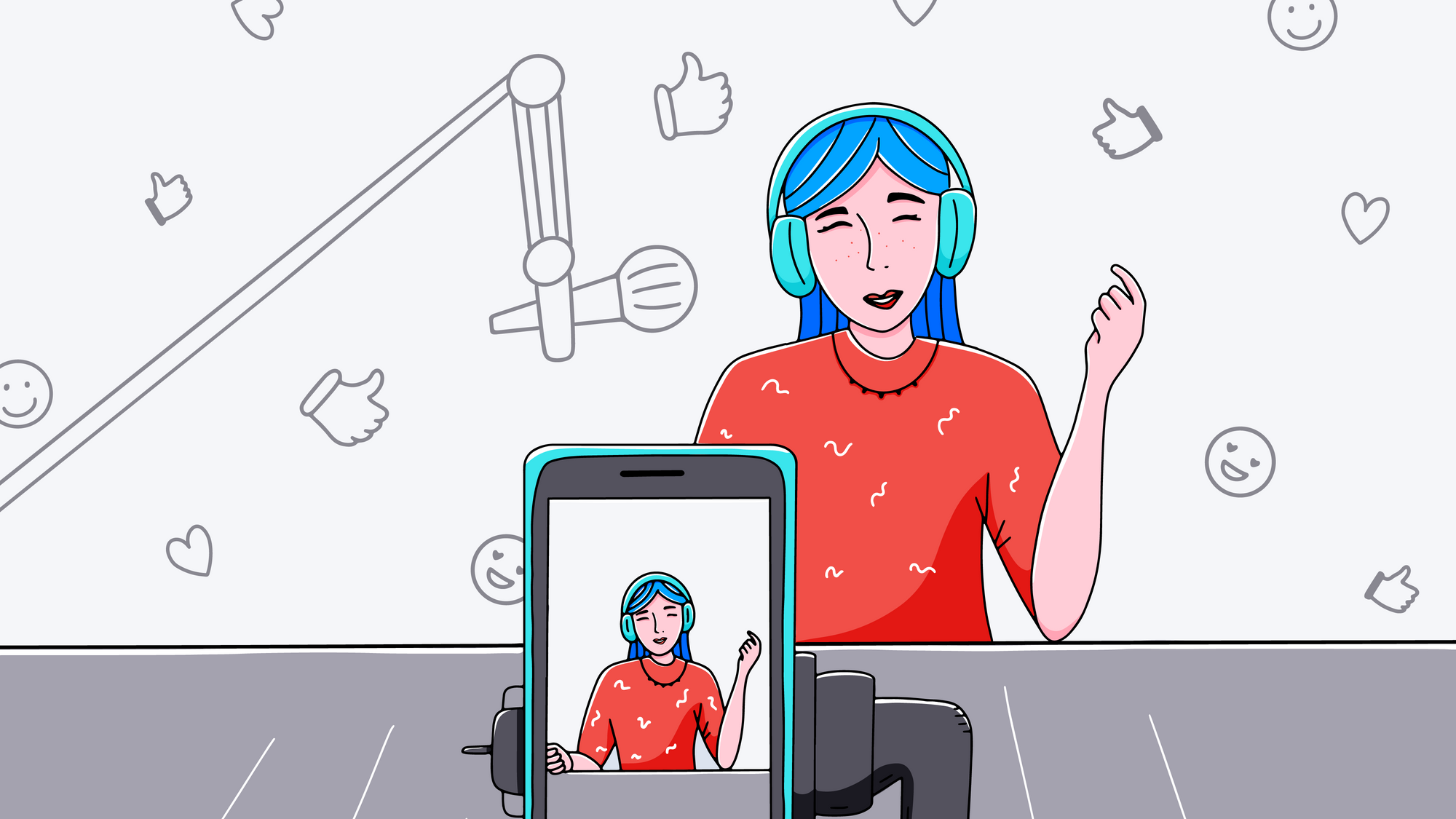 Pros and cons of starting a podcast
Some people are asking if podcasts are dying. Let's address this hoary old chestnut right at the start.
You may have noticed that Edison's 2022 Infinite Dial report shows that listener numbers in the US are expected to dip in 2022 compared to the record numbers of 2021. 38% of Americans say they listen to podcasts monthly (compared to 41% in 2021), but that still represents approximately 109 million people.
As people get busy with life again, weekly numbers are expected to dip a little, too, but they're still well up on 2019 before the pandemic started. And they represent another 74 million people who regularly listen to between one and eight podcasts per week.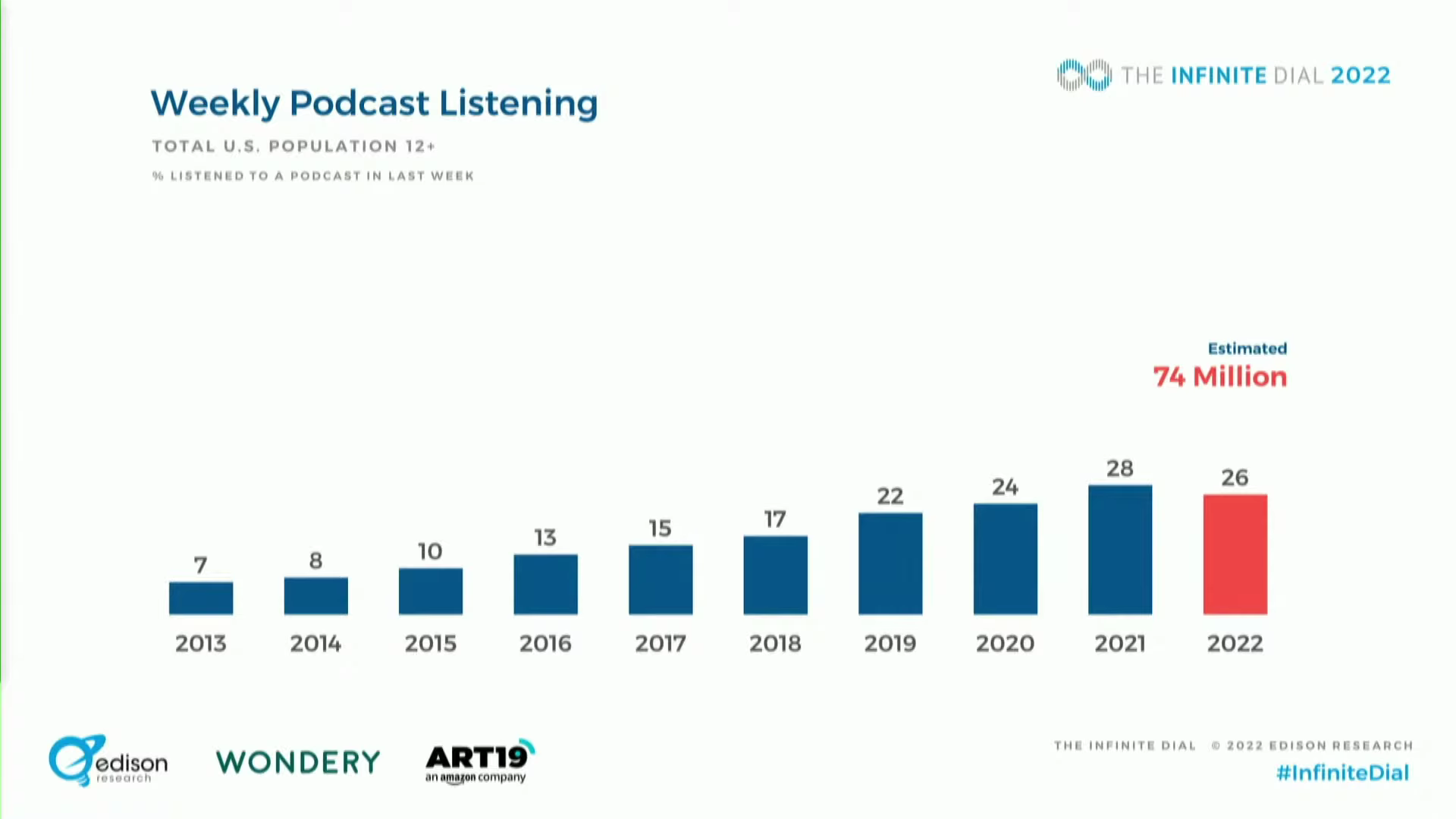 Podcasting is still very young in the broadcasting game. You can currently listen to more than 2,500,000 different podcasts. That is a staggering number, but it's a drop in the ocean compared to YouTube's 113.9 million channels.
Asking if podcasting is dying or if it's too late to start a podcast is akin to saying that blogging is dead (it's not) or even that YouTube is saturated - again, it's not!
Benefits of podcasting for businesses
Podcasts can be highly engaging, generating more website traffic for your brand. Here's why:
Podcasts are long-form content, and listeners tend to listen to a podcast right to the end. That allows time to explore ideas in more detail or over multiple episodes.
Fans enjoy podcasts because they're easy to listen to while doing something else.
Listeners feel a personal connection with a podcast host and, by extension, with their guests.
Listeners can consume podcasts while driving (a definite no-no with videos).
You can create content to connect your brand with your target audience.
You can build your authority as an expert.
Podcasts are relatively cheap to set up and run.
You can turn listeners into customers.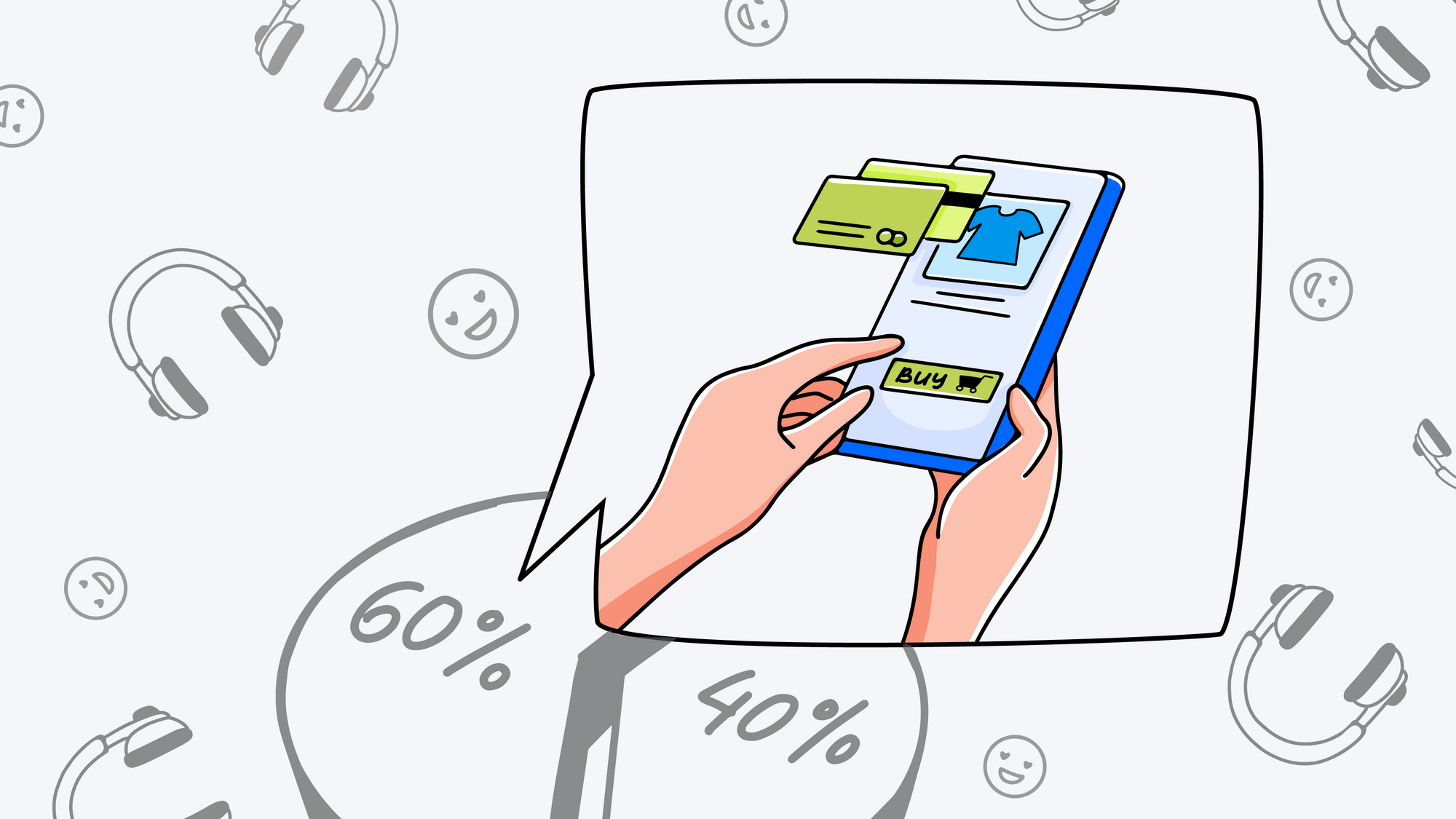 Disadvantages of podcasts
Podcasting does have a few cons, too.
It can take a long time to create a podcast episode.
You must publish podcast episodes consistently, which can sap your energy over time.
There's a ton of work involved in scriptwriting, finding guests, recording, editing, and releasing to all the platforms.
Podcasting lacks comprehensive analytics software, thanks to its scattered distribution methods.
Discoverability is woeful at the moment.
There's no visual component.
Most podcasts don't make money. Ads and sponsorship may cover costs, but they rarely provide an income.
Pros and cons of YouTube
It's relatively easy to start a YouTube channel without much tech knowledge.
Once you're set up, uploading video content is quick and painless. Then, once you gain traction, YouTube's algorithm can work in your favor by showing your videos to appropriate audiences.
The platform makes it easy for people to comment and share videos, which increases audience engagement. And it's easy to share with other people because there is less commitment involved in watching a short video than in listening to a 30-minute podcast.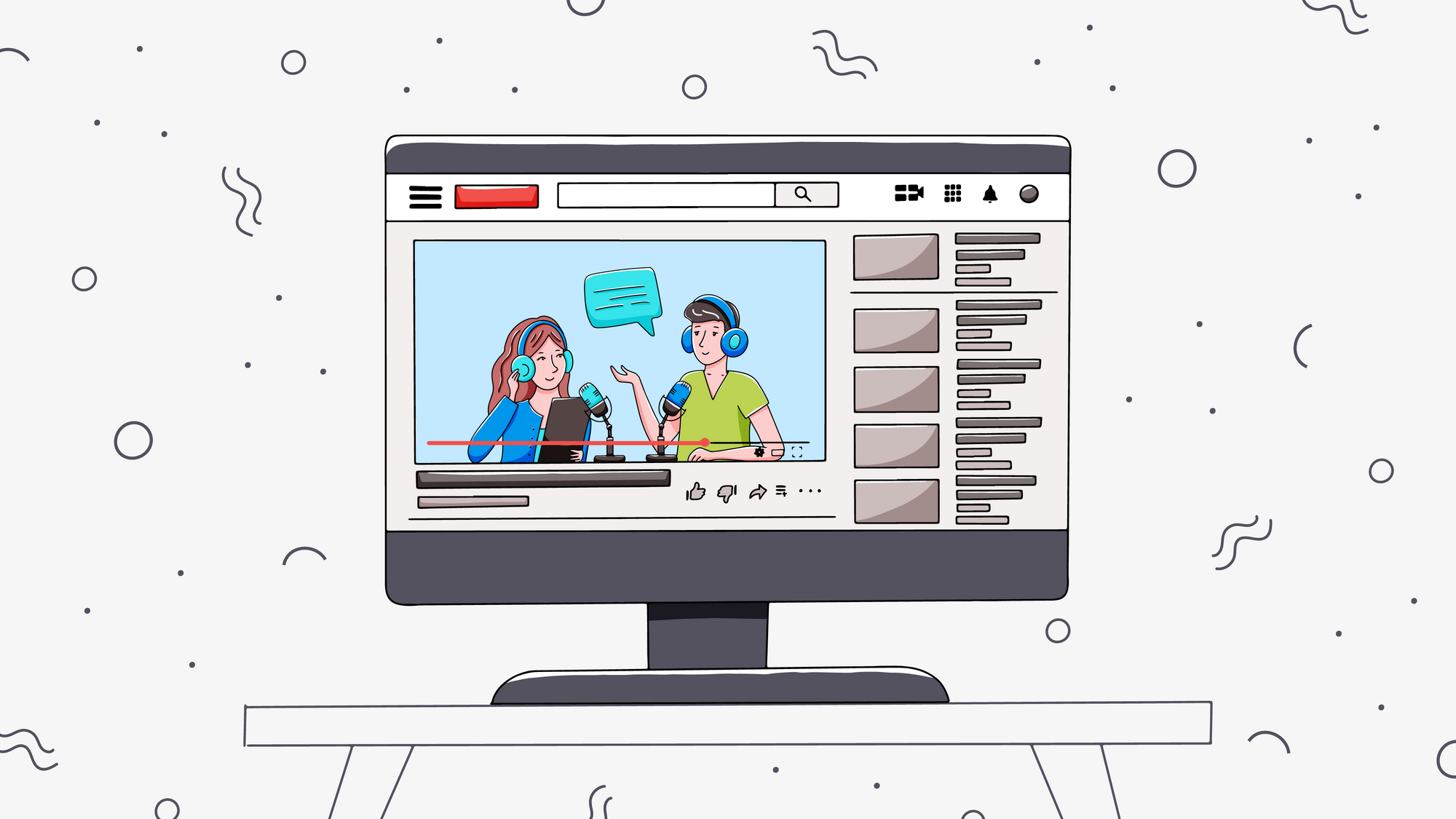 There are many ways you can use a YouTube channel to generate interest in your business.
You can:
Use YouTube to demonstrate products in action - think toys, drones, appliances, tools, websites, and software.
Provide helpful info like instructional videos
Make video content that solves customer problems in your area of expertise.
Demonstrate what happens at your venue. E.g., theme parks, museums, and visitor attractions can entice visitors by posting video tours.
Create a community around your brand
Repurpose physical events such as conferences by posting videos of them.
And, of course, you can improve your target audience's brand awareness by putting your podcast on YouTube.
Benefits of YouTube for businesses
Creating videos can bring SEO benefits to your business website. For example, you can include links in your video content and summaries as backlinks. And Google will pick up keywords that could see your video appearing on the front page of search engine results.
Many businesses still don't have a YouTube channel yet, so you could have a real search advantage over your competition, depending on your industry.
Videos can be around for a long time, and younger generations are used to watching YouTube now. Video-sharing platforms like YouTube, YT shorts, Instagram, and TikTok are often their first port of call when they want to know about a product.
It's also easy to monetize with ads on YouTube channels, and because YouTube audiences are often larger than podcast audiences, more people will see the ads (which in turn creates more revenue.)
Fans will share your video, too. In effect, they do your marketing for you. A great example of that happens with Air New Zealand's epic safety videos. Air NZ posts these to their YouTube channel (which currently stands at 91.9K subscribers) so fans can easily share them on social media.
Because YouTube is a single platform and business, it has been able to develop excellent detailed analytics so you can measure the effectiveness of every video.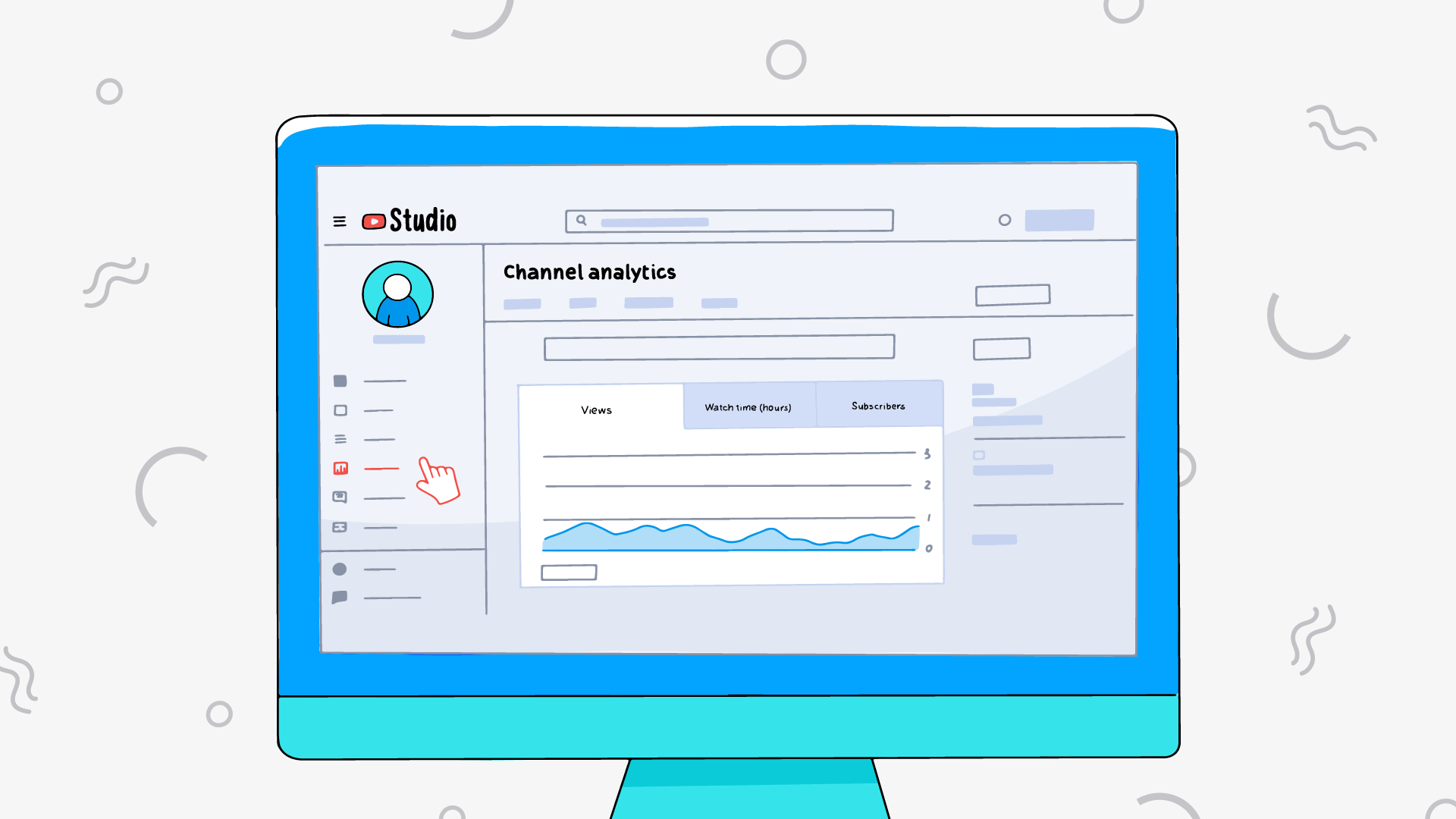 Drawbacks of YouTube
Naturally, YouTube has its cons, too. They include:
The amount of equipment needed - camera, microphone, lighting, and even clothing (so you look your best on camera.)
The time it takes to create good video content.
The commitment needed to put out content regularly.
You need excellent scriptwriting, camera, and editing skills to create good videos. If you can't do all these yourself, you'll need to hire an expert.
YouTube is a crowded space, and it can be hard to stand out from the crowd.
Viewers are easily distracted. YouTube is notorious for distracting viewers away from your channel and down a rabbit hole of similar content.
You have to work at marketing your video just as you do with podcasts.
It takes a lot of time to build a large audience, and negative reviews can damage your brand.
YouTube faces stiff competition from social media platforms like TikTok, Instagram, and Facebook, as each has become a video-sharing platform in the past few years.
Should you video your podcast?
According to Podnews, YouTube has plans to provide podcasters with the analytics and discoverability that they currently lack. Indeed, when Rephonic looked into the podcast vs YouTube debate, we found that the number of searches for 'podcast' on YouTube is increasing dramatically.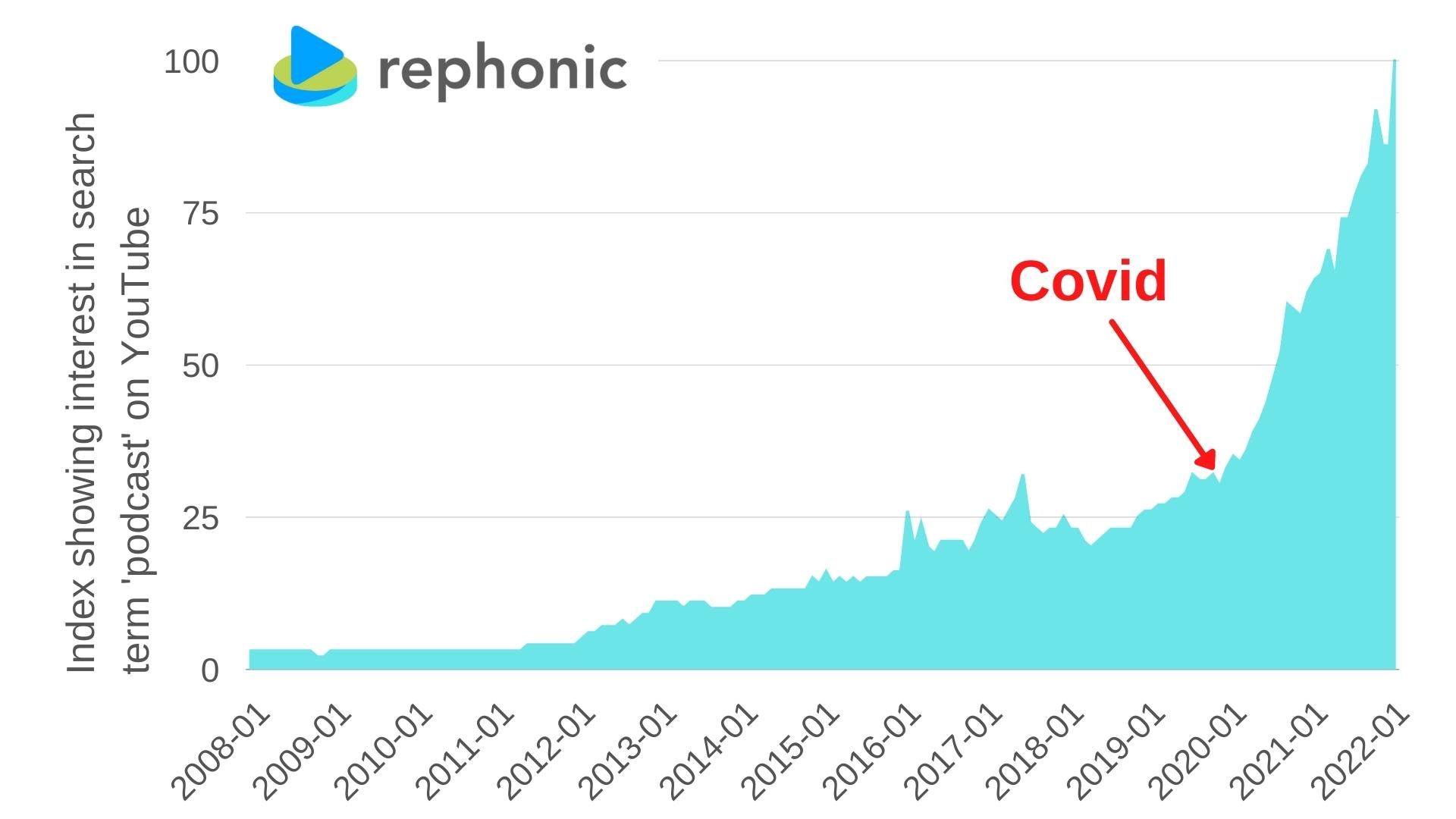 As you can see from our graph, such searches have grown steadily since 2012. However, since the Covid pandemic began, there's been a massive upswing in searches for 'podcast' on YouTube. This graph suggests that now could be an excellent time to start videoing your podcast and uploading it to YouTube.
While our research also showed that podcasts with YouTube channels tend to have slightly smaller audiences, it could be that podcasts with huge audiences don't currently feel the need to diversify into a YouTube channel.
It could be that the newer podcast hosts are looking for innovative ways to grow their podcasts beyond the traditional routes.
Now, it doesn't always make sense to start a podcast and a YouTube channel simultaneously, especially if you're a beginner at both. It's not always a case of "as many platforms as possible" being the best solution.
Why? Because there's a massive learning curve to get the skills required for each form of content. It's time-consuming, too, so you may not have the time for both.
Recording audio content means you have to get comfortable with the sound of your own voice as you talk into a microphone, which is something that many beginners struggle with at first. Then, you spend time learning editing skills or fork out money to pay for podcast editing.
Next, you have to market your podcast by getting it on multiple platforms, cross-promoting with other podcasters, etc.
And you need to be creating content consistently, week after week. Having a YouTube channel requires different skills on top of all that.
It can add a layer of complexity that's too much to handle at the start of your online business journey when you're likely to be time-poor and strapped for cash.
In this case, you're better off concentrating on one and having the other as your longer-term goal.
So, what if you decide you do want to go for both?
Ideas for repurposing your podcast for YouTube
Many people use YouTube for podcasts already, and more podcasters will follow the trend if YouTube makes good on its proposals.
There are five popular ways to repurpose podcasts as YouTube videos.
Video the interview AND use audio recording software. Upload the episode to Apple Podcasts, Spotify and other platforms as an audio file, and show it on YouTube as a video.
Video your podcast episodes and use snippets of those on your YouTube channel.
Upload the audio file to YouTube.
Create bonus content for paid subscribers, tease it on a YouTube channel and make the full version available on a supporter platform such as Patreon.
Repurpose your podcast for YouTube by including changing visuals and B-roll images to break up the often boring visuals of people talking.
Pat Flynn (Smart Passive Income Podcast and Pat Flynn on YouTube) makes a valid point when he asks how many people are willing to watch two people talking for an hour? His answer to the question 'should I video my podcast?' is that the two media work well together but you need to vary your visuals.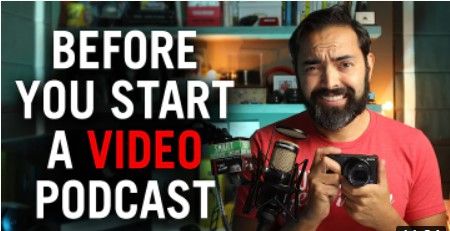 Examples:
The comedy show H3 Podcast is a good example where people listen in both video and audio formats. It doesn't matter whether you subscribe on Apple Podcasts or YouTube. You get the whole audio show on both, with the added visual component on YouTube.
The Creator Smarts Podcast publishes video clips of each podcast episode and links to a second channel of non-podcast high-quality videos for their target audience.
Here's an example of a podcast audio file from This American Life uploaded to YouTube with a slide of their logo. And another example from How I Built This with Guy Raz, which started uploading their episodes like this in 2020. Rephonic's data shows that How I Built This gets over 946,000 listeners per episode and adds another 2,000 or so with each episode on YouTube.
Although it's the easiest way to publish a podcast on YouTube, more creators include videos to give that visual element.
Tim Ferris is an excellent example of combining snippets and full podcast episode videos.
Tim has one of the most popular YouTube podcasts, with over one million subscribers. He videos all his podcast episodes and then uploads snippets and occasional full episodes to YouTube and multiple podcast platforms.
Relatively few podcasts put videos on Patreon. However, the Last Podcast on the Left is one podcast that does and then advertises that through its YouTube channel.
Finally, this episode from Tesla Daily uses many visuals to complement the podcast without ever showing the speaker's face.

Can you upload a video podcast to Spotify?
Spotify fans been begging for visuals for a while now, and Spotify has answered the call.
From April 22nd, creators in the US, UK, Australia, New Zealand, and Canada can upload their video podcasts via Anchor, Spotify's free podcasting platform. Listeners in these countries can stream or download the audio or video version, and there's also an option to switch video to the background when you're on go and can't watch.
What about the other platforms?
So far, Google Podcasts, Apple and the other podcast platforms are audio only, at least for now.
You can put snippets and links on Instagram, Facebook and even Twitter, but if you want to upload an entire video podcast, it seems that YouTube - and now Spotify - is the way to go.

How to record a video podcast
It can seem like a bit of a learning curve to get your valuable content onto YouTube, but it's easier than you think.
1. Use Zoom to record a podcast
The most straightforward way is to record yourself with screen capture on a Zoom or other video conferencing service.
Set it to capture video and audio and press record. Then download it at the end, edit it where necessary and upload it to YouTube.
If you're interviewing a guest, you can split the screen so you and your guest appear simultaneously. Ask your guest to record video/audio, too, which creates a backup if something goes wrong on your end.
Another tip - make sure that Zoom tunes into your podcast microphone, not the built-in one on your computer or laptop, to get the best audio quality. Listeners can forgive poor audio once in a while, but they'll leave in droves if it's consistently terrible.
2. Film on your phone
You can even create a video podcast on your smartphone .
You'll need a microphone to capture the audio, but you can film yourself talking on a high-quality phone camera.
Once you've completed the recording upload the file to some video editing software, and consider adding some extra visuals to make the video more compelling.
3. Bring in the professional videographers
Some podcasters have videographers come in and film the recording. That works well if you're working in a professional studio, but perhaps it isn't a good idea if you're recording in your bedroom or a tiny office.
One great example of a podcaster who films his work to release on YouTube and to podcast listeners is Tom Bilyeu, co-founder of Impact Theory.
Marie Forleo does it the other way around. She has created a massive online business around her video content on Marie TV and now releases the audio file as a podcast as well.

Both these entrepreneurs are not choosing between a podcast or YouTube channel. Instead, they're making the most of both. Creating video content doesn't preclude you from offering it as a podcast. And as we've shown, there are several ways to turn your podcast episodes into YouTube videos too.
So, which is better, a podcast or YouTube?
There's a whole lot to consider when trying to answer the podcast vs YouTube quandary.
Podcasts are good for business, but so are YouTube videos.
Both require commitment and consistency - it can be hard to keep up with creating so much content, including show notes and thumbnails and the actual show.
A good microphone is essential for podcasting and making a YouTube video, but it's best to add a visual element when you post on YouTube.
YouTube videos are better at generating passive income through ads and have superior analytics and discoverability.
Podcasts are easier to start and can generate more audience connection. They're more convenient for listening while you're on the move. That's why podcast listeners are more likely to listen right to the end.
YouTube watch time sometimes declines after the first few minutes as viewers may be distracted by other enticing-looking videos on the side or called away from their screens.
However, if you have the right equipment, the time and the skills, it makes sense for most businesses to build an audience around audio and visual content. That allows you to appeal to those who prefer to listen and those who'd rather watch.
Start your research with Rephonic
Rephonic is a great tool to research the competition and find cross-promotional opportunities if you're on a podcasting journey.
And, if you're not yet ready to host your own podcast or YouTube channel, use Rephonic to find shows to be a guest on.
Guest interviews can generate fantastic PR for your business or product, giving the benefits of podcasting without the hassle.
So, what are you waiting for? Start your free trial today.