Podcasting is a unique medium because it's the one form of content we consume on the move. People take podcasters with them on the long drive to work. They listen while they're jogging, cooking dinner and even having a bath.
The great thing about podcasts is the relationship podcast hosts build with their audience. It's a real phenomenon that when people hear your voice in their ear every week, they feel as if they know, like and trust you.
Consequently, podcast hosts are always looking to interview or chat to guests who'll enhance that connection and genuinely benefit their audience. At the same time, many are spoilt for choice nowadays. More people are aware of the reach that a podcast interview can have so they vie to get attention and become podcast guests on many shows.
So, how do you get attract a podcast host's attention if no one knows who you are?
The first piece of the puzzle is to find the right podcasts to reach out to using Rephonic's database of over 2 million shows. You can discover which ones match your target audience by using the topic search tool and checking listener numbers and demographics.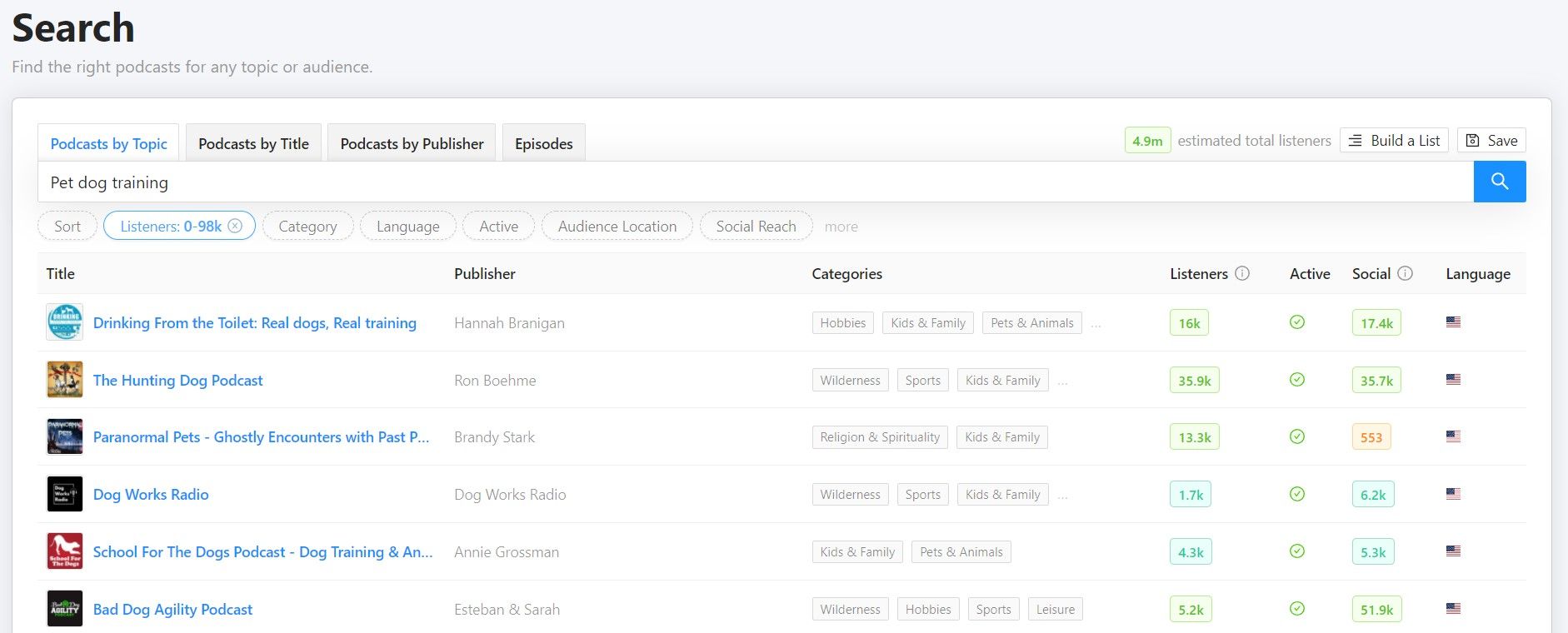 Once you've made a list of qualified shows and got their contact details from Rephonic, then it's time to move on to pitching.
Writing a cold pitch (as it's called) can be scary, so follow our tips to write your perfect podcast pitch as a guest. We've even provided you with a free podcast guest pitch template at the end of the article that you can play with as much or as little as you like.
Remember, your goals for this email are to make contact with the podcast host and interest them enough so they hit reply and continue the conversation.  You know that your personal experience makes you the right person for their show. Now, you want to convince them of that, too.
Seven tips for a winning podcast guest pitch
1. Prepare
Don't put pen to paper (or fingers to the keyboard) until you've done your research. Not only will that impress the podcast host, but it'll make it much easier for you to craft an email in the first place.
Actively listen to the podcast. But, you're not just listening for fun; you want to gauge the podcast's target audience. Does it intersect with yours? What's the podcast vibe? Can you match it — will your personal brand be a good fit?
Note some interesting talking points — mentioning them in your pitch will clearly show that you have taken that time to listen and enjoy their work.
Double-check that the podcast includes guest interviews.
Scroll through the episode list to see the subjects and descriptions. What angle can you offer that hasn't been done before?
Find out who to approach. In many cases, you'll be writing to the podcast host, but in others, it could be the editor or another team member. Make sure you know their name, title and email address.
2. Persuade from the start
Just like a headline, your subject line needs to grab attention and make the reader (in this case, the podcaster) want to read more.
However, this isn't the time for puns or clever wordplay. The host wants to understand precisely what you're offering and whether it's worth their time to open your email.
Begin with the words 'Podcast Pitch', and follow them with the title of your presentation in ten words or less. Some examples might be:
Podcast Pitch: Techniques to change your aggressive dog into a friendly pet
Podcast Guest Pitch: The five best ways to prepare for public speaking
Podcast Pitch: The ten habits all entrepreneurs need to cultivate
3. Prove you've been listening to the podcast
Start with their name — who are you writing to? Dear Sam is far more personable than Dear podcast host or (worse) To Whom It May Concern.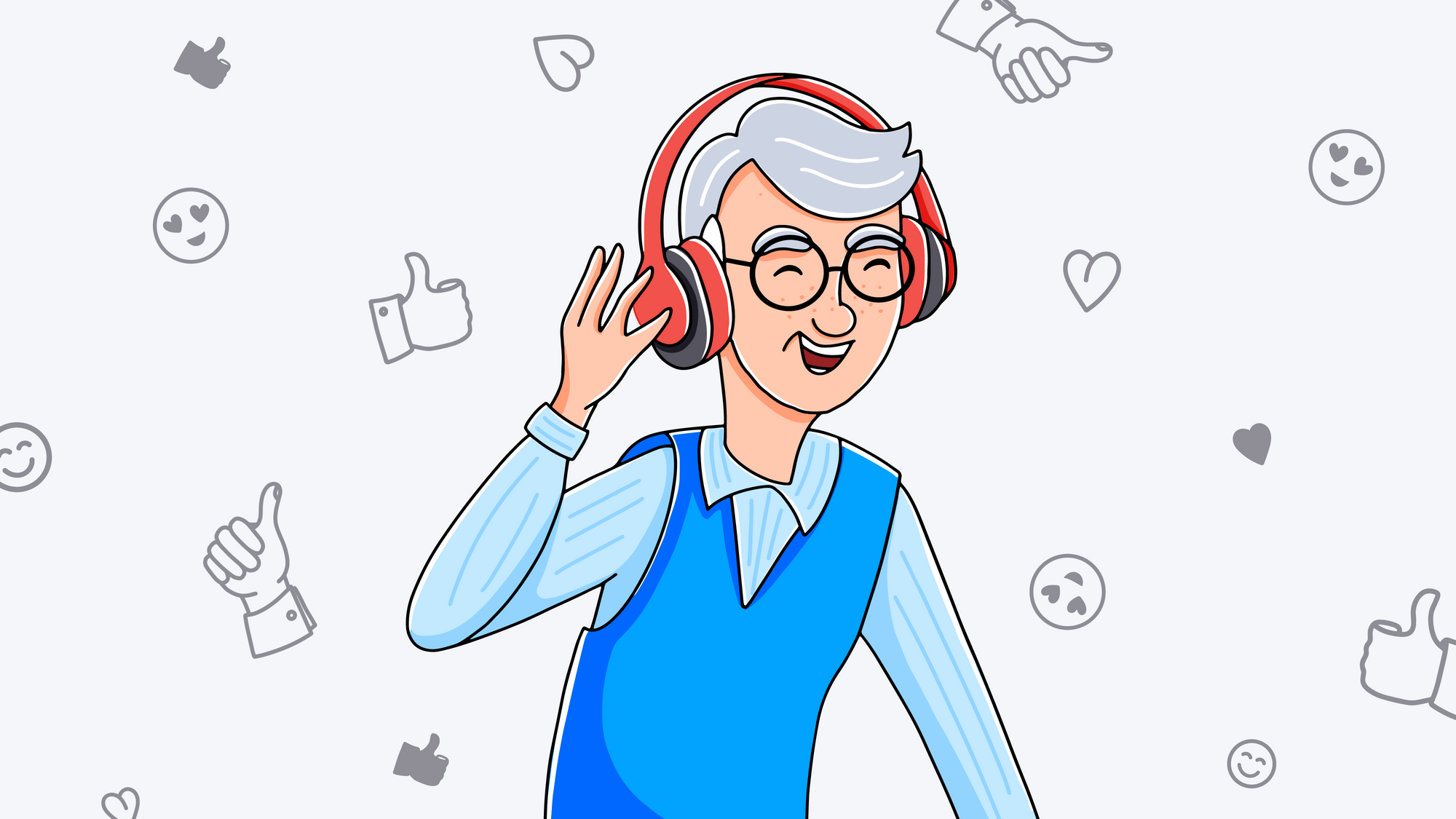 Prove that you've listened to the podcast by mentioning those points of interest and introduce yourself with a short bio, explaining who you are and why you're qualified to speak on your topic.
Keep it brief and to the point — one sentence or two at the most is enough.
Example podcast pitch intro: (NB, fictional podcast and guest)
Dear Sam,
I've been listening to "All Things Doggo" and I'm blown away by the amount of helpful advice on the show. I started supplementing my Labrador's diet after listening to Dan's episode and it has made a noticeable difference to his coat.
4. Pitch your worth to the podcast
What the host really cares about is this:
What value can you provide to their audience?
Will you bring new listeners to their show?
What are your credentials?
Will you do your part to promote the episode?
Show them how you can cover a topic or angle they haven't explored before, and mention how you plan to promote the episode. (This is a great place to mention your own audience numbers and a little social proof.)
You can use sentences or bullet points to introduce your topic ideas and the reasons why you'd be a good guest who'll entertain and educate their audience.
Example podcast pitch paragraphs:
Along the same lines, I'd like to offer your audience my experiences in retraining aggressive dogs to become family-friendly pets.
I'm Mary Chatsworth of "Chatsworth Dog Services." We've been working with shy, aggressive and abused dogs for 20 years, and have a 95% success rate in rehoming them as pets.
We've met some interesting characters — like the bulldog who insisted on jumping into every bubble bath — and our fair share of heartbreakers, too.
I can share their stories along with my seven tips for training your dog correctly from the start,
discuss why dogs become aggressive and how to train your dog out of his annoying or aggressive habits.  
After we've recorded the episode I'd be delighted to share it with my 10,000-strong Facebook community. We'll also feature it on our website and post pictures of some of the dogs demonstrating the techniques I talk about when we feature the episode on Instagram.
5. Politeness and Personality
Be polite but not dull in your approach. Your podcast pitch email will head straight to the trash if it feels like a "fill in the blanks template."
Inject your personality into the email so they can gauge whether you'd gel with them and their audience. But, don't go over the top; ensure that every sentence is relevant to the pitch.
Finally, make it easy for the podcaster to research you by providing links to your platform and social media.
6. Proofread, proofread, proofread!
I can't over-emphasize how important it is to send a mistake-free email. Indeed, your professional presentation can be entirely undone if the host notices even one grammatical error or spelling mistake.
Write the email in word processing programs such as Word or Google Docs. Turn on spell-check, or put it through Grammarly to double-check. (I use them both when I'm trying to make a good impression.)
To be sure your phrasing, spelling and punctuation are the best they can be, ask a colleague to read it through. It's amazing how a fresh pair of eyes can pick up an error that you didn't notice in the ten times you re-read every sentence. Ask them if they understand what you're saying and if they have any constructive suggestions.
Read your work out loud, exactly as written. It's an excellent way to check that your sentences flow and rewrite any clunky phrasing.
Only when you're sure that your email is perfect can you press SEND and speed your pitch on its way.
7. Follow up on your pitch
Podcasters are busy people. If you haven't heard back in a week or two, do politely follow up on your email. It could be the memory jog they need to reply and accept your pitch.
And if the answer's no, don't be disheartened. Keep looking for other possibilities, and make sure you tailor every pitch to the podcast. Eventually, you'll find your perfect match.
Podcast Outreach Template
Subject Header: Podcast Guest Pitch: [topic idea]
Hi [podcast host name],
I've been listening to [name of show] lately and I'm [blown away/impressed/staggered by] the stories and advice on [podcast name]!
[Episode name/number] was a real game changer for me as I [reason why you liked it or how you implemented the advice].
My name is/I'm [your name and the reason you're an expert in this field].
I'd love to be a guest on your show and offer your audience [your helpful tips/advice/story etc].
A sentence on your origin story or the interesting stories you use to illustrate your points.
Other points we could discuss are:
Relevant topic or question
Relevant topic or question
Relevant topic or question
Naturally, I'd be delighted to promote this episode to my [social media communities and numbers] as well as featuring it prominently [on your website/blog/newsletter and numbers].
Looking forward to chatting more about this idea!
Cheers/Thanks/All the best
[Your name, credentials e.g. Author of…/ Founder of…/CEO of… etc and Linkedin profile]
Conclusion
Now that you know how to pitch your guest interview to podcasts it's time to make a start.
But, of course, the first thing to do is to make sure you have the right podcasts to reach out to.
You could waste a ton of time trawling  through the podcast apps and social media.
Or, save all that energy and time and use Rephonic to discover the best podcasts for your outreach. We'll show you their podcast listener numbers, social media engagement, links to episodes and give you their up-to-date contact info.