How can I monetize my podcast? A question many podcasters ask themselves once they get past the steep learning curve of producing a show and starting to build a loyal audience.
Selling ads is one way, but for those with a smaller audience (or an aversion to ads) Patreon can be a lucrative alternative. In fact most of the top Patreon creators are podcasters with several earning more than $100,000 every month.
Patreon enables your listeners (patrons) to donate a monthly amount (a pledge) to support your show. We analyzed Rephonic's database of more than 2.5m podcasts to see where the biggest opportunities are for podcasters to boost their income [1].
TL;DR:
Film History podcasts get the most monthly Patreon pledges on average
Non-English language podcasts are significantly under-represented on Patreon
Patrons of French language podcasts are a bit more generous
Podcasts with a primarily Australian or Canadian audience get fewer pledges than others in the Anglosphere
🎬 Film History podcasts get $89 of total monthly pledges on average
First we broke down the total sum of pledges by podcast category and it revealed some interesting insights. The average total pledges received by Film History shows is $89 which is significantly higher than the average. On the other side of the spectrum the figure for Self-Improvement podcasts is very low at $0.30 [1].
Note however that Film History is quite a small category and it has a couple of stand-out shows that skew the figure - The publisher of The 'Definitive' Companion earns $32k/month, and Talking Simpsons earns $17.3k.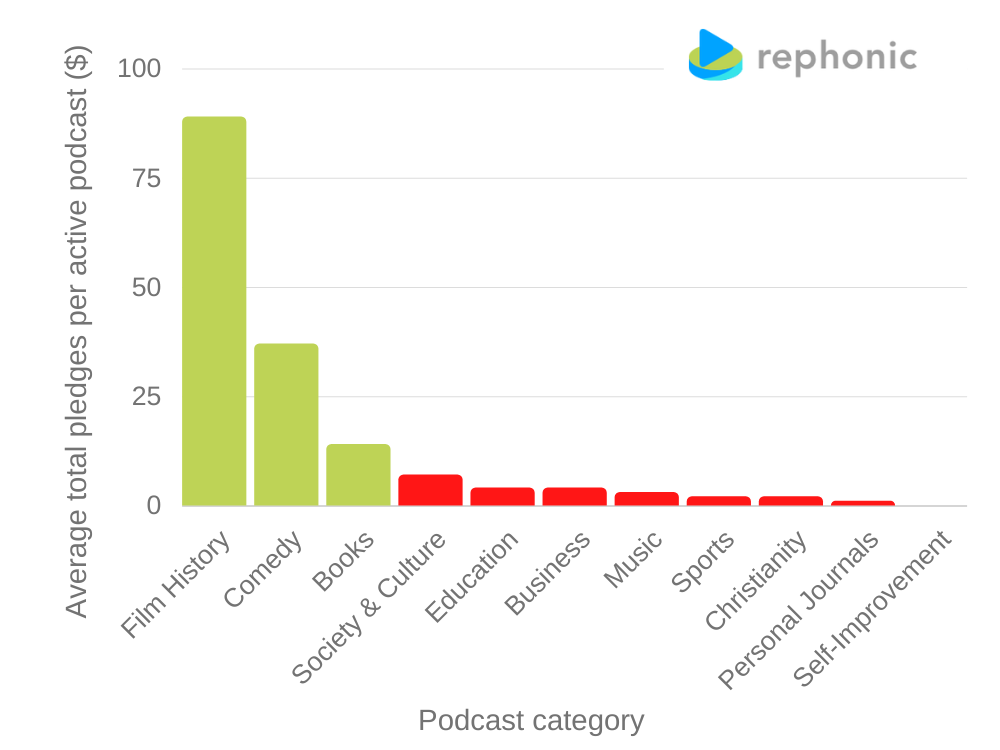 Perhaps the hosts of shows in under-represented categories are missing out on a huge opportunity to monetize through Patreon because there isn't much competition for listener's cash. But what's stopping them?
Looking at the average total pledges per podcast by podcast category in the table in the footer, there are some umbrella categories such as Business, Science and Sports that are below the average of $8 pretty much across the board [4].
One theory is that since Patreon was founded as a solution for creators (think visual artists, musicians and video creators) then perhaps podcasters who are first-and-foremost discussing business, science or or sports etc. are less likely to be familiar with the platform.
The umbrella categories that tend to get more total pledges like Fiction, TV & Film and Comedy are representing the more traditionally creative industries.
🌎 Non-English language podcasts are significantly under-represented on Patreon
Next we took the sum of pledges for shows in different languages and compared this to the total number of active podcasts in each language.
Breaking the data down by podcast language, we found that the average total pledges across all active shows in English is the highest, at $11. All of the other languages we included had significantly lower average total pledges, with Japanese coming in last [1].
In the chart, green means that the average is above average and red means it is below average [2].
This could mean that there is a huge opportunity for non-English language shows to earn an income from Patreon, especially if there are a significant number of podcast listeners in that language.
🇫🇷 Patrons of French language podcasts are a bit more generous
Next we looked at average pledges per patron and broke it down by language. Out of the languages we analyzed, patrons of podcasts in French appear to be the most generous, with an average pledge per patron of just over $3. For podcasts in Japanese, this drops to below $1. For podcasts in English, the average pledge per patron is just below $3.
Podcasts with a primarily Australian 🇦🇺 or Canadian 🇨🇦 audience get fewer pledges
Looking further into pledges in English speaking countries with a high number of podcast listeners to see if the high average total pledges we saw in the previous chart could be attributed to any country in particular.
We counted up the total pledges for podcasts according to the country where Rephonic thinks most of their audience is located. This was compared to podcast listenership by country according to Buzzsprout's global stats.
We found that the United States is significantly over-represented. In other words, there's a large sum of total pledges for podcasts with a US audience compared to how many podcast listeners there are in the US [3].
The UK is adequately represented, but Canada and Australia are under-represented.
This suggests that there could be a good opportunity for podcasts catering to a Canadian or Australian audience to create an income stream from Patreon.
The average pledge per patron for podcasts by country seems to correlate with those findings. For shows with an audience based in Australia patrons tend to pledge just over $2, compared to almost $4 for the United Kingdom.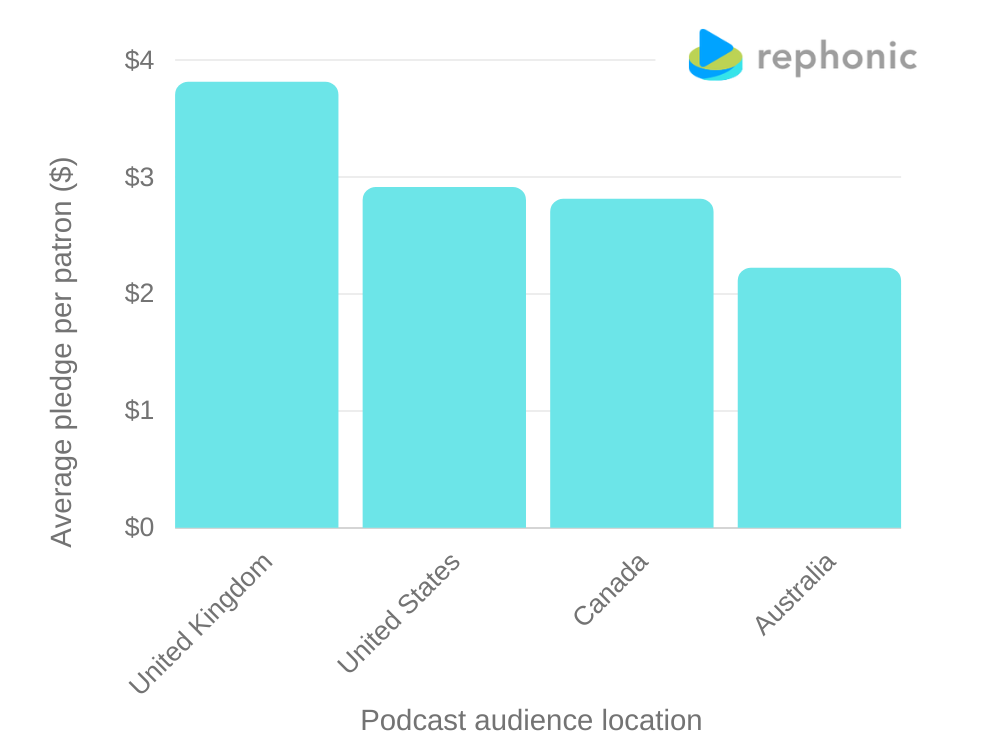 Conclusion
So, where are the untapped opportunities on Patreon for podcast publishers? We think there are opportunities everywhere, but we'd definitely recommend giving Patreon a shot if you're a podcaster with a show in an under-represented category, language, or country, because it often pays to be ahead of the crowd.
Don't worry too much about your listeners not being familiar with Patreon. It's said that the Founder of the platform Jack Conte managed to get his fans to fund more than $5000 per YouTube video in the first few weeks of launching when Patreon was brand new. Fans weren't familiar with the concept, so he was successful because he provided value. Something that fans are willing to pay for if you tell them how.
Rephonic is a podcast database that helps brands, agencies and podcasters find the right shows to get featured on by providing access to listener numbers, social reach, contact info and more. Get started with a free trial.
Footnotes
[1] For this article we looked at active podcasts, i.e. shows that have published an episode in the last 45 days. To calculate the average total pledges per podcast we found the sum of total monthly pledges for all active podcasts with a known Patreon page and divided this by the total number of active podcasts.
[2] Above average total pledges are shown in green and are more than 10% greater than the average. Below average total pledges are in red and are more than 10% less than the average. Those highlighted in yellow are between these numbers.
[3] Over-represented countries are shown in green and have an index > 110. Under-represented countries are shown in red and have an index < 90. Those highlighted in yellow are between these numbers.
[4] This table shows the average total pledges per podcast by category. We calculated the average using the method described in footnote [1]. Categories are grouped by umbrella category.