When you know how to be a guest on a podcast it's a phenomenal way to get your name out as an expert in your niche.  If you've written a book, for example, or created a new course, it's much easier to sell if people know who you are.
Podcasts showcase your expertise to a broader audience. They're less in-your-face than Facebook ads and more intimate than a YouTube video or blog. And, with millions of listeners tuning in every week it's no wonder that podcast guesting is on the increase.
So, you know that podcasts are a great way to market yourself and your product. But you're not sure where to start.
That's why we put together this beginner guide on everything from how to pitch your worth to how to prepare to be a guest on a podcast. We'll cover:
Why podcast interviews are fantastic for PR and marketing
Where to find podcasts
Reaching out with a great pitch
Preparing for your guest appearance
What to do afterwards
Why podcast interviews work
1. Podcasting is enjoying phenomenal growth
It doesn't matter which research you delve into, they all agree that podcast growth is exploding. For example, Semrush's 2021 research found that people spent 15 billion listening hours to podcasts over the previous 12 months. And Edison's Infinite Dial survey found that a diverse audience of around 80 million Americans were weekly listeners in 2021.
Everyone's predicting that growth to continue, too, with estimates of 100 million podcast listeners in the US alone by 2024.
2. You can reach a new audience within your niche
Appearing on podcasts in your niche takes your message to listeners who are ready to hear it.
When you tell your story and the lessons you learned, it lets your target audience know that you have the solutions they need. Brand awareness is crucial in today's crowded market, and it helps when your audience hears you talking to a podcast host they already know, like and trust.
3. You'll make new connections in your industry
If you're appearing on reputable podcasts within your industry, other players will hear your perspective too. As a result, you could find people reaching out to you to collaborate on projects or appear on expert panels.
That leads to great networking opportunities and the exposure helps build your brand even more.
4. You can repurpose your content in a different format
There's no need to reinvent the wheel. If you've written a book, talking about the content is a great way to get the essential message out there — and entice people to buy it so they can learn more.
5. Being a podcast guest is far easier than hosting a podcast of your own
You can probably guess how much work goes into making a weekly podcast. From finding guests and advertisers, to writing, recording, editing and promoting, hosts can spend many, many hours getting their podcasts ready to air.
Fortunately, being a guest takes only a fraction of that time and effort. So, don't forget to factor how much valuable time you save when estimating the ROI on podcast interviews.
How to find podcasts you could reach out to
If you're a teacher discussing your course on "Practical Literature for five-year-olds" there's no point in appearing on a gardening podcast or a cooking show.
Until now, it's been challenging to discover the best podcasts in a particular niche. That's because there are more than two million out there in podcast land.
Another problem springs to mind, too. How do you decide what makes a good show for you? What data do you use?
You could try the old-fashioned hit-and-miss method
Most people take to the search engines. They might Google for "podcasts about teaching". Or they might scour LinkedIn looking for suitable podcast hosts.
Searching the podcast apps is another popular method. However, the apps have broad categories like "Technology" or "Government". Even the subcategories are quite general. Arts, for example, breaks down to books, design, fashion & beauty, food, performing arts and visual arts. Ouch!
Granted, that's a start, but marketers say that targeting niche audiences is the way to go.
Returning to our teaching example, you'll get a higher conversion rate from an audience of teachers than gardeners. But education is a broad category, and so is teaching. So you'll get even better results from niching down to podcasts with audiences of kindergarten or elementary school teachers.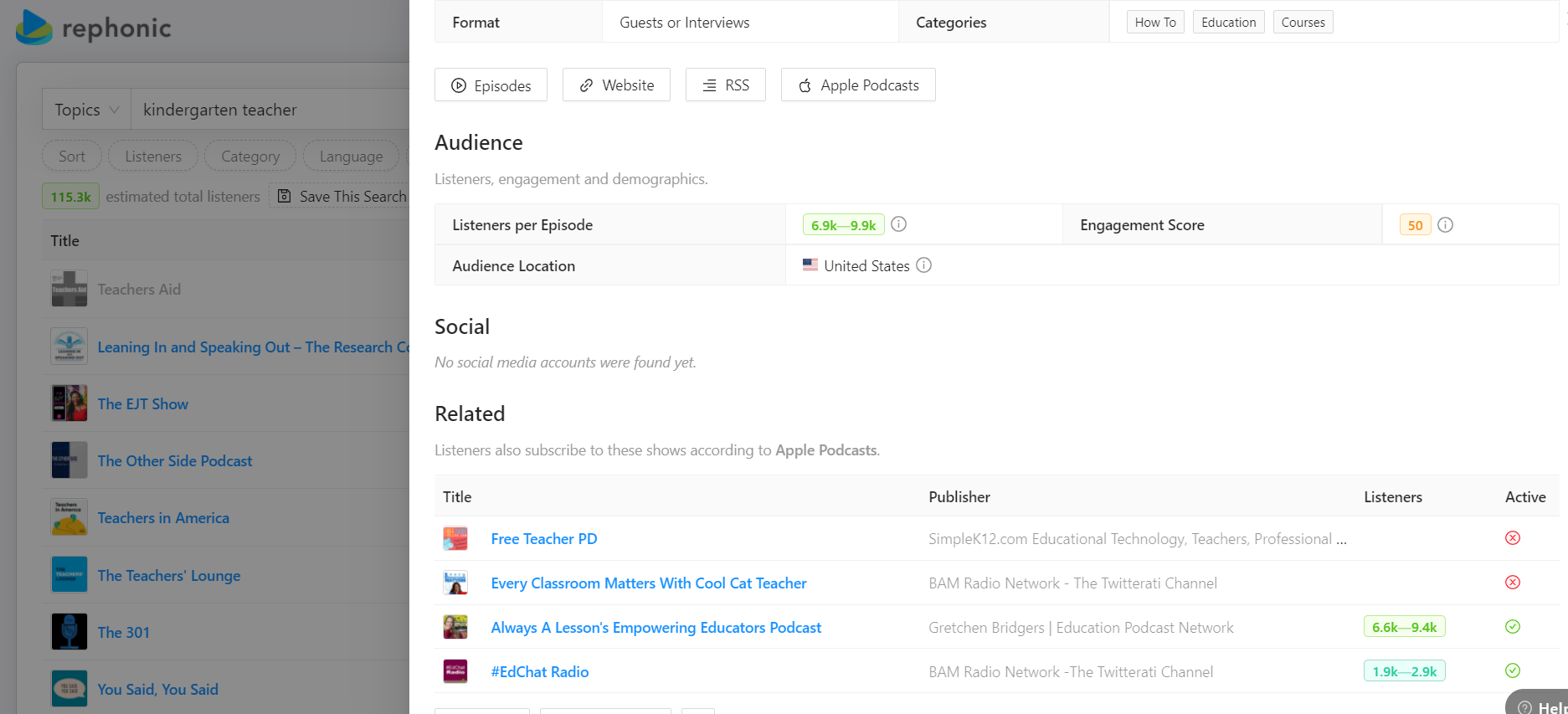 Use Rephonic for more effective results
Fortunately, you don't have to use the hit-and-miss approach to podcast searching anymore. Rephonic makes it quick and easy to make a target list of podcasts in your niche. Here's how you do it.
Search for your topic from the home page. You can refine the search by category, audience, country and more.
Investigate likely-looking podcasts by checking all the stats on their Rephonic page. This is where you'll see all the data that tells you whether it's the right show for you. You'll see how many episodes it has, target audience and demographics, estimated listener numbers and more.
Add suitable candidates to your target list.
Find the right podcast emails and contact names.
Send them a pitch explaining why you'd be the perfect guest for their show.
We have plenty more info on how to search for podcasts in this article on the blog.
Check out our detailed guide to pitching podcasts as a guest to learn more about searching for the right shows.
How to make a great pitch for a guest spot
You're unlikely to know the podcast host personally, so email is the best way to contact them. That's called making a cold pitch.
We go into all the details in this article, but here's the short version:
Prepare. Listen to a few episodes, get to know the style and content. Not only does it confirm you're a good match, but it also gives you points of interest to mention in your email.
Write a concise, attention-grabbing subject header. Let the host know it'll be worth their time to open the email.
Briefly introduce yourself and explain the value you'd bring to their show and audience. Make it all about them, not you.
Re-read and proofread your pitch several times before you press send. Get someone else to read it too — ask them to vet it for clarity and tone as well as errors.
Follow up if you don't hear anything back in a week or two. The host may need a memory jog.
You can find more pitching tips in this dedicated cold-pitching article on our blog.
How to prepare to be a guest on a podcast
Congratulations! You got a booking. Now it's time to prepare for the show.
Podcast episodes may sound spontaneous, but a lot of hard work goes in behind the scenes to generate that warm, casual approach. So here's what you can expect.
The host may ask you to complete a questionnaire or have a pre-show interview. Here you can discuss key points with your host, including:
Questions they might ask
Points you want to cover
General format or structure of the show
Are there any questions the host regularly asks their guests? Make sure you're well prepared for those.
Listen to more episodes to get a feel for the show. How long are they - think about how you'll make your answers the right length.
Prepare stories to illustrate your points. (If they involve other people, it's a good idea to get their permission first.) People relate to stories far more than dry facts.
Get your interview space ready.
Work in a quiet room with no echoes.
Turn the air-con and heat pumps off.
Use earbuds or headphones.
If you're aiming to do lots of guest podcasting, then getting a good mic is an excellent investment, but it's not essential if this is your only interview.
Have a CTA (call-to-action) - Let listeners know how to connect with you. It always goes down well if you offer a special gift based on your episode. If you set up a dedicated landing page, you can track listener response, especially if you include a quiz or comment section.
You'll find more information on giving a great interview in our article,  Top Tips to Ace Your Podcast Interview.
What to do after the show
The work doesn't finish with taping your episode.
You'll get a much better response if you spend time promoting the show before and after it airs. Share it with your audience, colleagues and connections. Put it on social media, your blog, LinkedIn, Instagram — wherever you and your audience connect.
Once the episode is out, keep an eye on the social media for comments and feedback. Engage with the audience and answer every question.
Be genuine and avoid making generic comments. I've heard many examples of people becoming "superfans" based on the host or guest's thoughtful response.
Don't forget to thank the host. That's good manners but also contributes to your overall positive impression. If another host is considering you as a guest, they may ask around to find out what it's like dealing with you.
Finally, track audience feedback from comments and your CTA. Tracking gives you valuable data that you can include in your next podcast guest pitch.
Enjoy the podcasting process
Rephonic takes the stress out of searching when you're looking for podcast guest spots.
Follow our pitching and preparation tips so you're ready to go.
And when the time comes, relax. Take a deep breath. Smile.
You're on! Enjoy the show.